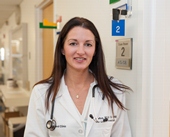 What interested you in becoming a Registered Dietitian?
I had taken nursing classes knowing that I wanted to work in the medical field, however I volunteered at an eating disorder clinic and worked closely with a registered dietitian and soon realized I wanted to pursue this field for my profession.
What physical and/or soft skills do you need to have to succeed?
I would say this profession requires more analytical and critical thinking skills than physical strength. A high patient volume requires you to be well-organized and efficient. When working with patients, it is important to have empathy, and an understanding of the patients' and family's needs and expectations.
What advice would you give to interested high school students?
I would suggest shadowing a dietitian, as well as encourage students to research the different academic institutions they are considering applying to.
What interested you in working at Cleveland Clinic?
I wanted to work in a research setting at a large hospital, a friend suggested Cleveland Clinic and after doing some research I was blown away at the size, and success of the health system. The opportunities here are endless, and I wouldn't want to work anywhere else.
What excites you about being a Registered Dietitian?
I like working as a dietitian and being involved with research. I enjoy building a relationship with patients and their families; it's a very rewarding career.
What has been your most gratifying experience as a Registered Dietitian?
I feel most gratified when I assist patients in coping with their disease, seeing them progress towards recovery is a rewarding experience.
What career options do you have in this field?
In the hospital setting you can focus on inpatient nutrition or see patients in an outpatient setting. A dietitian can specialize in a specific focus area, for example, oncology, diabetes management, renal disease, nutrition support; or they may participate in education and research. There are many possibilities.
Learn More