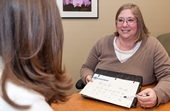 What interested you in becoming a Genetic Counselor?
I took a genetics class in college when I was still pre-med, and my Professor introduced me to genetic counseling. I was intrigued and asked for more information. After shadowing a genetic counselor, I knew that becoming a genetic counselor was my calling.
What physical and/or soft skills do you need to have to succeed?
You need to be able to communicate effectively. The majority of the time patients do not understand the full extent of their disease. It is important to be able to break down the information properly for easy understanding. It is also very important to maintain a high level of interest in continued education, due to the ever changing nature of the genetics field.
What advice would you give to interested high school students?
I would suggest talking with and shadowing a genetic counselor. It would also be helpful to gain experience working with people who have physical or intellectual disabilities. Working for a crisis hotline would be a great way to prepare for working in the genetic counseling field. Due to an extremely high level of competition in this field it is very important to maintain excellent grades throughout the student's education.
What interested you in working at Cleveland Clinic?
I graduated from John Carroll University and was aware of the outstanding reputation of Cleveland Clinic. Because the Cleveland Clinic genetics department was smaller at that time, I knew I would have the opportunity to work with a variety of patients and gain tremendous experience across many areas of genetic counseling.
What excites you about being a Genetic Counselor?
I enjoy working with families and helping them understand their disorder. I enjoy connecting families to patients with similar health issues. It helps them navigate their process and assures them that they are not alone.
What has been your most gratifying experience as a Genetic Counselor?
I was able to diagnose an 8 year old patient who had intellectual disability along with multiple medical issues and behavioral problems with a genetic condition. Many doctors and institutions were previously unable to make a proper diagnosis. The patient and family were so thankful to finally have an answer for their child's medical concerns. It was an amazing feeling to know that I was the one who made that possible.
What career options do you have in this field?
Genetic counselors can see patients in a clinical setting, many times specializing in a specific area of genetics. Genetic Counselors are also involved in research and sometimes work for genetic testing laboratories. They can also work for public health systems as well as insurance companies.
Learn More