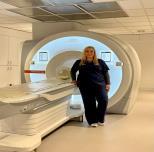 What interested you in becoming an MRI technologist?
I liked the variety of exams MRI offered. I knew I would never get bored with all the different studies that can be done in MRI.
What physical and/or soft skills do you need to have to succeed?
You need to have the patience to help patients with claustrophobia complete their exams. You also need critical thinking skills to help when positioning for an exam.
What advice would you give to interested students?
Come and observe! We have students come through the department often. We see and do many types of MRIs at the Cleveland Clinic.
What interested you in working at Cleveland Clinic?
I have lived in Northeast Ohio my whole life and I have always heard about how great the Cleveland Clinic is. I was nervous to apply due to the size but I learned my way around. The campus is beautiful, the people are friendly, and I have experienced so much by working here.
What excites you about being an MRI technologist?
I work with a great team of people! I enjoy getting to do a variety of exams and helping patients along their healing journey. Patient care is a passion of mine and I enjoy getting to know the patients I encounter on a daily basis.
What has been your most gratifying experience as an MRI technologist?
Seeing the smile on a child's face after they have conquered an MRI for the first time without having to be put to sleep is such a rewarding experience.
What career options do you have in this field?
I am also a certified nuclear medicine technologist which allows me to complete PET/MRI scans. We also have imaging education specialists that MRI technologists can aspire to.
What is something others may not know about this career field? What are some common misconceptions?
We take safety very seriously. All patients are required to change their clothes for their exams due to the possibility of metallic fibers in their clothing. Patients are also required to fill out an MRI safety screening form which is a series of questions to ensure any implants a patient might have are safe to enter the MRI environment. The magnetic field is invisible but always present in the room.
A common misconception is that an MRI is an easy exam to complete. It is often a very difficult exam for patients due to the long nature of the scans. An MRI scan can take anywhere from 15 minutes to over 2 hours to complete depending on the body parts being scanned. Patients who struggle with claustrophobia or who have chronic pain may have trouble completing longer exams without some type of medication or even anesthesia.
How has the career field changed since you started? What does the future look like?
I have been working in MRI for over 10 years and the field is always changing and evolving. There have been new exams added as well as many new implants that can be scanned safely. Working at the Cleveland Clinic has allowed me to witness groundbreaking medical advances like our HIFU procedure. This is done in the MRI department for patients with a severe tremor. The procedure involves targeting the specific region of the brain where the tremor is created and destroying this small area to cure the tremor. The success of these procedures is amazing.
Medicine is always changing and improving and working for the Cleveland Clinic, I feel like I have a front row seat.
Learn More