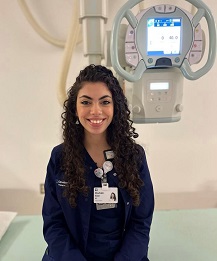 What interested you in becoming a Radiologic technologist?
I always knew I wanted to work in the healthcare field and learning about the bones intrigued me. Radiologic Technologists are essential workers in a hospital team and help provide patients with radiographs that are vital to saving lives.
What physical and/or soft skills do you need to have to succeed?
Important characteristics to have when working with patients are compassion, empathy, and the ability to be engaged with the patient during the exam. You also need to be able to assist in lifting/transferring patients and walking/standing for a long period of time.
What advice would you give to interested students?
Schooling can be a bit challenging at times but it all pays off in the end with hard work and strong dedication!
What interested you in working at Cleveland Clinic?
Cleveland Clinic is known for its high-quality patient care and it feels great to be able to be part of something amazing while learning to be the best caregiver.
What excites you about being a Radiologic technologist?
Every day is not the same. You help all different types of people and learn new ways to improve the quality of your images.
What has been your most gratifying experience as a Radiologic Technologist?
Being able to provide physicians with quality images to give the patient the best possible diagnosis.
What career options do you have in this field?
There are many ways to advance in this field as a Radiologic Technologist. You can do cross-training and learn CT, and complete additional schooling for MRI, mammography, and radiation therapy.
What is something others may not know about this career field? What are some common misconceptions?
Before going into this field, I was unaware that x-ray plays a vital role in surgery by confirming the placement of tools and hardware. Also, a common misconception is that x-ray techs read and diagnose x-rays when that is the job of the radiologist.
How has the career field changed since you started? What does the future look like?
X-ray equipment continues to advance, making it easier for x-ray techs to use with better visuals and helping the patient with less radiation dose.