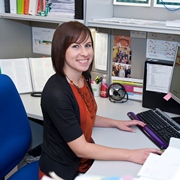 What interested you in becoming a Coding Education and Quality Coordinator?
I knew I wanted to work in the healthcare field, but also knew that hands-on patient care was not for me. Health Information Management, particularly Coding, was the perfect fit. I was drawn to the anatomy and physiology knowledge that was required, the ability to work independently, and also the flexibility the field allowed.
What physical and/or soft skills do you need to have to succeed?
To succeed in coding you must be detail oriented, self-motivated, and always willing to expand your knowledge.
What advice would you give to interested high school students?
I would recommend interested parties thoroughly research the field of Coding and gather information from potential academic institutions regarding their HIM program offerings. I would also strongly encourage shadowing a Coding professional to gain knowledge of the day to day workload.
What interested you in working at Cleveland Clinic?
A variety of things contributed to my interest in working at Cleveland Clinic. With both of my parents employed at Cleveland Clinic I saw firsthand that Cleveland Clinic is a great place to work and grow. Also, after completing my required clinical rotations at Cleveland Clinic's main campus my confidence in applying for a job was increased. Finally, because Cleveland Clinic is one of the top hospitals in the country I knew as a Coder I would be challenged every day and knew I would be working with exceptional professionals in the field.
What excites you about working as a Coding Analyst?
HIM is always evolving and Cleveland Clinic is a pioneer in the development and implementation of new systems. Every day is challenging and leaves you with a sense of accomplishment.
What has been your most gratifying experience as a Coding Analyst?
My most gratifying experience comes from the teaching aspect of my job. Whether it's helping a group of coders learn something new or helping one individual with a challenging case, helping and teaching others is what I find most rewarding.
What career options do you have in this field?
Coding, Recovery Auditor Contractors, Document Integrity Specialist (DIS), Electronic Health Record (EHR), Release of Information, Informatics, Privacy and Security, Clinical Documentation Improvement Specialist (CDI), Registry, Project Management, and various Management Opportunities. There are also a variety of opportunities within Compliance, Legal and Risk, and Quality Assurance.