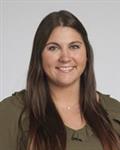 What led you to choose this career?
I have a brother who was born with profound hearing loss in both ears. Early on, I saw the impact his Audiologist had on his hearing, communication, and quality of life. From this experience, I knew that I wanted a career in healthcare. During my time in college, I explored different health career paths and decided to revisit the field of Audiology. Subconsciously I think that I always knew that this was the correct path for me.
What interested you in working for Cleveland Clinic?
I was born and raised in Cleveland, Ohio. The clinic is where I would always go for health care, and I wanted to be part of the culture putting the patient first.
What physical/or soft skills do you need to succeed in this career?
Audiology is an exciting field that uses technology to help diagnose and manage hearing and balance disorders. To succeed you have to be technology savvy with computers and equipment and have strong troubleshooting skills. You must be adaptable, work well with a team or individually, and have strong critical thinking skills. At times you may stand or sit for long periods of time depending on the clinical procedures.
What excites you about this career field?
Hands down it is improving an individual's quality of life. This could be in the form of helping to uncover the cause for their hearing or balance symptoms/concerns or managing their symptoms. The field of audiology is also ever-changing and advancing, in part due to advances in technology. Due to this, I am always reading up on the latest technology or clinical procedures. Staying up to date with current research is imperative to maintaining the best quality of care and outcomes for my patients.
What has been your most gratifying experience in this profession?
Recently I was able to give back to the person who inspired me to enter into this field I was able to evaluate my brother and help him on his hearing health journey.
What career options are there for this profession?
Audiologists practice in various medical and academic settings including: hospital, outpatient (ambulatory) facilities, Ear, Nose and Throat practices, private practice, school settings, industry, research and development, and academic (University) setting. Those interested in the field will complete a bachelor's degree with courses in communication sciences and disorders, and core science courses (physics, biology, chemistry). The entry degree to practice clinically is a clinical doctorate degree in Audiology (Doctor of Audiology or AuD Degree). The clinical doctorate programs are typically 3-4 years in total, with the first part of the program at an academic institute, and the final year experience at an externship clinical site to gain competencies in facets of audiology practice. Those interested in a career in research may continue on to receive a PhD; some programs offer dual AuD/PhD degrees.
What is something others may not know about this career field? What are some common misconceptions?
Audiologists are the non-medical managers of both hearing and balance-related disorders. Many do not realize that the inner ear is comprised of organs for both hearing and balance. The balance organs are called the vestibular system.
How has this career field changed since you started? What does the future look like?
There is now improved direct access to audiology for initial steps to identifying and managing hearing and balance-related concerns. Technology is ever-changing and advancing with this comes new hearing amplification options to improve hearing loss including over-the-counter devices and cochlear implantation devices.
What is the #1 piece of advice you would give to interested students?
Try to speak with an audiologist or observe an audiologist in practice to learn firsthand if this career is the correct choice for you. Consider reaching out to audiologists in different settings (e.g., outpatient practice or private practice) to understand all of the opportunities this career has to offer!
Any additional comments for interested students?
I have a passion for electrophysiologic testing. We can use advanced electrophysiologic measures, which can infer hearing sensitivity as part of our evaluation of the hearing organ. This specialized testing is critical to use in order to estimate hearing sensitivity in populations (e.g., children with autism or developmental delays) who are unable to respond to our behavioral hearing tests. We can also complete these procedures with the patient under general anesthesia coordinated with other procedures in the operating room.
Learn More