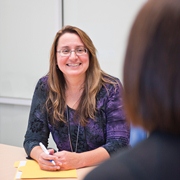 What interested you in becoming a Document Integrity Specialist?
My goal was to start a second career where I could use the administrative experience I gained throughout my first career. I always had an interest in the medical field and I saw great opportunity in a Health Information Management career as a way to merge both my medical interest and existing skill set. I was also drawn to the variety of career paths Health Information Management has to offer.
What physical and/or soft skills do you need to have to succeed?
Paying attention to detail is crucial to your success as a Document Integrity Specialist. When you analyze a patient's chart it is important to verify the discharge summary and operative notes are accurate for future use. The ability to multi-task is also very important.
What advice would you give to interested high school students?
Someone in this field should enjoy the challenge of research. This is also the perfect opportunity to be involved in the medical field without necessarily being involved in the clinical aspect of medical care.
What interested you in working at Cleveland Clinic?
Cleveland Clinic is one of the largest and most respected hospitals in the country. People from all over the world put their trust in Cleveland Clinic for their medical needs. Cleveland Clinic is a place you can come to work and feel confident that there is great potential for career advancement and growth.
What excites you about Health Information Management?
It is exciting that HIM is constantly evolving and opportunities continue to arise for our professionals.
What has been your most gratifying experience as a DIS?
I thoroughly enjoy the satisfaction maintaining an accurate patient chart gives me. It is gratifying to know that my correct analysis of a patient's chart will positively contribute to their future medical care.
What career options do you have in this field?
Coding, Recovery Auditor Contractors, Document Integrity Specialist (DIS), Electronic Health Record (EHR), Release of Information, Informatics, Privacy and Security, Clinical Documentation Improvement Specialist (CDI), Registry, Project Management, and various Management Opportunities. There are also a variety of opportunities within Compliance, Legal and Risk, and Quality Assurance.
Visit the Health Information Manager profile and Health Information Management Technician profile on our career options page for more information on this career path.
Explore what Health Information Management programs we are affiliated with.
Meet a Health Information Management Project Manager: Sandy
Meet a Clinical Documentation Improvement (CDI) Specialist: Telena