Explore Health Professions
Explore Health Professions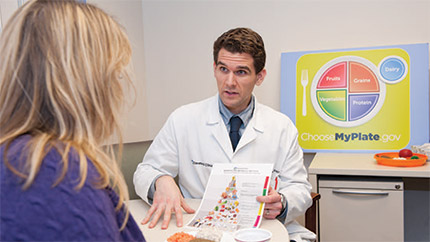 Cleveland Clinic sponsors internal programs which provide both didactic and clinical training as well as clinical rotations for those students enrolled in an affiliated health professions program. There are many options to choose from based on your interests and schedule. Eligibility criteria vary based on the individual program requirements.
Diversity Statement
Diversity Statement
The Center for Health Professions Education and Cleveland Clinic are committed to valuing all people throughout our organization, regardless of background or culture. A diverse and inclusive environment for students and staff and culturally appropriate care for our patients, are essential to fulfilling our vision to be the best place for care anywhere and the best place to work in healthcare. We welcome students from diverse backgrounds and cultures.
Non-discrimination Policy
Non-discrimination Policy
Cleveland Clinic is committed to providing a working and learning environment in which all individuals are treated with respect and dignity. It is the policy of Cleveland Clinic to ensure that the working and learning environment is free from discrimination or harassment on the basis of race, color, religion, gender, sexual orientation, gender identity, pregnancy, marital status, age, national origin, disability, military status, citizenship, genetic information, or any other characteristic protected by federal, state, or local law. Cleveland Clinic prohibits any such discrimination, harassment, and/or retaliation.
Any participant in a Cleveland Clinic educational program, including any student, trainee or employee, who may have been subject to discrimination on the basis of a protected characteristic is encouraged to make a report.
Reports of discrimination on the basis of sex, gender, sexual orientation, gender identity or gender expression may be made to the Title IX Coordinator. Please visit our Title IX page for additional information and/or send an email to TitleIX@ccf.org.
Reports of discrimination on the basis of any other protected characteristic may be made to the Office of Educational Equity at EduEquity@ccf.org.
In addition, Cleveland Clinic shall provide reasonable accommodations to any qualified student with a disability in order for the student to have equal access to their program. Students needing a reasonable accommodation in order to apply to or participate in the program should contact the program director as early as possible.
Anti-Hazing Policy
Cleveland Clinic has adopted a Student Anti-Hazing Policy which prohibits hazing, defined as, "doing any act or coercing another, including the victim, to do any act of initiation into any student or other organization or any act to continue or reinstate membership in or affiliation with any student or other organization that causes or creates a substantial risk of causing mental or physical harm to any person, including coercing another to consume alcohol or a drug of abuse." Incidents of hazing should be reported to your program leadership. Please click here for additional information regarding hazing, including resources related to prevention and intervention.