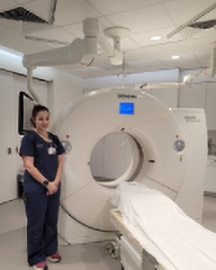 What interested you in becoming a CT technologist?
I wanted to do something that would allow me to work with all types of patients. I found radiology to be a field that encompasses every type of patient. Choosing radiology seemed like the best fit for me.
What physical and/or soft skills do you need to have to succeed?
A positive bedside manner, compassion, engagement, and dedication are important traits that I use every day when caring for our patients.
What advice would you give to interested students?
If you want to learn and advance in a growing field, then join our radiology team. There are so many educational opportunities and advancements for you here.
What interested you in working at Cleveland Clinic?
The simple fact is that it is well-known and highly ranked for care. The Cleveland Clinic has helped care for many people in my life so I have always been interested in working here.
What excites you about being a CT technologist?
I get excited knowing that the scans I perform help treat patients in their healthcare journey.
What has been your most gratifying experience as a CT technologist?
Using my skill to help diagnose patients so they can get the best care possible.
What career options do you have in this field?
As a technologist, I have options to work in outpatient, inpatient, cardiac, ED, pediatric, and management settings.
What is something others may not know about this career field? What are some
common misconceptions?
Most people assume that technologists just hit a button to get pictures. There are so many things that go into completing a scan.
How has the career field changed since you started? What does the future look
like?
The future is innovation at its best. Better scan quality with less patient radiation dose is the future of CT.
Learn More