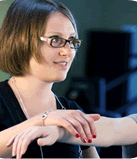 Want to get physical?
PTs help people recovering from a stroke or spine injury, people needing to regain their strength following surgery, or patients with heart problems.
Do you have what it takes?
Being energetic, creative, and organized are three very important characteristics to have when it comes to being a physical therapist. You not only need to be a "people person" with good communication skills, you also need to consider many complex factors when treating people. Each patient is completely different, from a professional dancer to a soccer player to someone who just wants to get up or down the stairs.
In this field, you can score big
All around, sports health physical therapy is a very rewarding job and working for Cleveland Clinic makes it even more rewarding, especially because the Clinic's name is big with area athletes.
When working with athletes and other motion-oriented professionals you are able to build a close relationship with them. It's almost like you become a coach of sorts. I get to meet a lot of interesting personalities this way and sometimes I'm even invited to their events! My ultimate goal is to become a strength and conditioning trainer for a professional sports team. How cool would that be?
Tricks of the trade
Physical Therapists need to have a six-year doctorate degree, but you can also become an Assistant PT with a two-year degree. As far as school goes, the college programs are very competitive and hard to get into, so it's a good idea to have a strong background in anatomy, biology, and physics. Geometry also helps because you are better able to understand body angles.
Volunteer work helps you get accepted into PT education programs
Volunteer observation is required
Working in a team-environment allows you to bounce ideas off Assistant PTs to figure out the best possible treatment
Here's how you would plan for this career
Decide to pursue a career in physical therapy while in high school
Take courses in anatomy, biology, physics and geometry
Enroll in a shadowing program through Cleveland Clinic
Begin your six-year doctorate degree OR
Begin your two-year assistant PT degree
Enroll in volunteer work at area hospitals
Enroll in volunteer observation
Graduate from course
Learn More