Light at the End of the Tunnel? COVID-19 Vaccine Distribution Begins
January 8, 2021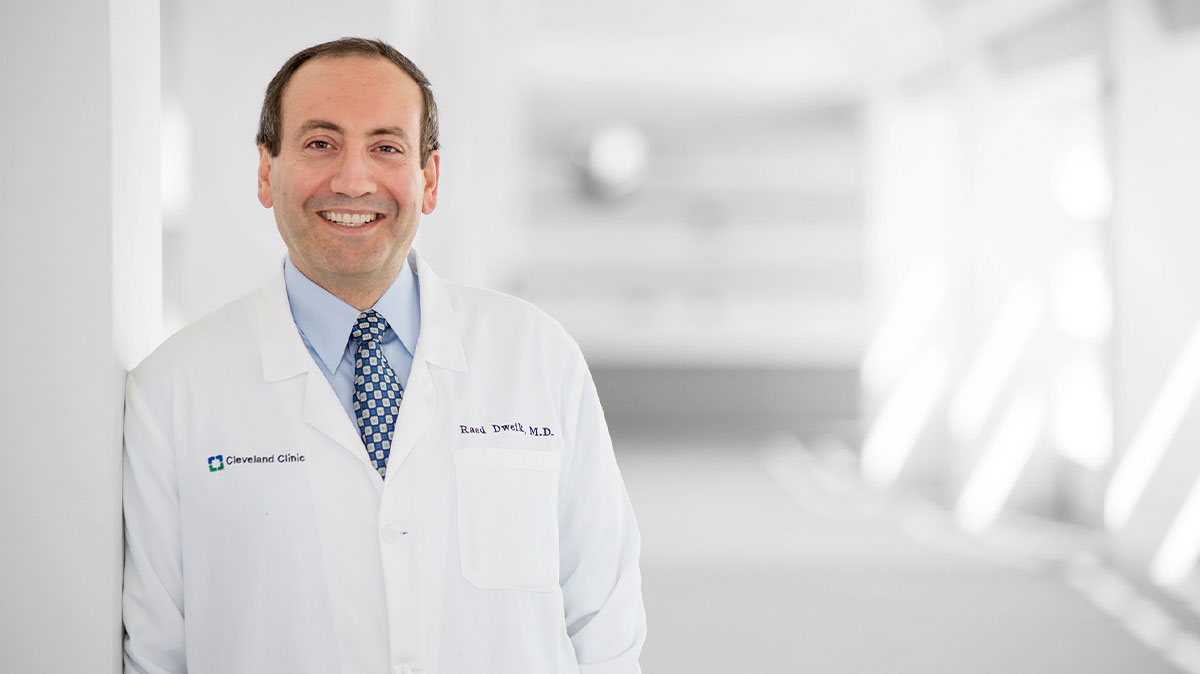 Recorded in the first week of COVID-19 vaccine distribution, Drs. Morris and Saklecha sat down with Dr. Raed Dweik, Chair of the Respiratory Institute. They discuss Dr. Dweik's role in the pandemic, the future of breath testing, and how Cleveland Clinic handles Innovation Management and Conflict of Interest with inventors.
Subscribe: Apple Podcasts | Google Podcasts | SoundCloud | Spotify | Stitcher | Blubrry
Light at the End of the Tunnel? COVID-19 Vaccine Distribution Begins
Podcast Transcript
Will Morris, MD:
Hello, this is Will Morris with Health Amplified, a Cleveland Clinic podcast. And with us today, as always is Dr. Akhil Saklecha and our guest today is Dr. Raed Dweik, who is the chairman of the Respiratory Institute. Within that Institute are pulmonologists, critical care physicians, respiratory therapists, allergy and immunology. He is also the chairman of the Cleveland Clinic conflict of interest committee. And lastly, he is a consummate innovator, educator and passionate researcher. So with that, thank you very much, Dr. Dweik, for joining this podcast.
Raed Dweik, MD:
Thank you for having me Will and Akhil, looking forward to this.
Will Morris, MD:
Well, first of all, what a fantastic way to close 2020 with you on the podcast and the vaccine. Thoughts on what's going through your head as this vaccine is actually being deployed right now?
Raed Dweik, MD:
I can't tell you how excited we are that... People keep talking about light at the end of the tunnel, light at the end of the tunnel. This is a big, bright light at the end of the tunnel. As you know, our teams have been struggling with the COVID, responding to the COVID pandemic for the past nine months or so, and there was no end in sight, really, until now we heard the news that the vaccine is here and actually, it is in people's arms. Several of our team members have received it already. And that is very exciting.
Akhil Saklecha, MD:
I'm curious, did you yourself get it yet?
Raed Dweik, MD:
I have not gotten it yet, but I'm scheduled to get it next week.
Akhil Saklecha, MD:
Excellent. One of the things that come up frequently and even people are calling me about it, is it's tough to figure out the protocol about who gets the vaccine, when they get it. Were you involved in that and what's your perception of that? What can you share?
Raed Dweik, MD:
I have not been involved in the decision-making. We have a group actually, a committee at the Cleveland Clinic was really in charge with this, chaired by Dr. Wiley and Medina. And they've done a fantastic job in prioritizing. My involvement was in giving them who I prioritize within my institute, and they've taken our input and took that into consideration.
Raed Dweik, MD:
The things I take into consideration really is equity, transparency, and also making sure that the ones who are on the front lines taking care of patients are the ones who get it first. And that directive came as you know, from the CDC and the FDA. So that's something, it's a national guideline and we followed those guidelines. Having said that, the initial shipment that we received was less than a thousand doses and our initial frontline, people who identify are more than two or 3000 people so there has to be a little bit of prioritization even within that.
Raed Dweik, MD:
And I think the team has done a great job. Of course, there's always an angst about am I getting it first? Am I going to get it second? But the reality is, think about it. Even if we had a million doses today, just the logistics of it. We can do so many in a day like the flu or whatever. But the commitment of our organization, which I am very proud to be part of, is that a lot of people can be vaccinated, almost 7,000 before Christmas. And about 22 or 23,000, which is almost a third of our workforce will be vaccinated before New Year. So that's really a monumental task that we are doing and I think it's great.
Will Morris, MD:
Yeah. When I think about early in the pandemic, I'm sure if you can remember way back nine months ago, there was a lot of talk on ICU bed shortage and ventilatory shortage, but now it's kind of shifted to the personnel and, correct me if I'm wrong, you're not only over the physicians who service pulmonary and critical care, but also the key caregivers of the respiratory therapists and the ICU nursing staff.
Raed Dweik, MD:
That's correct. Just to follow up on my comment on the vaccination, all of these are the priority lists, physicians, nurses, respiratory therapists, even workers in ICU beyond traditionally what we think of them as physicians and nurses and therapists, to the environmental service workers, the pharmacists, all of those are on the priority list. And I am very proud of how the Cleveland Clinic approached that in taking equity and transparency to consideration.
Raed Dweik, MD:
Back to your point, Will. Definitely if you think of this pandemic, it has really hit us in three waves. The first wave, you could argue, we didn't know what hit us. It came up in just the March, April, we were preparing for it but the major issue then at the time was personal protective equipment, PPEs and other equipments, ventilators, et cetera. So, that has been the main limitation. That's why, if you recall, a lot of hospitals were quarter to cancel elective surgeries, not because we didn't have the room to do them just because most hospitals did not have the personal protective equipment to do so.
Raed Dweik, MD:
And all of that, Cleveland Clinic, we always had plenty of those still. You know, we did not know what's ahead of us are going to be getting hundreds of patients or thousands of patients. So we followed the directive and really canceled elective surgeries in order to preserve these. Now, the third wave, which we are in, in the mid strike now, we have plenty of PPE, companies have stepped up. They have produced them. It's the easiest to procure. The limitation has been caregivers and it comes to nurses for sure, and physicians as well as respiratory therapist among others.
Raed Dweik, MD:
And the reason for that is two fold. One, we're seeing a lot of patients, so we need their help, but also our caregivers getting sick. And as I tell my teams, this is a reflection of what's happening in the community and to quote one of our infectious disease, doc, Stan Fraser, he says, there's a lot of virus out there. So really people are getting exposed to the community and we are the community and the community is us. So when our caregivers are out in the community, they are at risk like everybody else to contract the virus and be afflicted by it. And that has been a major, major limitation for us in taking care of patients in this third wave.
Will Morris, MD:
As we celebrate this unbelievable achievement of the vaccine and, and it gives us hope and inspiration that we will get through this, what are the innovations that you see coming out of this that will help us be more resilient for the next, I don't want to say pandemic, but, but the next time our health system is tried in such a monumental way?
Raed Dweik, MD:
Yeah, that's a great question, Will. And clearly I think one of the lessons that came up and maybe described as the silver lining in this pandemic is really the spirit of innovation seen our organization. You know, first more than anybody, how innovative our organization is, the Cleveland Clinic has always been on the cutting edge of so many things, but the pandemic really put this in overdrive. And everybody from physicians, they're coming up with incubation boxes to protect from exposure. The nurses coming with ways to put like dialysis machines and IV tubings outside of rooms to minimize exposure and preserve PPEs. It's really across the respiratory therapists and our respiratory therapy director coming up with ways to use one ventilator to ventilate more than one patient. It's just like the list goes on and on. I was really in awe and every day and every week, somebody comes up with a new idea of either to protect caregivers and patients, or to take care of patients better, or to improve on these things. I think will be lasting with us for the years to come.
Raed Dweik, MD:
One of the main innovation, I think it may not fit quite under innovation in the traditional sense that it's not a new device or treatment is our approach to the pandemic. You know, at the very beginning we established what we call the COVID unit. Affectionately, we refer to it as Cov one, which is you are familiar with it probably it's a G60, this a small unit. We took care of patients there and that's where all it was at an incubator for innovation. Can we do this better? That's where ideas of putting the IVs and the dialysis machines, even the ventilators outside the rooms, that's where many of these other ideas were tested and then scaled up to the rest of the organization and honestly to the rest of the country. And that really in a way its own innovation hub has been a great help to us very early on.
Akhil Saklecha, MD:
Now, now you're leading a team, that's working with breath technology right now to kind of develop a breath test for COVID-19 and that's, that's something else I think that came out of all of this. And so can you walk us through, tell us how you came up with the idea of the innovation and how you're working with the players at Breathtech?
Raed Dweik, MD:
Yes. So breath testing is something I've been involved with in for many years. Actually I started doing breath testing back in the mid nineties. The, the technology was different at the time and the goals were different, but I would say the last 10 or 15 years, the technology has gotten so much better that now we can look at things we could not imagine look at 20 or so years ago. So we have been at the Cleveland clinic. My lab in particular have been on the cutting edge, really of breath analysis now for many years. And we have looked at many disease states. We looked at heart disease, lung disease, kidney disease, and liver disease. And every place we looked, we found that there is a utility for breath testing, either for diagnosis or monitoring. It depends on the question that's being asked.
Raed Dweik, MD:
So I think the advantage of being part of the Cleveland clinic is that whatever we, any area we explore, we have experts in that area. So when we look at the liver test, we ask the liver docs, what do you need? What is the need? The same thing with kidney, what's the need over there? So that's why most of the developments that we did have clinical relevance and they have application.
Raed Dweik, MD:
So when it came, when COVID started, it came to my mind first, like this is an opportunity to develop a noninvasive test for COVID. So before I get into that, let me just back up a little bit and tell you, tell your audience about breath testing. So our breath, everybody kind of knows that we inhale oxygen and we exhale carbon dioxide, and there's a lot of nitrogen out there. But beyond that, recent technology have allowed us to measure other compounds in the breath. We refer to them collectively as volatile organic compounds. Those are byproducts of our metabolism, primarily. That's why we look at them, but also they can come from our gut bacteria, from our mouth bacteria, from the environment. So it's a very complex matrix.
Raed Dweik, MD:
And the best way to think about it is that the lung is the head space of the blood. Anything in the blood that is volatiles at buddy or room temperature, we can measure the breath and that really reflects our state of health and disease. So I coined the term breath print, which is similar to like a fingerprint where you can identify a person by their fingerprint. I think a breath print can help tell us about the person's state of health and disease in many ways.
Raed Dweik, MD:
Of course, there are some complications to that in that there's a lot of things in the breath we don't want to look at, but you know, they complicate matters like I said, the environment. We are a sampling vessel. We walk around everything. We inhale, we eventually exhale it. So we have to develop methods to be able to identify what is really relevant in whatever area we look at. So the advantage of breath testing over many of the other methods that we have is the fact that it's non-invasive and non-intrusive like think about breathalyzer, right? Alcohol breathalyzer. If you can do it at the side of the road, you can do it anywhere. So unlike x-rays, where's the limitation of how many you can do, or like a urine test where you have to time it right. You know, you have to have the privacy to do it, or even blood work. We think of blood as relatively noninvasive. Still, you have to have a needle and you cannot take more than a certain amount.
Raed Dweik, MD:
Breath, there is no limitation of how often you can do it and how much you can take. Even ages, neonates to the very elderly, as long as you are breathing, we can sample your breath and, and test it. So that's why I think breath offers an opportunity. So with our experience, we're looking at multiple disease states and the fact that COVID is a pulmonary disease primarily, I know it affects multiple other systems. We felt immediately actually back in March and April, I started thinking about developing a breath test. We were faced with two limitations. One, safety. We didn't know much about the virus. So I didn't know, am I going to be spreading the virus by doing this breath test? So I want to be careful at the time, we didn't know there's a spread by droplets? Does it set by aerosols? So that those questions are, think are better answered now, although we still have some questions about them.
Raed Dweik, MD:
So we really innovated and modified our sampling devices to be simpler and disposable. So I don't expose anybody to anybody else's sampling. So now we separated the machine for every patient. It's almost like a blood now, you get a sterile tube. And once you measure the sample, you throw it away. So now we developed a sampling device that is disposable. After every measurement, we throw it away on the next patient.
Raed Dweik, MD:
The other limitation that we ran into is scalability. You know, most of the tests we've done so far, we've done them with a mass spec technology where the device is the size of a washing machine. You cannot just wave it around and measure patients at the bedside and that's where Breathtech comes in. We actually talked to several companies and several companies approached us, but most of them did not have ready to deploy technology and scalable technology.
Raed Dweik, MD:
The advantage is the device they have actually is already deployed in airports for screening for explosives. If you've been through an airport, a screening machine, you probably, when they wiped you and kind of measured what you already have explosive or not, that's the type of machine they have. So we already know it's scalable, it's portable, and also you can train nonmedical people to do it. And that's the advantage because you know, there's a limitation for the current testing of the nasal swab is that you have to have medical people it, although now, we're getting to have the patients do it. So these two things together now that I can do it safely. And I know what I'm working on is not going to just stay in the lab. It's going to be scalable and be used clinically. That's really, I think, where we are now. And we're very excited about the prospect of this test.
Will Morris, MD:
I imagine, you know, part of that kind of innovation idea, I love the, your coin, the breath print. Sometimes as physicians, we don't know what we don't know. We don't know what questions we want, or we don't have the data capabilities to find the signal in that print. Do you imagine this being, breath being a new vital sign, a new variable that we might actually capture like a biobank and play it back and start understanding what does diet impact? What does the environment impact? I mean, are you envisioning this not just as a go forward test for a specific disease condition to monitor, but more as a data strategy to start collecting information on our patients. So we can then have the core data to interrogate for future discoveries and cures.
Raed Dweik, MD:
Hey, I like your comment. I will use it moving forward, the breath as a vital sign, the new vital sign. I like that. So I'm going to start using it. I'm going to quote you.
Will Morris, MD:
I already have a trademark on that. I just submitted a patent on that, so.
Raed Dweik, MD:
You got to do it before I do, because otherwise I'm going to use it. Actually, it makes a lot of sense because referring to something I mentioned earlier, the breath being the head space of the blood, we get lots of information and the breath. And let me just tell you how I feel breath testing fits, whether it's COVID or something else we're looking at. We view it as almost in a three-tiered way. One is it can be non-specific. It can tell us somebody is sick, like a fever. There's something wrong. I don't know what it is. You need to be looked into like, you know, you have a fever, you go to the ED or your doctor, they figure it out.
Raed Dweik, MD:
The second level that we can get to is you are sick. And this is from your lungs or is this from your liver? So it's not only that you are sick. I know where the source of the illness. It's a certain organ or certain buddy system. That of course will be much more helpful than just, "Your sick," like a fever.
Raed Dweik, MD:
So the third level is you are sick, it's in your liver and it's acute alcoholic hepatitis. And we can do that. You know, we actually published data showing that we can do that, that level of degree now, not all diseases are like that. So we have tests now in all these areas, there are some tests that will tell us, "You are sick." Some that tell us you are sick, a certain organ, and some that tell us you are a sick, a certain organ, a specific disease.
Raed Dweik, MD:
So I'm not sure how COVID test is going to end up. And of course our Holy grail is they will tell us it's COVID and that will be the most helpful. However, even think about it. Even if it tells me you are sick and it's your lungs, but I'm not sure if it's covered or not, that may help reduce the other types of testing.
Raed Dweik, MD:
It becomes like step one into the swab/PCR testing. Like now, as you know, we still, even with all our expansion, we have limited testing capacity when it comes to PCR and genetic tests. So imagine a scenario where a hundred people come to me and I do a breath test on all of them. And 90 of a hundred. There's nothing wrong with them. There's nothing wrong with you. Move on. So you don't have to go for that. And then 10 of them, I can tell you are sick. There's something wrong with you? Don't those go to a swab. That will amplify our ability to do the swabs by tenfold. So I think even if we don't get to that Holy grail, if we land somewhere in the middle, I think breath testing would still be useful in the armamentarium of testing for COVID and any other disease honestly.
Will Morris, MD:
I love it. So TSA is now going to not only screen my bag, but also let me know whether or not I have an indolent liver issue or COVID.
Akhil Saklecha, MD:
Yeah. Be careful what you ask for, I think, but I'm very excited about the potential for breath, but as we look about shifting gears, maybe towards the other role that you play, you know, you're also chair of the innovation management and conflict of interest committee at Cleveland clinic. So it's, it's actually, it's, it's a fascinating, and I imagine a very tough position at times. So how do you help inventors and investigators navigate that COI in an academic center like us?
Raed Dweik, MD:
Yes. Thank you, Akhil. And I go back to when I first was tasked to chair this committee several years ago, and our chief of staff it's Johann at the time. And the director was really very clear. He said, we are an innovative organization. Our call is to continue to be innovative. Really my role is to encourage and foster innovation, but make sure that we do with ethically and legally and not get in trouble. That's my job is to make sure as individuals innovate that they do not get in trouble. And I can tell you this organization, because I don't need to tell you, you know more than anybody how innovative we are at every level. So our goal at this committee is to come to a, yes is how can we make this happen?
Raed Dweik, MD:
And there are several ways. Sometimes we cannot make it happen. There are sometimes conflicts to a where it's not doable, but these are rare and far between. Most commonly what we have to deal with is if somebody comes up with a relationship with industry or invented something that they want to test it, is really trying to balance how we can minimize or eliminate bias as much as possible. Because honestly, it's important, not just for the organization to be protected, but for the individual.
Raed Dweik, MD:
When you publish something or are you're going to patent something, you don't want the world to kind of feel it's tainted. It's like, "Oh yeah, he's conflicted or she's conflicted." And of course it looks good. So our goal is to make sure that whatever innovation you have is accepted by the outside world as real and as objective and as useful. And I think we continue to play a significant role in that.
Raed Dweik, MD:
Most institutions, they call the committee, as you pointed out conflict of interest committee, not ours, ours is innovation management and conflict of interest. Innovation comes first and that's not by accident. That's by design. Because our goal is to foster and support innovation. But again, do it in an ethical manner. And the way we do it, a lot of people come to us from our other organizations and get surprised how we interact with them as opposed to telling them what to do.
Raed Dweik, MD:
So we usually reach out to the inventors to find ways to minimize and mitigate bias, as opposed to, "You do this." And that's an edict from the committee. We really work with the investigators and the innovators and the inventors to make sure that what we are proposing makes sense to them, but also what they are doing, they understand the limitations that are there because of just regulations or good policies.
Will Morris, MD:
I have to say, I remember coming on staff early, early on, 16 years ago. Guy Chisholm was a the chair. But what was innovative was how transparent and I reflect back, it seems so obvious, but how essential that is in terms of imparting trust in stewardship and the degree of transparency and accountability I think is absolutely laudable.
Raed Dweik, MD:
Thank you. I agree. And that's what we strive for. And it's really, it's an open dialogue between us and innovations and the inventors. And actually, as you know, we have innovations have a seat at the table and our committee. So your team sits with us because we value that input. Of course, you cannot vote on organizational things because you are yourself conflicted, but we definitely need your input and thoughts about all the projects that the curtained that involved innovators and innovation. So that's very helpful.
Raed Dweik, MD:
Just to kind of expand on that, that we have many people who have a seat at the table on the innovations committee. And that's why I think we have been. So in our genre is that we have people who are on the spectrum from those who have no relationships with industry, to those who have many relationships with the industry and everything between. So all views and are heard around the table when we discuss a new relationship or innovation.
Will Morris, MD:
Well, this has been absolute, tremendous dialogue. I want to be respectful of time. You were unbelievably busy in your role as a leader, but also during this pandemic. And so, first of all, I wish to acknowledge your work, your team's work during these unprecedented times. I also want to acknowledge the tremendous partnership that innovation management and conflict of interest plays in helping steward junior investigators, junior researchers as they seek to serve what we all agree is our North star, benefiting patient care. So this is an exciting chapter. Perhaps we have you come back and talk a little bit more about breath testing and ARDS, there's a whole host of questions I would love to kind of talk about as we think about what the pandemic has done. And that silver lining because the silver lining story has yet to be told. Akhil, last words?
Akhil Saklecha, MD:
No. I think you covered it well, Will. We're very excited to have you here, Dr. Dweik and I feel that both Will and I learned a lot as well as I'm sure our audience as well.
Will Morris, MD:
Well, thank you very much-
Raed Dweik, MD:
Thank you for having me here. Thank you very much.
Will Morris, MD:
Thank you to our guest, Dr. Raed Dweik for educating the audience around advances in pulmonary medicine, critical care, and certainly the pandemic as well as insights around conflicts of management and innovation management. Please join us for our next Health Amplify podcast and be sure to join us and as always, thank you, Akhil. Have a great day.
Health Amplified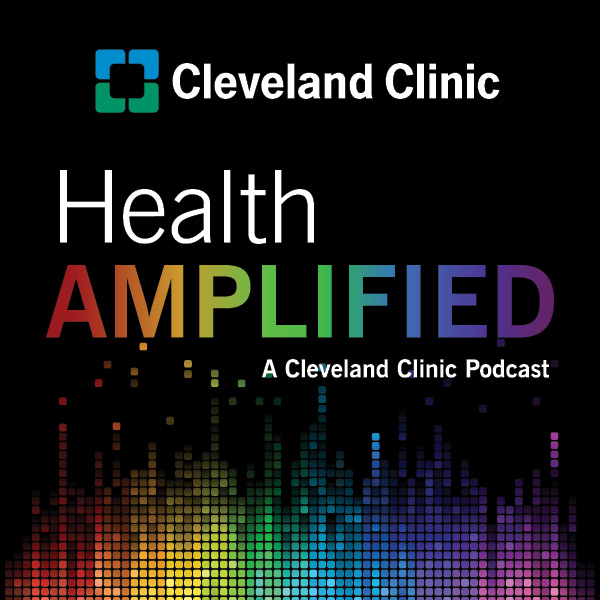 A Cleveland Clinic podcast about innovating, venturing, and amplifying powers of healthcare change through strategic business and product development. Listeners will gain knowledge of healthcare's latest trends, areas of opportunity, and up-and-coming health solutions through Cleveland Clinic's network of dynamic thought leaders. Join hosts Will Morris, MD, and Akhil Saklecha, MD, executives and clinicians at Cleveland Clinic, as they explore the world of healthcare innovation from the city of Rock & Roll.
Subscribe: