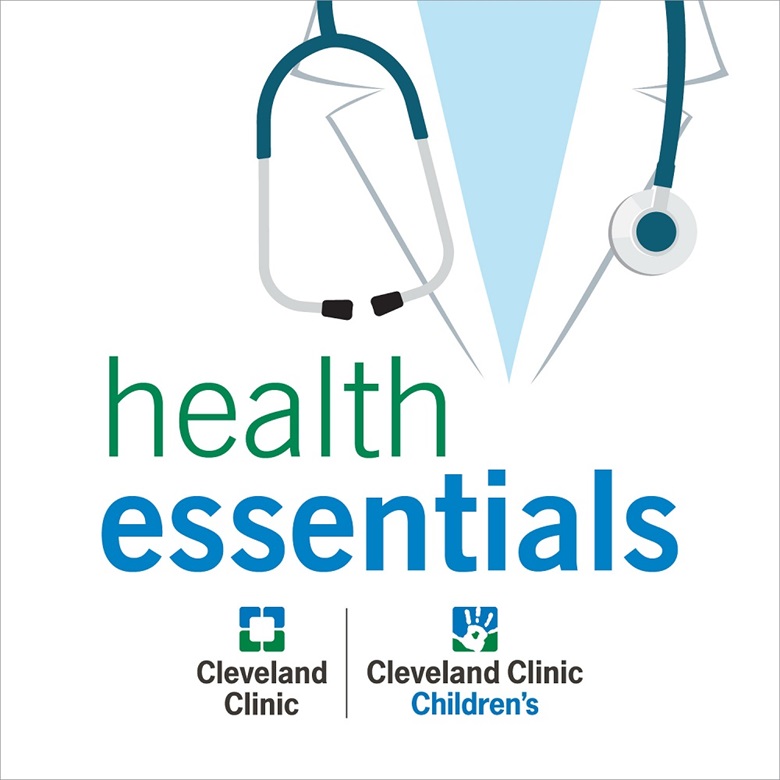 Health Essentials
Tune in for practical health advice from Cleveland Clinic experts. What's really the healthiest diet for you? How can you safely recover after a heart attack? Can you boost your immune system?
Cleveland Clinic is a nonprofit, multispecialty academic medical center and is ranked as one of the nation's top hospitals by U.S. News & World Report. Our experts offer trusted advice on health, wellness and nutrition for the whole family.
Our podcasts are for informational purposes only and should not be relied upon as medical advice. They are not designed to replace a physician's medical assessment and medical judgment. Always consult first with your physician about anything related to your personal health.
Subscribe:
Featured Episode
How to Support Your Teen During the Pandemic with Dr. Ellen Rome
Just when teenagers were looking forward to spring and summer, the COVID-19 pandemic arrived and canceled many aspects of their normal lives, from school dances to sports to just hanging out with friends. Ellen Rome, MD, MPH, a pediatrician who specializes in adolescent medicine, offers guidance on how to help teens through the disappointments and empower them to become part of the solution for reducing the spread of COVID-19.
Play Now
All Health Essentials Episodes
All Health Essentials Episodes
August 5, 2020
Coping With Back-to-School Uncertainty and Anxiety with Dr. Ethan Benore
Whether your child is returning to school in-person, online or a combination of the two, this back-to-school season is going to look and feel a lot different. How can you set your student up for success – even with all of the changes and uncertainties brought about by the coronavirus pandemic? Pediatric psychologist Ethan Benore, Ph.D, explains just that and provides strategies to help ease back-to-school anxiety for both kids and parents.
Play Now
July 29, 2020
Your Guide to Managing Multiple Medications with Pharmacist Mandy Leonard
If you're juggling multiple prescriptions and over-the-counter medications, it's crucial to stay organized and to regularly review everything you're taking. From making sure that different drugs won't interact with each other, to setting up a schedule – it's important to be proactive about what you're taking and why. Pharmacist Mandy Leonard, PharmD, BCPS, discusses cost management tips, expiration dates, storage information and more. She also gives helpful advice on how to get the most out of your relationship with your pharmacist.
Play Now
July 22, 2020
How to Eat Well This Summer with Dietitian Beth Czerwony
Ready to stay healthy and hydrated this summer? Registered dietitian Beth Czerwony, MS, RD, CSOWM, LD, is here to help. She dishes on the best seasonal foods and how to indulge in the all the joys of the season - from cookouts to road trips to camping - while staying on track.
Play Now
July 15, 2020
Understanding Health Disparities with Dr. Charles Modlin
Studies have shown that the COVID-19 pandemic is hitting some minority communities especially hard. This finding shines a light on the many disparities – or preventable differences in health outcomes among groups of people – that have existed in our country for a long time. Cleveland Clinic urologist and Executive Director of Minority Health Charles Modlin, MD, MBA, explains the many systemic factors that contribute to health disparities, and how we're working to create a more equitable future.
Play Now