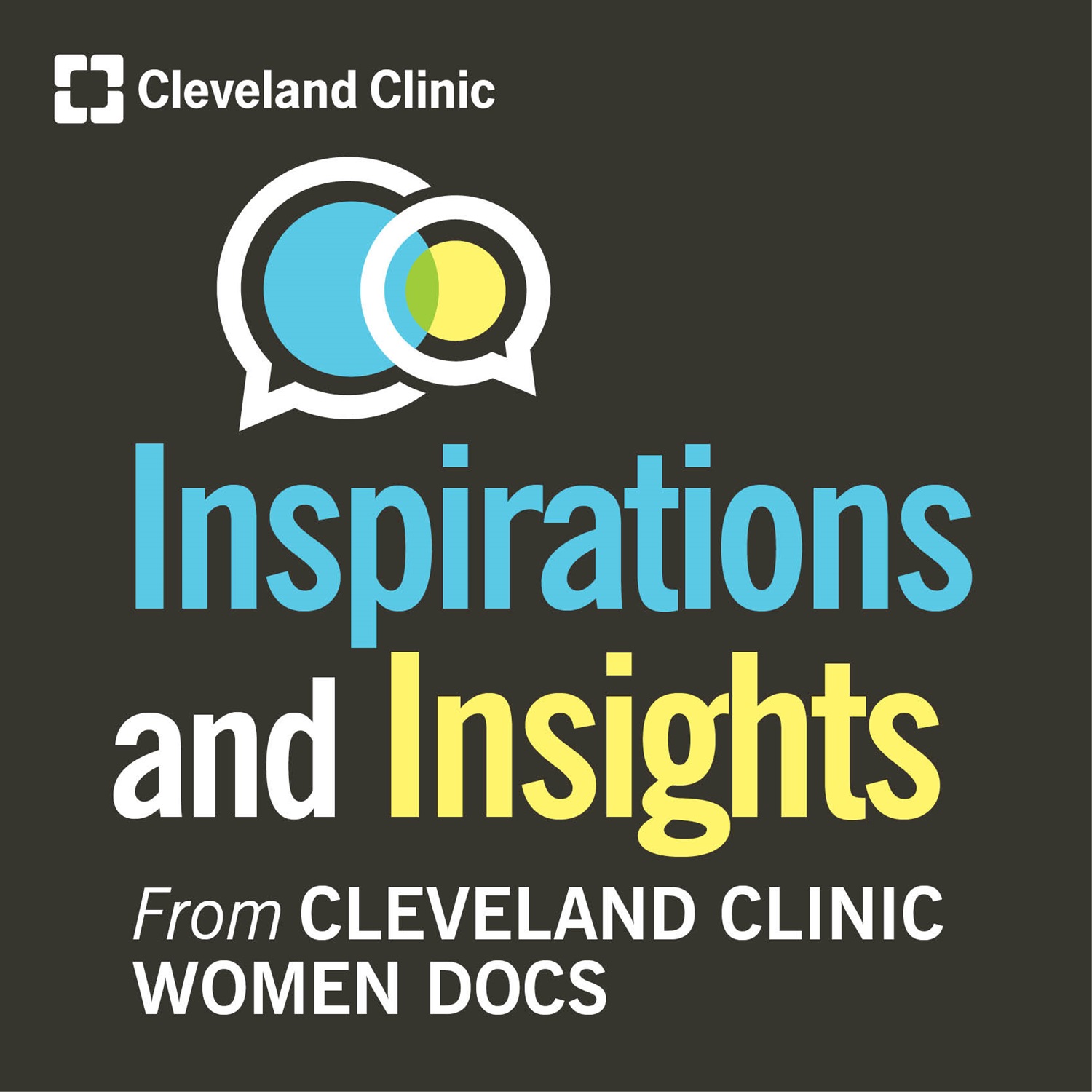 Inspirations and Insights from Cleveland Clinic Women Docs
In celebration of Cleveland Clinic's centennial, hosts Dr. Cara King and Dr. Mary Rensel share conversations with women doctors at Cleveland Clinic, exploring the highlights and challenges of being a woman in medicine.
Subscribe:
Featured Episode
Lara Jehi, MD
Professor of Neurology at Cleveland Clinic Lerner College of Medicine, Lara Jehi, MD, was appointed Cleveland Clinic's Chief Research Information Officer only weeks before the COVID pandemic started. In this podcast she talks about that transition to leadership during COVID, her communication style as a leader, the importance of always evolving and learning and she shares advice for future women leaders in medicine.
Play Now
All Inspirations and Insights Episodes
All Inspirations and Insights Episodes
June 21, 2021
Elaine Wyllie, MD
Elaine Wyllie, MD, is Professor of Neurology at Cleveland Clinic Lerner College of Medicine, and a preeminent epilepsy specialist at Cleveland Clinic and editor of Wyllie's Treatment of Epilepsy, the standard in the field through seven editions, and author of The Cleveland Clinic Guide to Epilepsy, an authoritative book for the lay public. In this interview Dr. Wyllie discusses her role as a mentor and the importance of empathic communication with patients, families and colleagues. She also opens up about her passion for ballroom dancing and how this incredible gift has influenced her relationships with patients and strengthened her marriage.
Play Now
May 25, 2021
Lilian Gonsalves, MD
Psychiatrist Lilian Gonsalves, MD, came from Bombay, India to Cleveland, Ohio for her residency during the Blizzard of '77 and for over 40 years has built her practice and her career at Cleveland Clinic. In this interview Lilian shares with Cara King her favorite attributes for career success, how her anesthesiologist husband and she managed work and family with young children and how her practice has grown and shifted through the years.
Play Now
May 12, 2021
Margaret McKenzie, MD
Margaret McKenzie, MD, is the President of Cleveland Clinic's South Pointe Hospital in Warrensville Heights, Ohio. She is Associate Professor of Surgery at Cleveland Clinic Lerner College of Medicine and an Obstetrician and Gynecologist in the Department of Subspecialty Care for Women's Health at Cleveland Clinic. She also served as President of the Women's Professional Staff Association in 2013 and 2014. In this episode Margaret talks about her passion for teaching, finding your authentic self and unique barriers specific for women leaders. We hope you enjoy her wise and incredibly thoughtful words.
Play Now
April 23, 2021
Rita M. Pappas, MD
Rita M. Pappas, MD, FAAP, FHM is the Medical Director of Hospital Operations at Cleveland Clinic and a staff physician in the Department of Pediatric Hospital Medicine. In 2020, she was appointed Chief Medical Officer of Hope Hospital, Cleveland Clinic's COVID-19 surge facility. In this podcast, Cara King speaks with Dr. Pappas about her journey from a nursing career to medical school and into the operations side of medicine as well as the uncertainties and challenges of managing her family as a single mom during the early months of the pandemic while she and her teams put a 1000 bed surge hospital together in less than 30 days.
Play Now