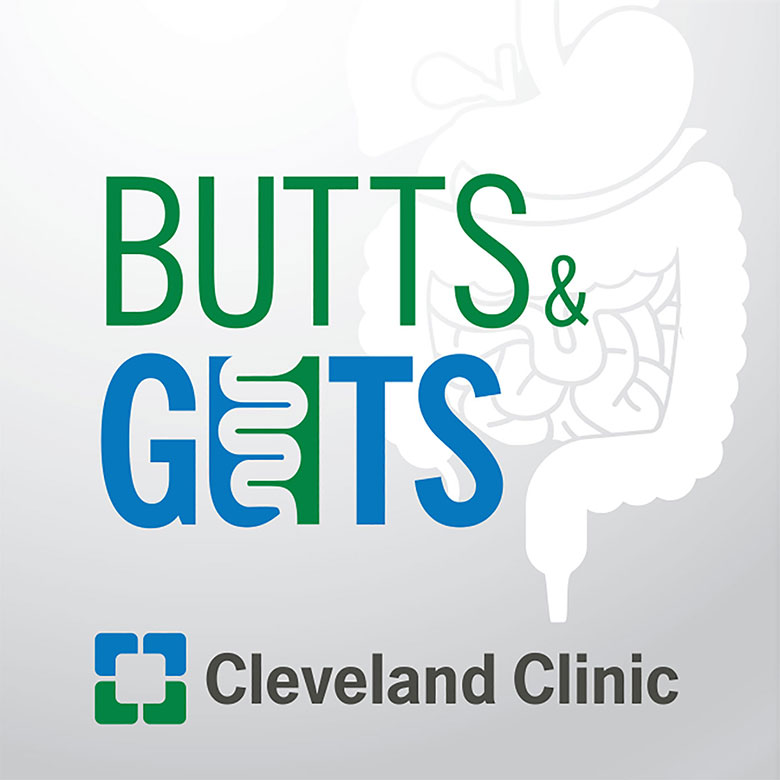 Butts & Guts
A Cleveland Clinic podcast exploring your digestive and surgical health from end to end. You'll learn how to have the best digestive health possible from your gall bladder to your liver and more from our host, Colorectal Surgery Chairman Scott Steele, MD.
Subscribe:
Featured Episode
Understanding the Use of Advanced Gastrointestinal Interventional Endoscopy with Dr. Prabhleen Chahal
Prabhleen Chahal, gastroenterologist and leading advanced endoscopy expert, discusses the increasing prevalence of minimally invasive procedures used to manage complex gastrointestinal, pancreatic, liver disorders and more. Listen to learn the different techniques and what they are used to treat.
Play Now
All Butts and Guts Episodes
All Butts and Guts Episodes
December 4, 2018
All About Liver Cancer with Dr. Federico Aucejo (22:2)
What is liver cancer and what typically causes it? What treatment options are available and what is on the forefront of liver cancer treatment today? How much of your liver can you live without? Federico Aucejo, MD, explores these questions and many more in the latest episode.
Play Now
November 20, 2018
Treating Cancer with Hyperthermic (or Heated) Intraperitoneal Chemotherapy (HIPEC) (18:97)
Surgeon Kevin El-Hayek, MD, discusses an alternative, innovative method of delivering chemotherapy used to treat cancers that have spread to the lining of the abdominal cavity. Unlike traditional chemotherapy that is delivered intravenously, HIPEC delivers chemotherapy directly into the abdomen. Listen to learn when HIPEC is a good treatment option and how the process works.
Play Now
November 6, 2018
All About Irritable Bowel Syndrome (IBS) with Dr. Christine Lee (22:12)
Gastroenterologist Christine Lee, MD, explains what irritable bowel syndrome (IBS) is and how common it is compared with other disorders affecting the GI tract. While the cause of IBS isn't well understood, Dr. Lee discusses the symptoms that lead to diagnosis and measures that can be taken to control the condition.
Play Now
October 23, 2018
Understanding Anal Fistulas with Dr. David Liska (23:53)
Join colorectal surgeon David Liska, MD, for a discussion of anal fistulas and infections around the anus. Learn how they're diagnosed, the different treatment options available ― and who's most at risk for developing them.
Play Now