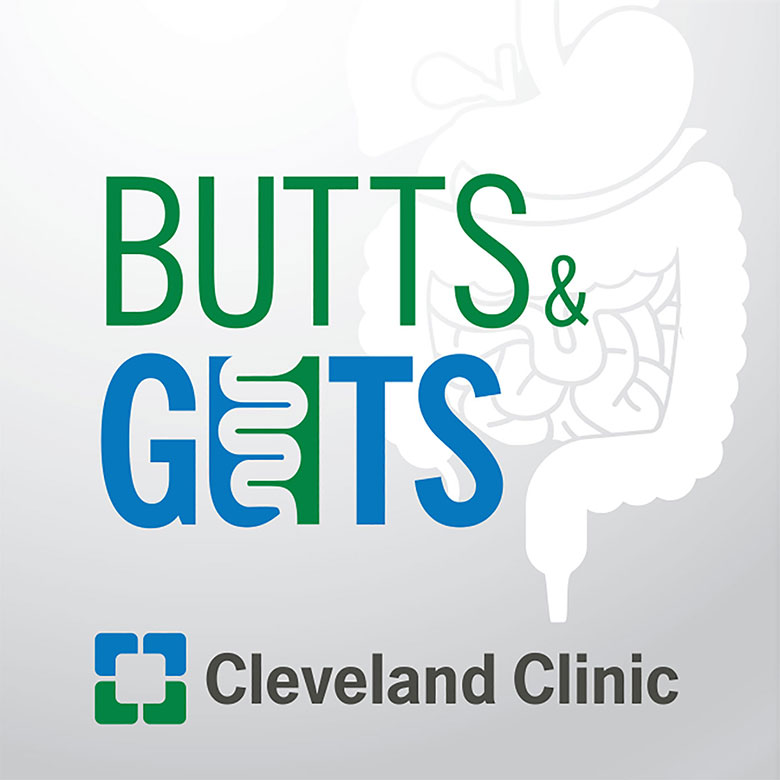 Butts & Guts
A Cleveland Clinic podcast exploring your digestive and surgical health from end to end. You'll learn how to have the best digestive health possible from your gall bladder to your liver and more from our host, Colorectal Surgery Chairman Scott Steele, MD.
Subscribe:
Featured Episode
Early Stage Breast Cancer: Exploring Ductal Carcinoma in Situ (DCIS) with Dr. Stephanie Valente
What is DCIS and what role does a mammogram play in diagnosing it? Learn more about this form of early stage breast, including common myths and misconceptions, from Cleveland Clinic breast surgeon Stephanie Valente, MD.
Play Now
All Butts and Guts Episodes
All Butts and Guts Episodes
September 25, 2018
How Is Rectal Cancer Care Being Improved by New National Standards? (14:58)
Research proves a multidisciplinary team approach to rectal cancer care provides better patient outcomes. Steven Wexner, MD, Director of the Digestive Disease Center and Chairman of the Department of Colorectal Surgery at Cleveland Clinic Florida, discusses the road to new national accreditation ― called the National Accreditation Program for Rectal Cancer (NAPRC) ― and what this means for patients.
Play Now
September 11, 2018
Understanding Pelvic Floor Disorders with Dr. Massarat Zutshi
What is the pelvic floor and what group of conditions are classified as pelvic floor dysfunctions? What causes pelvic floor disorders and is there anything you can do to prevent them? Colorectal surgeon Massarat Zutshi, MD, provides all you need to know ― from symptoms, to diagnosis, to treatment.
Play Now
August 28, 2018
Gastroesophageal Reflux Diease (GERD) and Barrett's Esophagus with Dr. Prashanthi Thota (21:2)
What is gastroesophageal reflux disease (GERD) exactly – and what tends to cause it? Join gastroenterology specialist Prashanthi Thota, MD, as she outlines everything from symptoms to treatments, as well as exploring Barrett's Esophagus, a rarer condition resulting from longtime exposure to GERD.
Play Now
August 14, 2018
Exploring the Growing Trend of Colon Cancer in Young Patients with Dr. Matthew Kalady
Matthew Kalady, MD, examines the increasing trend toward colon cancer in young patients, emphasizes the importance of understanding your family history, and not ignoring warning signs or symptoms.
Play Now