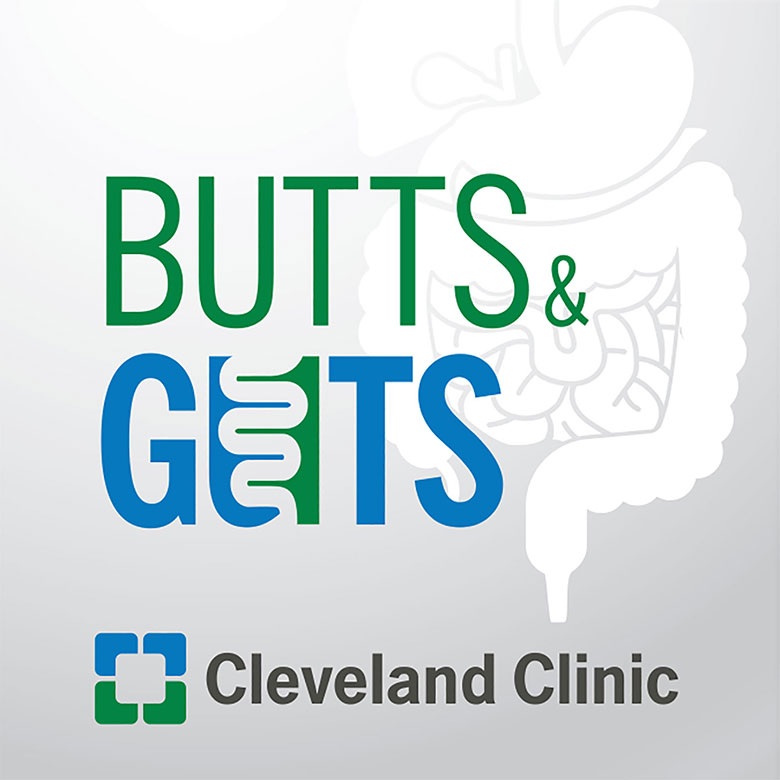 Butts & Guts
A Cleveland Clinic podcast exploring your digestive and surgical health from end to end. You'll learn how to have the best digestive health possible from your gall bladder to your liver and more from our host, Colorectal Surgery Chairman Scott Steele, MD.
Subscribe:
Featured Episode
Updates in Breast Cancer Screening
Radiologist Laura Dean, MD joins Butts and Guts for Breast Cancer Awareness Month to discuss commonly asked questions about screening for this disease. Topics include the recommended age for a mammogram, 2D vs. 3D screenings, breast cancer in men, and more.
Play Now
All Butts and Guts Episodes
All Butts and Guts Episodes
September 28, 2021
An Innovative, Organ Sparing Approach to Rectal Cancer
Emre Gorgun, MD joins Butts and Guts for a third time to give listeners a refresher on the differences between rectal cancer and colon cancer, as well as share an exciting update on new surgical approaches that leave patients with an improved quality of life post-treatment.
Play Now
September 14, 2021
Smarter Screening, Better Biopsies, and Breakthrough Treatments for Prostate Cancer
September is Prostate Cancer Awareness Month. Eric Klein, MD, Chairman of Cleveland Clinic's Glickman Urological and Kidney Institute, joins this special episode of Butts and Guts to discuss unique breakthroughs - from screening to diagnosis to treatment - that will improve prostate cancer care for men everywhere.
Play Now
August 31, 2021
What to Know About Swallowing Disorders
Dysphagia (also known as difficulty swallowing) is a symptom of many different medical conditions. Cleveland Clinic Florida gastroenterologist Alison Schneider, MD joins Butts and Guts to discuss swallowing disorders as well as treatment and therapies that can improve quality of life for those suffering with these issues.
Play Now
August 17, 2021
Which Colorectal Cancer Screening Method is Right for You?
While colonoscopy is the gold standard of colorectal cancer screenings, it's certainly not the only method to detect this disease. Cleveland Clinic Florida gastroenterologist Brenda Jimenez, MD, joins Butts & Guts to discuss how flexible sigmoidoscopies, FIT tests, and other screenings compare to a colonoscopy.
Play Now