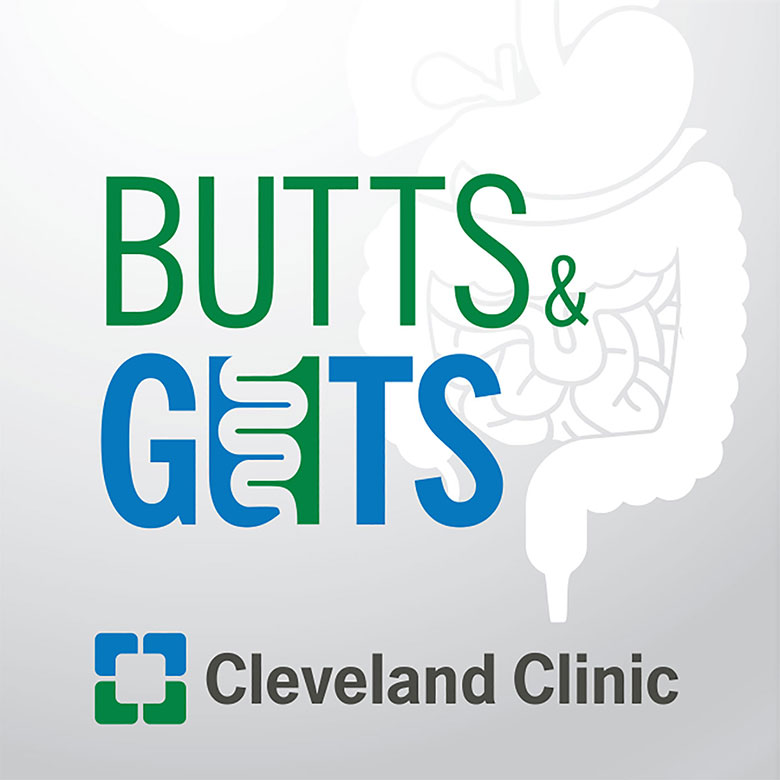 Butts & Guts
A Cleveland Clinic podcast exploring your digestive and surgical health from end to end. You'll learn how to have the best digestive health possible from your gall bladder to your liver and more from our host, Colorectal Surgery Chairman Scott Steele, MD.
Subscribe:
Featured Episode
Young Adults and Colorectal Cancer
Colorectal cancer diagnoses have been rapidly increasing in younger individuals, even those in their 20s and 30s. While there's no clear answer as to why this is occurring, there are multiple factors to weigh. David Liska, MD joins Butts and Guts to discuss these considerations and how Cleveland Clinic is treating younger patients with this disease. Also, listen in for an update on this year's virtual VeloSano program, as well as insight into a new clinical trial made possible by funds raised through this annual event.
Play Now
All Butts and Guts Episodes
All Butts and Guts Episodes
June 23, 2020
Managing Inflammatory Bowel Disease During the Coronavirus Pandemic
Butts and Guts continues our COVID-19 series with Miguel Regueiro, MD returning to discuss best practices for patients to help manage their chronic conditions like IBD while also dealing with Coronavirus concerns.
Play Now
June 9, 2020
Exploring Diverticular Disease
Michael Valente, MD joins Butts and Guts as a returning guest to provide insight into diverticular disease, a common disorder in the lining of the bowel. Learn the symptoms to watch for, available treatments, and the best dietary choices to help prevent this condition.
Play Now
May 26, 2020
Gastrointestinal Symptoms and Coronavirus
Every day, we learn more about the symptoms of COVID-19. While the primary symptoms are fever, cough and respiratory difficulty, gastrointestinal issues may be present as well. Dr. Miguel Regueiro joins Butts and Guts to discuss these GI symptoms and the importance of seeking care during this unique time.
Play Now
May 12, 2020
Caring for Patients during the Coronavirus Pandemic
COVID-19 is a rapidly evolving situation. In this episode of Butts and Guts, Conor Delaney, MD - Cleveland Clinic's Chairman of the Digestive Disease and Surgery Institute - joins to discuss patient care and surgical procedures during this pandemic. Topics include the steps Cleveland Clinic is taking to ensure our hospitals are safe for patients and caregivers, as well as the future of medical treatment in a post-Coronavirus world.
Play Now