Cardiac Consult
A Cleveland Clinic podcast exploring heart, vascular and thoracic topics of interest to healthcare providers: medical and surgical treatments, diagnostic testing, medical conditions, and research, technology and practice issues.
Subscribe: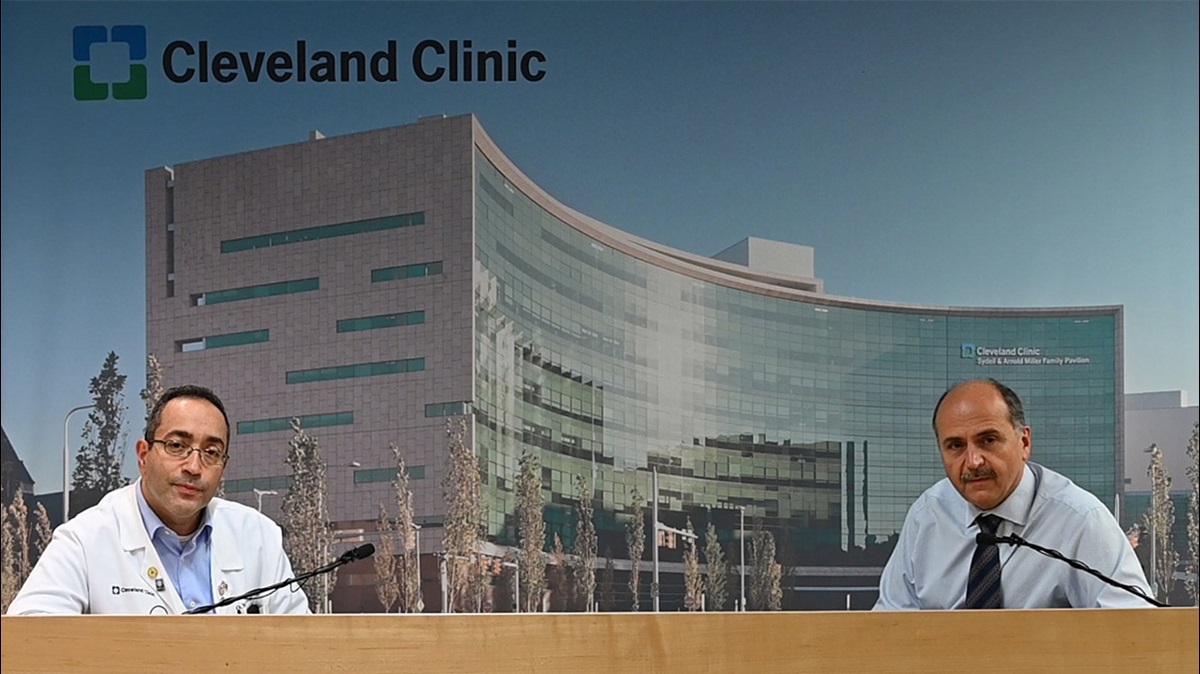 Featured Episode
Left Atrial Appendage Closure: Preventing Strokes in Patients with Atrial Fibrillation
Oussama Wazni, MD, Section Head, Cardiac Electrophysiology and Pacing and electrophysiologist Walid Saliba MD discuss atrial fibrillation stroke prevention, and the role of left atrial appendage occlusion: outcomes noted at Cleveland Clinic, what to do in patients that are unable to take Coumadin due to risk of bleeding, FDA indications, new technology available and the role of LAA occlusion in light of the newer anticoagulants.
Play Now
All Cardiac Consult Episodes
All Cardiac Consult Episodes
January 3, 2019
Statin Intolerance: How to manage it in clinical practice (9:8)
Dr. Leslie Cho, Section Head, Preventive Cardiology and Rehabilitation and Director of Women's Cardiovascular Center discusses tips for health care providers in treating statin intolerance. She covers common issues such as symptom management, medication choices, titration of meds, monitoring patients on statins, and the role of PCSK9 medications.
Play Now
December 27, 2018
Hypertrophic Cardiomyopathy (20:6)
Dr. Steven Nissen, Chairman of the Robert and Suzanne Tomsich Department of Cardiovascular Medicine at Cleveland Clinic discusses hypertrophic cardiomyopathy (HCM) with experts: cardiologist Milind Desai, MD and cardiovascular surgeon, Nicholas Smedira, MD . Topics include diagnostic findings, the nuances of surgical approach, determining the appropriate treatment for the best outcomes including symptom relief and decreased incidence of cardiac death, and genetic screening.
Play Now
December 20, 2018
Transcatheter Mitral Valve Repair in Patients with Heart Failure: Do the results of the COAPT trial impact care? (25:68)
After the results of the COAPT trial were released, Dr. Kapadia, joined a panel of experts in imaging Dr. Griffin, heart failure Dr. Starling, heart surgery Dr. Mick, and structural intervention Dr. Krishnaswamy to discuss best practices in the treatment of functional mitral regurgitation in heart failure patients. Read more about key findings of the COAPT trial.
Play Now
December 13, 2018
What you should know about cardiac rehabilitation (10:33)
Dr. Erik Van Iterson, Director of Cardiac Rehabilitation at Cleveland Clinic describes the benefits of cardiac rehabilitation for various patient populations, current enrollment statistics, factors that play into enrollment, tips for health care providers, what is included in cardiac rehab and new trends in cardiac rehabilitation programming.
Play Now