Cardiac Consult
A Cleveland Clinic podcast exploring heart, vascular and thoracic topics of interest to healthcare providers: medical and surgical treatments, diagnostic testing, medical conditions, and research, technology and practice issues.
Subscribe: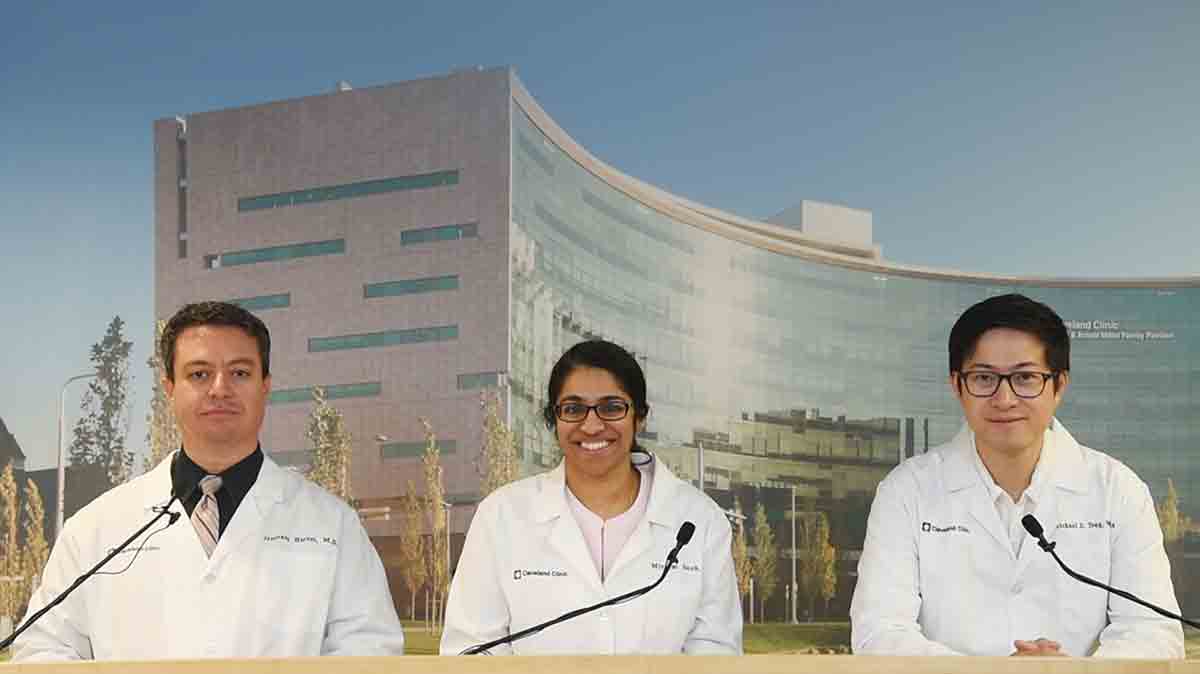 Featured Episode
Pulmonary Hypertension: What clinicians should know – panel of experts
Dr. Miriam Jacob discusses pulmonary hypertension with cardiac surgeon Dr. Michael Tong and pulmonologist Dr. Gustavo Heresi. Many topics are discussed including the complexity of evaluation and diagnosis, a review of the World Symposium on Pulmonary Hypertension recommendations and what this means for diagnosis thresholds, approaches to medical therapy, surgery for those who have chronic thromboembolic pulmonary hypertension (CTEPH), balloon pulmonary angioplasty (BPA), and when lung transplant is considered. The pulmonary hypertension team approach at Cleveland Clinic is described as well as current research studies.
Play Now
All Cardiac Consult Episodes
All Cardiac Consult Episodes
July 11, 2019
Should A Patent Foramen Ovale (PFO) Be Closed in an Adult? (11:87)
Dr. Amar Krishnaswamy, MD, FACC, Interventional Cardiologist at Cleveland Clinic describes factors that play a role in deciding if an adult patient should have a PFO closure, and considerations when deciding whether PFO closure is the right course of action.
Play Now
July 3, 2019
Valve Disease: When is the right time to intervene? (14:37)
Steven Nissen, MD, sits down with Marc Gillinov, MD, Chairman of the Department of Thoracic and Cardiovascular Surgery and Brian Griffin, MD, Section Head Cardiovascular Imaging to discuss timing of heart surgery, one valve at a time – the differences between aortic and mitral valves and regurgitation and stenosis. Changes in diagnostic imaging techniques, surgical and interventional options, as well as looking at outcomes data have changed the way we look at these patients and timing of intervention.
Play Now
June 27, 2019
Chronic thromboembolic pulmonary hypertension (CTEPH): Diagnosis and Treatment (20:78)
Dr. Nicholas Smedira leads a panel of experts in the discussion of chronic thromboembolic pulmonary hypertension (CTEPH) . Cardiac surgeon Dr. Michael Tong, pulmonologist Dr. Gustavo Heresi, interventional radiologist Dr. Ihab Haddadin, and vascular medicine specialist Dr. John Bartholomew provide insight into topics clinicians need to know to manage patients with CTEPH: diagnosis of pulmonary emboli vs. CTEPH, diagnostic imaging, management of acute vs. subacute emboli, patients at risk, surgery techniques vs. interventional approaches and postoperative care .
Play Now
June 20, 2019
Nutrition, Supplements and Energy Drinks: Implications for Cardiac Care of the Athlete (18:98)
Kate Patton, Med, RD, CCSD, LD, Preventive Cardiology and athlete nutrition expert from our Sports Cardiology Center discusses the impact of supplements and energy drinks on cardiovascular health and athletic performance and foods that provide sports performance benefits.
Play Now