Overview
Overview
Welcome to Cleveland Clinic Akron General's New Life Center!
Having a baby is one of life's most special events, and here at Cleveland Clinic Akron General, we are ready to be your maternity hospital partner.
We believe that each labor and delivery experience is unique and requires careful thought and personal attention, which is why we have a comprehensive team of caregivers ready to meet the needs of mom and baby, including doctors, nurses, anesthesia personnel, neonatologists and pregnancy specialists.
Here at Akron General, we:
Focus on delivering safe and quality care, while creating the best experience possible
Support the childbirth philosophy of the patient, whether it's a natural birth or a scheduled cesarean section
Have on-site maternal-fetal medicine specialists
Support practices that keep our low-risk C-section rate low
Are a Level III Perinatal Center, which means we are prepared for any type of delivery and need for the baby, including onsite NICU services staffed by Akron Children's Hospital neonatologists
Encourage kangaroo care, or skin-to-skin contact, regardless of the patient's delivery method
Value a family centered care model, keeping mom and baby together post-delivery
Provide breastfeeding and lactation support during and after mom's hospital stay
Allow unlimited family visitation
Akron General is a designated Baby-Friendly birth facility, an initiative sponsored by the World Health Organization (WHO) and the United Nations Children's Fund (UNICEF) to encourage and recognize hospitals that offer optimal care for infant feeding.
To explore our comprehensive childbirth class offerings and register for a free tour, visit our maternity events calendar.
See a list of obstetrics and gynecology providers who deliver at this hospital.
For more information about Maternity Services, call 330.344.2229 (BABY).
Find more maternity resources:
Before Pregnancy
Before Pregnancy
Preconceptual Services
Infertility Specialists
For some, conception requires special attention and care. If you're struggling with infertility and need a team of specialists to provide you with guidance and options, care is now available at the Cleveland Clinic Akron General Health & Wellness Center, Bath, location.
For appointments for females, call 216.839.3150, option 8.
For appointments for males, call 330.535.4428.
Getting Healthy Before Baby
Every woman is aware of what pregnancy pounds are. And it may sound crazy, but being at a healthy weight, eating a healthy diet and taking part in regular physical activity can increase your chances for conception, a healthy pregnancy, less complications during delivery, and most importantly having a healthy baby.
With nationally recognized Health & Wellness Centers, Akron General offers comprehensive wellness services to help women improve their health in preparing for pregnancy, programs to help expecting moms stay fit during pregnancy and a motivating staff to help new moms maintain their energy and routine.
Health & Wellness Services:
Nutritional counseling is also offered at our Main Campus, with or without a doctor's order for women who are planning a pregnancy, especially those who have special needs or are at risk for diabetes or gestational diabetes. Appointments can be made through our Centralized Scheduling line at 330.344.5760.
During Pregnancy
During Pregnancy
Prenatal Check-ups
One of the most important things a woman can do when she's pregnant is to see a doctor and then keep regularly scheduled prenatal doctor visits. The doctor will be able to monitor both your health and the baby's, helping to catch issues early on. If you do not have a doctor, see a list of providers who deliver at Akron General.
Testing and Counseling During Pregnancy
During pregnancy, testing helps ensure the health of both mom and baby. Akron General offers state-of-the-art ultrasound technology and specialized testing such as amniocentesis and RH sensitization. These tests are typically scheduled by your doctor's office. Your doctor will review the results with you.
Expecting mothers now also have access to fetal echocardiogram services within their maternity care plan at Akron General. Cleveland Clinic Children's Pediatric Cardiologists, Holly Nadorlik, DO and Malek Yaman, MD are accepting appointments by referral. Questions? Call 330.344.2866.
We also offer nutrition counseling for women who are pregnant or planning a pregnancy, especially those who have special needs or are at risk for diabetes or gestational diabetes. Appointments can be made with or without a doctor's order through our Central Scheduling line at 330.344.5760.
Checking In
Checking In
Having a Baby – Where to Check In
OB Emergencies & Monitoring
All unscheduled arrivals should check in at OB Emergency Department, located inside the Labor & Delivery Unit at Akron General. This includes emergencies related to pregnancy, early labor or monitoring that has been requested by your doctor.
The close location of our birthing rooms and ORs, should a delivery happen quickly, helps ensure greater safety for babies and moms. As a provider of Level III Obstetric Service, our patients receive the highest level of obstetric care available. They also have the reassurance of having the Children's Neonatal Intensive Care Unit - a partnership with Akron Children's Hospital - right in the hospital. Should babies need extra monitoring and care, transportation to Akron Children's Hospital can happen quickly and smoothly.
Scheduled Labor (Inductions) and C-Sections
If you are scheduled for an induction or C-section, you will check in at Labor & Delivery. Our nurses understand the anxiety expecting parents and families have. They are happy to help get you checked in, settled and comfortable.
Directions to Labor & Delivery
Main Entrance
Enter through the main lobby of the hospital, pass the café and follow signs for the OB Emergency Department/Labor and Delivery. You will pass the Blue Elevators on your right. Turn left before the Women's Center sign and you will enter the waiting area for OB Emergency Department/Labor and Delivery." Valet parking is available throughout the day for a nominal fee or low-cost parking is available in the Main Entrance Parking Deck.
Emergency Department
If the main entrance of the hospital is closed for the evening, you can either ring the bell at the main entrance for security to open the door, or you may enter through the Emergency Department.

If you have any trouble finding your way, please don't hesitate to ask any Akron General caregiver for help. We are happy to assist our patients and guests.
Labor & Delivery
Labor & Delivery
Your Hospital Stay
Whether your labor is scheduled or unexpectedly early, our staff is specially trained to help you and your family through the process. Planning ahead and being prepared for either type of delivery can be very helpful. To help you feel more comfortable, we offer tours of all our New Life Center areas, including the Special Care Nursery.
Labor and Delivery
From the routine deliveries to high-risk pregnancies, parents have the reassurance that Cleveland Clinic Akron General offers Level III Obstetric Service, the highest level of care available in obstetrics. Our specially trained staff, maternal-fetal medicine specialists and anesthesiologists are available 24-hours a day.
Expecting parents are also happy to learn that our private and spacious rooms are designed for labor and delivery while having special comforts. These features include rocking chairs, birthing balls, private bathrooms and showers and TVs for relaxation. Please feel free to bring in your own laptop, phone or portable device with preferred music playlists.
Postpartum
We offer a completely private birthing experience. After your little one arrives and your initial recovery in the labor and delivery unit, you will be moved to one of our mother-baby units for postpartum care. We offer 37 private rooms, each having a private bathroom. Our goal in creating a completely private birthing experience was to enhance our supportive environment for healing, restoration and family bonding.
During your stay in your mother-baby room, your infant will remain with you. We believe that new families should spend as much time as possible with their newborns while at Akron General. We also encourage breastfeeding and have staff available to help you meet this goal.
Nursery
We encourage babies to be with their parents in the room. Your baby will remain with you as much as you wish unless the doctor determines the need for closer evaluation.
Specialized Care Before Delivery - A Service for High-Risk Moms and Babies
Akron General cares for mom and baby during high-risk pregnancies and for fragile newborns. Moms who are on bed rest or require additional monitoring stay in our Peri-natal Unit. Nurses are able to monitor mom and baby at the bedside, from our nursing station or offices. For added safety and reassurance, an alerting feature notifies staff should changes arise quickly. We strive to offer all the comforts of home during mom's extended stay.
Newborns Stay Close to Mom, Even Preemies - Children's Neonatal Intensive Care Unit
Our very special partnership with Akron Children's Hospital means that babies who need close observation can many times stay closer to mom in the Children's Neonatal Intensive Care Unit at Akron General. When babies need an even higher level of care, they are transferred just a block away to Akron Children's Hospital. Their parents can have confidence knowing that there's a continuity of care with our special partnership.
CenteringPregnancy® Program
CenteringPregnancy® Program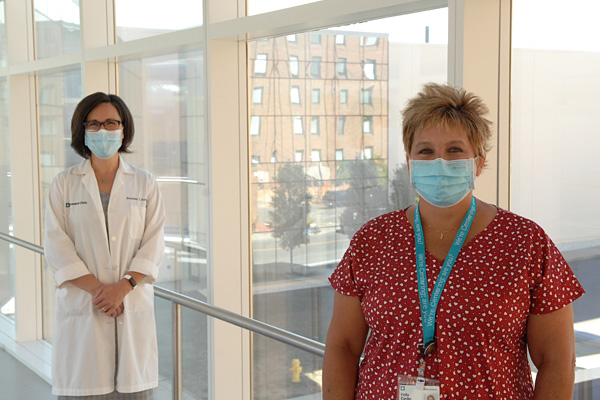 Welcome to CenteringPregnancy®, a program offered by Cleveland Clinic Akron General.
CenteringPregnancy is group prenatal care that prepares women for the challenges and excitement of labor, delivery and parenting. These two-hour appointments are conducted over ten sessions and offer expectant mothers one-on-one care with a provider, as well as group time with eight to ten other women in similar stages of pregnancy.
This program offers significantly more time with a provider than traditional appointments and allow expectant mothers to share experiences. After the provider examines each woman privately and addresses any concerns, she meets with the group to:
Share information on pregnancy and parenting
Answer any questions from the group
Offer tips on pregnancy discomfort, nutrition, stress management, labor and delivery, breastfeeding and infant care
Appointment location:
Cleveland Clinic Akron General Akron Health Center
Women's Health Center
676 S. Broadway St., Suite #203
Akron, OH 44311
To learn more, call 330.344.7666 or email CCAGCentering@ccf.org.
Childbirth Classes
Childbirth Classes
To view and register online for our childbirth classes, or to register for a free tour, visit our maternity events calendar. If you have questions, please call 330.344.2229 (BABY).
TeamBirth
TeamBirth
Cleveland Clinic Akron General practices the TeamBirth model of care, which allows people giving birth and providers to have shared input and understanding into decisions during labor and delivery.
TeamBirth was developed by Ariadne Labs, and is an evidence-based approach, focusing on communication and teamwork to improve safety and quality of care.
A central component of TeamBirth is a shared planning board located in all labor and delivery rooms. This board is used to name the team, elevate the patient's birth preferences, and outline care plans and progress for the patient and the baby.
The full care team, including the person giving birth and support person, meet frequently throughout labor and delivery to make sure all parties are aware of the patient's preferences and concerns, and to set clear expectations.
For more information about Maternity Services at Akron General, call 330.344.2229 (BABY).
Appointments & Locations
Appointments & Locations
To make an appointment at any of these five locations, call 330.344.8565.
To make an appointment at the following location, call 330.344.6800.