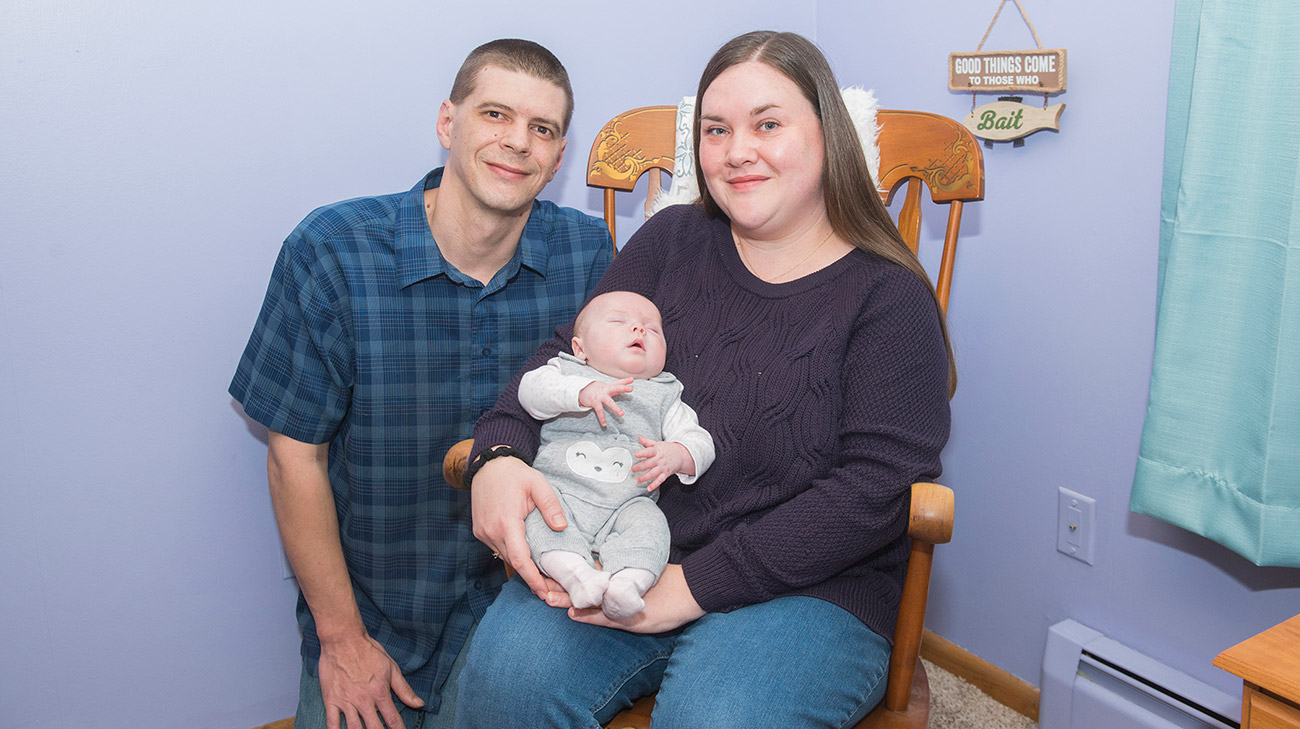 It was the summer of 1998 when Jessica and Glenn met; they were 16 and 17 years old, respectively. He came in to work his shift at a fast food restaurant while Jessica was applying for a job there. After some time getting to know each other and a few dates, the couple have been together ever since.
The Merritts' married in 2009. A few years later they gave up on the idea of having a family of their own. "We just figured it wasn't in the cards for us. So, we accepted it and moved on with our lives," recalls Jessica.
Jessica, a licensed practical nurse, and Glenn, a warehouse shipping coordinator, enjoyed their life in Cuyahoga Falls with their dogs Molly and Cali. They would often go to a family home near Marietta to fish and disconnect from the world.
In March 2019, they got a surprise — they learned that they were going to have a baby in November. "We were so happy, yet so shocked," says Jessica.
The pregnancy went along OK with a few bumps here and there, but in August 2019 Jessica's blood pressure began to elevate. She kept track and in two days her blood pressure continued to rise and her legs began to swell terribly. Her obstetrician told her to go to Cleveland Clinic Akron General's labor and delivery triage unit.
Because of Jessica's age and her symptoms, her physician made the decision to keep her at Akron General on bed rest until she was scheduled to be induced, about a month early, in October. "I had so many plans and things to do before the baby came. Glenn and I had a vacation we were supposed to go on. I needed to finish the baby's room. Spending so much time in the hospital wasn't the way I pictured my pregnancy," she recalls.
"It was hectic and confusing, everything was happening so quickly. Susan kept my attention; she was the only voice I heard. She kept me focused and coached me through everything. It was nice to have a familiar face in the room with me. And, my obstetrician helped me to smile and laugh by singing."
Jessica really didn't know how she was going to handle being in the hospital for such an extended period of time. The Akron General caregivers in the labor and delivery unit knew this would be tough on Jessica mentally and physically. "I can't imagine how hard it was for Jessica to be without her husband and out of her familiar surroundings for such an extended amount of time," says Susan DiFeo, BSN, RN, a labor and delivery nurse at Akron General who met Jessica at the beginning of her stay.
All of the caregivers did their part to keep Jessica feeling like she was right at home during her time at Akron General. Jessica says, "I became close with a lot of the caregivers. From nurses to housekeeping, they'd come and spend time with me when they had breaks or clocked out; it especially meant a lot when I was having a bad day."
Jessica's obstetrician made a paper chain — the kind kids make in grade school to countdown to winter break — as a way to measure the time until Jessica would give birth. "That helped me to see there was an end in sight," she remembers.
About a month into her stay, Jessica celebrated her birthday at Akron General. Two caregivers, Tegan and Kayla, with whom she had become exceptionally close to, showed up at her room singing happy birthday at midnight on Sept. 12. They brought a little party with them — balloons, sparkling water, sugar-free chocolates since Jessica was diabetic, nail polish, face masks and other small gifts. "They really made my birthday special because I didn't expect anything and here they thought of everything to lift my spirits and pamper me," says Jessica.
Susan was always stopping in to check in on Jessica, would call her on her days off and even bonded with Glenn over their love of craft beer. "Jessica, Glenn and I had a lot of common ground, and not-so-common ground. We connected on so many levels," says Susan.
Jessica's baby shower had been planned for September. It was supposed to be an exciting party to celebrate the baby that the Merritts' never expected, but instead it caused turmoil for Jessica. "I wasn't able to attend the celebration. My mom suggested Skyping in but it wasn't the same. It really made me sad to think I couldn't attend my own party," remembers Jessica. Once again, the Akron General caregivers came to her rescue; they suggested that the Merritts' have the shower at the hospital. Jessica couldn't go to the party, so the party came to her.
Finally, on Sept. 30, there was only one link left on Jessica's induction countdown chain. After 39.5 hours of labor, Jessica was ready to give birth. Between pushes, her physician asked her what her favorite music group was. Jessica immediately responded "Queen!" To add some needed levity, the obstetrician sang a Queen song in the delivery room.
Susan's shift ended at 3 p.m. that day, but stayed on her own time to be there for Jessica. "It was hectic and confusing, everything was happening so quickly. Susan kept my attention; she was the only voice I heard. She kept me focused and coached me through everything," says Jessica. "It was nice to have a familiar face in the room with me. And, my obstetrician helped me to smile and laugh by singing."
Glenn was nervous in the delivery room and wasn't watching the birth. Susan encouraged him to turn his head and watch. "It was the most beautiful thing I've ever seen," says Glenn. "I'm happy Susan convinced me to watch what was happening."
The bond between the couple and Susan was mutually beneficial. "Seeing two people become three is the best part of my job," says Susan. "Watching the miracle of life happen right before my eyes is very rewarding."
Allison Mae Merritts was born on Oct. 2. After birth, Allison needed additional care and was in the Akron General Neonatal Intensive Care Unit for two weeks and then was transferred to Akron Children's Hospital for an additional two weeks.
Even after the birth, Tegan, Kayla and other caregivers who Jessica befriended during her 49-day stay at Akron General would come to check on her and keep her company.
Jessica kept busy watching TV and crocheting — even making a blanket for Allison while in the hospital — but ultimately attributes the Akron General caregivers for helping her get through her bed rest.
"I only had a few bad days while I was on bed rest. It was the staff who helped me get through the bad ones and always kept my spirits up," says Jessica. "It was the quality of care that made the difference. I couldn't have asked for anything better. They cared for me medically and personally. They became like family. I truly appreciate them and what they did for me."
Related Institutes: Ob/Gyn & Women's Health Institute
Patient Stories
Patient Stories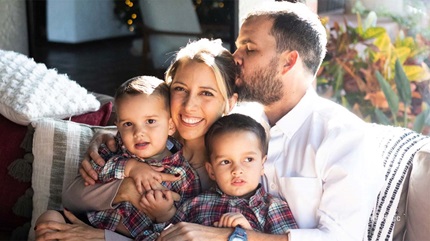 Mar 16, 2023
"Dr. Pieretti took the time to explain how the robotic surgery would work and how quick my recovery would be with this technology. That made me happy because I wanted to get back to my regular life fast."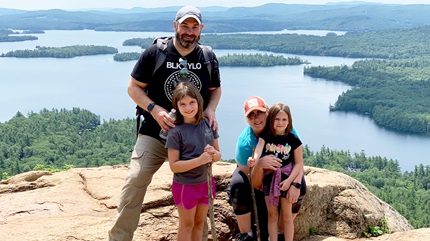 Mar 14, 2023
"If you notice any change with your body, get it checked out regardless of how insignificant you think it might be. If something hadn't made me go to a doctor, I might not be here today."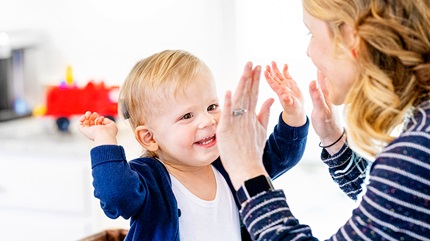 Mar 3, 2023
"From being born essentially deaf, to now singing lullabies. It blows my mind. Corbin is not just meeting developmental milestones, he's surpassing them."