Overview
Overview
Our specialists excel at managing the most critically injured or ill patients, providing them high quality care 24 hours day, seven days a week. The team manages patients in both the intensive care unit and regular inpatient units. Our Acute Care Surgeons are board in general surgery and and also have a special certification in surgical critical care from the American Board of Surgery. Our surgeons treat the full range of surgical emergencies from appendicitis and gallbladders to bowel emergencies, traumatic injuries, septic shock, acute respiratory distress and advance multi-system organ failure.
Acute care surgery includes the following specialties:
We provide patients with comprehensive, patient-centered care from the time of the injury all the way to recovery. We treat our patents with respect and are mindful that acute conditions are frequently unexpected and can cause significant financial, social and psychological stress.
Emergency General Surgery
Emergency General Surgery
Because emergency surgical conditions frequently require immediate surgery the operating room is reserved 24-hours a day for these surgeries. This typically results in a quicker recovery and a shorter hospital stay for our patients.
Our Acute Care Surgeons provide timely surgical assessment and treatment of patients with critical surgical conditions, such as:
Trauma Surgery
Trauma Surgery
Since 1977, the Akron General Trauma Center has been continuously verified as a level 1 Trauma Center, which is the the highest trauma rating a hospital can receive.
We provide the highest level of surgical care from the time patients arrive in the emergency room through their hospital journeys. The team is available 24-hours a day to provide the utmost care for our patients with life-threatening injuries. We provide the required expertise and care coordination among our various surgical subspecialties from interventional radiology to orthopaedics, plastic, cardiothoracic or neuro surgery.
Conditions we commonly treat include:
Motor vehicle accident injuries.
Penetrating injuries such as gunshot or stab wounds.
Falls related to syncope or mechanical etiologies.
Work-related traumatic injuries.
Solid organ injuries such as liver, spleen or kidneys.
Brain and spinal cord injuries.
Closed head injuries and hemorrhage.
Sports-related traumatic injuries.
Traumatic bone fractures.
Surgical Intensive Care Unit (SICU)
Surgical Intensive Care Unit (SICU)
The Surgical Intensive Care Unit (SICU) cares for all surgical needs from complex ventilator management, hospital-acquired infections and care for multispecialty surgical patients including general surgery, orthopaedics, urology, gynecology or advanced hepato-billiary surgeries. Emergency surgery patients as well as those requiring specialized pulmonary, renal, cardiovascular, neurological or postoperative monitoring are managed by the Acute Care Surgeon.
We receive referrals from hospitals throughout the region and provide management of various types of shock, sepsis and acute respiratory distress syndrome. The Acute Care surgery team provides patient care, education and training in conjunction with nursing, pharmacists, physical therapists, respiratory therapist, nutritionist, care managers, and a team of surgical residents, pharmacy residents and medical students.
Our Team
Patient Information
Patient Information
Traumatic injuries and emergency surgery are stressful for patients and their family. We take pride in offering excellence in our trauma care to help reduce the anxiety that occurs when a loved one is injured.
What can I expect while in the hospital?
You can expect to see the trauma surgery team, which is composed of trauma surgeons, physician assistants and nurse practitioners, work as an efficient unit to offer the best possible care. The team also works closely with subspecialists, such as neurosurgeons, orthopedics specialists and emergency medicine physicians.
How will my primary care physician know what happened to me?
If patients provide their primary care providers' name and address, we will notify the physician of the patient's admission and send updates upon request and at discharge.
What can I expect after my hospital visit?
The ultimate goal of our team is to restore the patient to pre-injury status, and the rehabilitation of an injured person starts on day one of the hospital stay, as members of our rehabilitation team will evaluate the patient for goals of care and rehab needs.
For patients who need to go to a rehab facility after hospital discharge, we work closely with the case manager to recommend the right facility. Cleveland Clinic Rehabilitation Hospital, Edwin Shaw in affiliation with Select Medical, offers the very latest in rehabilitative care at a location in Bath Township that is convenient for many of our patients. For those who don't need such a high level of care, Cleveland Clinic's Center for Connected Care offers excellent home care options.
How can I obtain updates of my family member's progress as a patient?
To protect your loved one's privacy, medical information is given out only to family members designated by the patient. If the patient is unable to designate someone, the person with Power of Attorney will be given necessary medical information. If your loved one has an Advanced Directive, Living Will or Durable Power of Attorney for Health Care, please bring a copy of these documents to the hospital.
Appointments & Location
Appointments & Location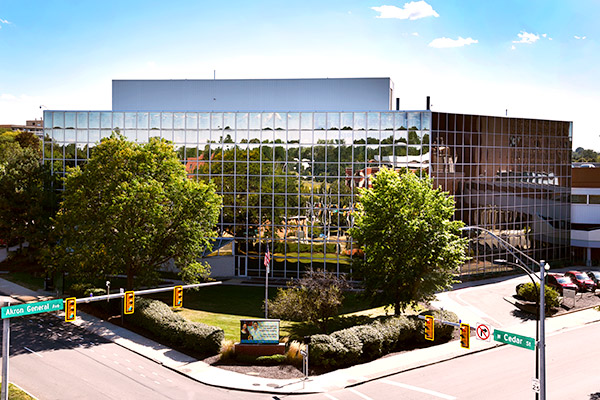 For more information about the Trauma and Emergency General Surgery clinics, please call 330.344.4628.
Location
Our office is located in the Ambulatory Care Center at the Akron General campus:
Ambulatory Care Center
1 Akron General Avenue
Building 301
Suite 359
Akron, OH 44307