Emergency Services at Akron General
Emergency Services at Akron General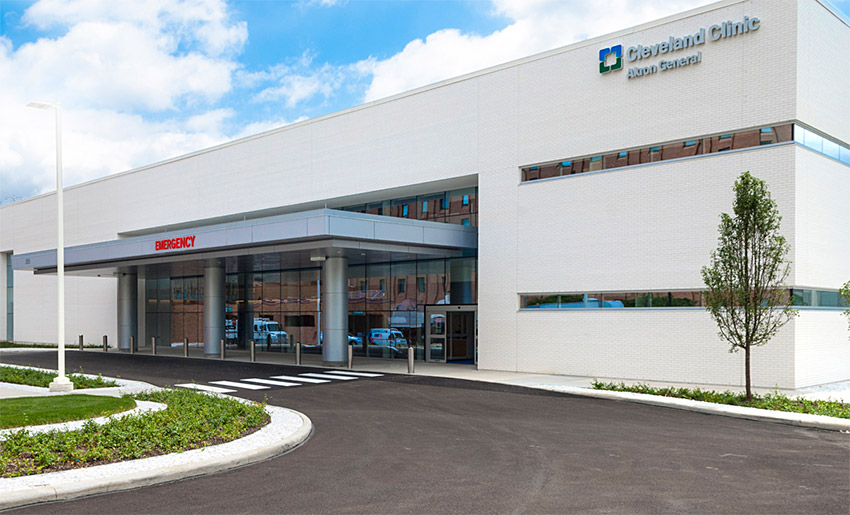 Emergencies are never planned. When they do happen, patients have relied on Cleveland Clinic Akron General to care for their families for more than 100 years.
With five convenient locations including our main hospital in Akron, as well as Bath, Green, Lodi and Stow; Akron General emergency services are available right around the corner 24 hours a day, 365 days a year.
Visiting the Emergency Room at Akron General
Cleveland Clinic Akron General's Emergency Department is a Level 1 trauma center. The Emergency Department is designed to expedite the process from admittance through discharge and includes:
Sixty treatment rooms
Two trauma rooms
Six rooms for minor injuries and illnesses
Five behavioral health rooms
Designated area to treat patients who have experienced sexual assault, domestic violence, elder abuse or neglect
Designated area for quarantining and treating highly contagious patients
Geriatric friendly treatment areas
Rooftop helipad
Imaging department, including a CT scanner
The Emergency Department has a 19-bed observation unit for treatment and evaluation while determining whether a patient needs to be admitted to the hospital.
Our Emergency Room Staff
All of our locations are staffed by board-certified emergency physicians and certified emergency nurses. Additionally, our main Emergency Department in downtown Akron includes board-certified trauma physicians, as well other specialists.
Emergency Room Locations
Emergency Room Locations
Cleveland Clinic Akron General offers five convenient Emergency Department locations.
If you are experiencing a life-threatening injury or event, please call 9-1-1 immediately. Do not attempt to drive yourself to the hospital. Emergency responders can begin life-saving treatment on the way to the hospital.
Our Emergency Room Locations
Geriatric Emergency Department
Geriatric Emergency Department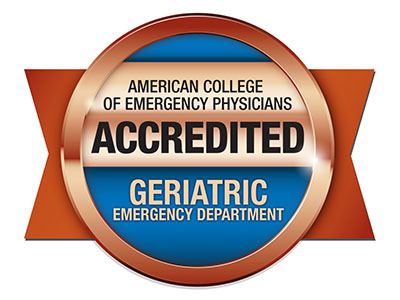 Accredited Geriatric Emergency Department
The Akron General Emergency Department has achieved the bronze standard for Geriatric Emergency Department Accreditation (GEDA) from the American College of Emergency Physicians. GEDA recognizes emergency departments that provide excellent care for older adults.
Older adults visit emergency departments at a high rate, they often present with multiple chronic conditions and face more social and physical challenges than the general population. Seniors who visit GEDA accredited emergency departments can be assured the facilities have the necessary expertise, equipment and personal in place to provide optimal care This greatly enhances emergency care for older adults and helps ease them back into their daily lives after an emergency occurs.
Akron General's accreditation signals we are a senior-friendly emergency department and our focus is on providing the highest standards of care for the communities' older adults which includes:
Geriatric-friendly treatment areas
Enhanced staffing
Standardized approaches to care that address common geriatric issues
More efficient, patient-centered geriatric emergency care
Enhanced education
Optimal transition of care from the Emergency Department to other settings such as home, inpatient care, community-based care, rehabilitation or long-term care
Improving patient outcomes
This voluntary accreditation provides best practices for geriatric care and education.
We're pleased that our dedication to seniors has been recognized and look forward to continuing to provide the best geriatric emergency care to the community.
Our Level 1 Trauma Center
Our Level 1 Trauma Center
A Level I Trauma Center, as designated by the American College of Surgeons (ACS), Akron General's main Emergency Department in downtown Akron offers the technology, expertise and staffing to treat all injuries regardless of severity. Operating rooms, diagnostic services and trauma specialists are on-call 24 hours a day.
PATH Center
PATH Center
The PATH (Providing Access To Healing) Center at Akron General's main emergency department provides quality, trauma-informed, compassionate care to victims of sexual assault, domestic violence, elder abuse and neglect for Summit and surrounding counties, while also ensuring quality of evidence collection.
The PATH Center is staffed by professionals trained in the systematic collection of evidence in an atmosphere of support and compassion, treating every patient with the utmost respect.
If the patient desires, an advocate from the Rape Crisis Center will be contacted. Medical, legal and emotional support services are provided to all patients.
If you need immediate assistance or care following an assault, please call 911 or the Akron General Emergency Department at 330.344.6611. If you would like more information about our PATH Center, please call 330.344.1148.
What to Expect
What to Expect
We know that an emergency visit can be a stressful, anxious time because of unfamiliar people, surroundings and experiences. It is our hope that this overview will give you a clear understanding of Akron General's Emergency Department and answer some common questions about your medical care.
Step One: Assessment and Triage
Upon arrival at the Emergency Department, you will sign-in at the registration desk. You will have the opportunity to describe your medical problem to a registered nurse who will listen and ask questions. The nurse will rapidly assess your condition. This is called triage. By using this information, patients are seen in the order of the severity of their medical condition. As a result, a patient experiencing chest pain or some other life-threatening condition may be moved to the treatment area rapidly for immediate medical intervention. This tends to happen more frequently at our downtown Akron location, as it is a Level I Trauma Center, Certified Chest Pain Center and Primary Stroke Center.
Tips to Remember:
From the time you sign-in, you will be assigned a nurse who will track your condition during your stay in the Emergency Department.
Your nurse is your advocate. We encourage you to tell your nurse about any change in your condition and ask questions if you have any concerns.
If you are experiencing pain when you arrive, please tell the triage nurse. If your pain increases after you have signed in, please tell a nurse.
If you feel you have been waiting a long time without any communication, ask the triage nurse to give you an update on where you are on the list.
Step Two: Treatment
Once your name is called, you will be escorted to a room in the treatment area. You will change into a patient gown and then be seated or lie down. A physician will see you, usually within 30 minutes. There are specially trained emergency medicine physicians on duty 24 hours a day.
As Cleveland Clinic Akron General is a teaching institution, a resident physician in training, a student or a physician's assistant may initiate your care. The attending physician supervises all care. Once seen by a physician, lab tests or X-rays may be ordered.
Tips to Remember:
Family members are allowed to stay with you during your time in the Emergency Department. On occasion a nurse will request that your family stay in the waiting room during certain examinations or procedures.
Depending on your medical needs, you may see a variety of medical professionals including physician specialists, lab, EKG or X-ray technicians or respiratory therapists.
Please do not eat or drink anything until you check with your nurse. Oftentimes, food or beverages will not be allowed until the Emergency Department physician has received test results. Eating worsens some conditions and eating or drinking may delay certain tests or surgery.
The Emergency Department can be a busy environment and it is often difficult to distinguish the various personnel. If you are uncertain as to whom your caregivers are, please do not hesitate to ask.
If at any time you have a question or concern, please ask to speak with the attending physician.
Please do not hesitate to use the nurse call button if you need to communicate with your nurse.
Some lab tests may take some time processing; therefore, your time in the Emergency Department may take four hours or more.
Amenities such as pillows, blankets and even a television are all available for you during this time.
Step Three: Disposition
This is the term we use to describe the final outcome of your visit. At this point you will be discharged home or admitted to the hospital for further treatment.
If you are discharged home:
The physician will explain the results of tests and the diagnosis and treatment.
The physician will leave to prepare your discharge order and instructions. Because these are customized for every patient, it can take up to 20 minutes to prepare.
The discharge instructions will include a description of at-home care and prescriptions, if needed.
When ready, the nurse will review the instructions with you, answer any questions and obtain your signature.
If you need clarification on your medical treatment and follow-up instructions, please don't hesitate to ask.
If you are admitted to the hospital:
You will be taken to a room once your physician is contacted, a chart is prepared (usually by your primary care physician or a specialist if needed) and a bed on the appropriate medical floor is available and prepared for you.
At times when the hospital is particularly busy, the appropriate room may not be immediately available. Under such circumstances, we will do our best to make you as comfortable as possible in the Emergency Department and keep you updated on your room status.