Emergency Services at Akron General
Emergency Services at Akron General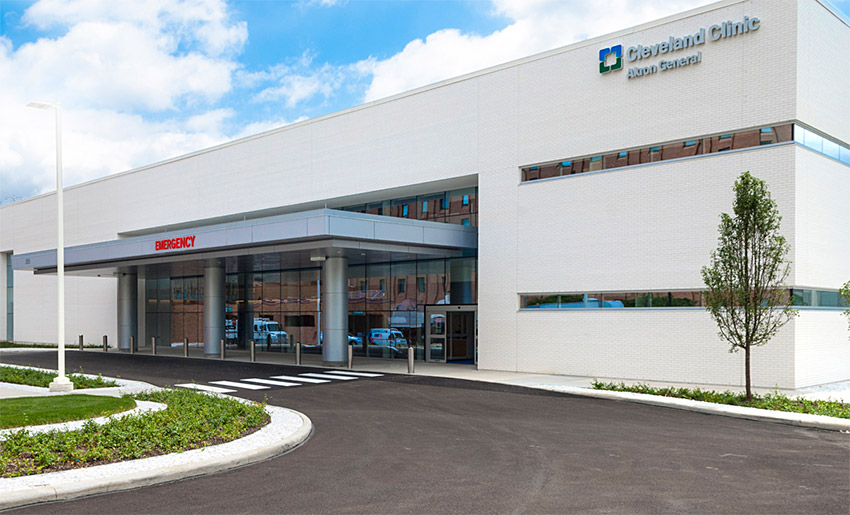 Emergencies are never planned. When they do happen, patients have relied on Cleveland Clinic Akron General to care for their families for more than 100 years.
With five convenient locations including our main hospital in Akron, as well as Bath, Green, Lodi and Stow; Akron General emergency services are available right around the corner 24 hours a day, 365 days a year.
Visiting the Emergency Room at Akron General
Cleveland Clinic Akron General's Emergency Department is a Level 1 trauma center. The Emergency Department is designed to expedite the process from admittance through discharge and includes:
Sixty treatment rooms
Two trauma rooms
Six rooms for minor injuries and illnesses
Five behavioral health rooms
Designated area to treat patients who have experienced sexual assault, domestic violence, elder abuse or neglect
Designated area for quarantining and treating highly contagious patients
Geriatric friendly treatment areas
Rooftop helipad
Imaging department, including a CT scanner
The Emergency Department has a 19-bed observation unit for treatment and evaluation while determining whether a patient needs to be admitted to the hospital.
Our Emergency Room Staff
All of our locations are staffed by board-certified emergency physicians and certified emergency nurses. Additionally, our main Emergency Department in downtown Akron includes board-certified trauma physicians, as well other specialists.
Emergency Room Locations
Emergency Room Locations
Cleveland Clinic Akron General offers five convenient Emergency Department locations.
If you are experiencing a life-threatening injury or event, please call 9-1-1 immediately. Do not attempt to drive yourself to the hospital. Emergency responders can begin life-saving treatment on the way to the hospital.
Our Emergency Room Locations
Geriatric Emergency Department
Geriatric Emergency Department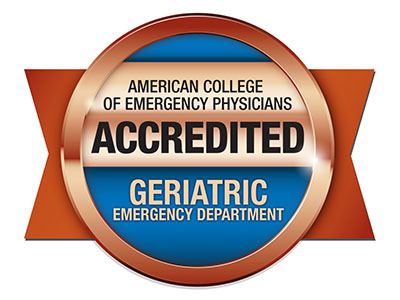 Accredited Geriatric Emergency Department
The Akron General Emergency Department has achieved the bronze standard for Geriatric Emergency Department Accreditation (GEDA) from the American College of Emergency Physicians. GEDA recognizes emergency departments that provide excellent care for older adults.
Older adults visit emergency departments at a high rate, they often present with multiple chronic conditions and face more social and physical challenges than the general population. Seniors who visit GEDA accredited emergency departments can be assured the facilities have the necessary expertise, equipment and personal in place to provide optimal care This greatly enhances emergency care for older adults and helps ease them back into their daily lives after an emergency occurs.
Akron General's accreditation signals we are a senior-friendly emergency department and our focus is on providing the highest standards of care for the communities' older adults which includes:
Geriatric-friendly treatment areas
Enhanced staffing
Standardized approaches to care that address common geriatric issues
More efficient, patient-centered geriatric emergency care
Enhanced education
Optimal transition of care from the Emergency Department to other settings such as home, inpatient care, community-based care, rehabilitation or long-term care
Improving patient outcomes
This voluntary accreditation provides best practices for geriatric care and education.
We're pleased that our dedication to seniors has been recognized and look forward to continuing to provide the best geriatric emergency care to the community.
Our Level 1 Trauma Center
Our Level 1 Trauma Center
A Level I Trauma Center, as designated by the American College of Surgeons (ACS), Akron General's main Emergency Department in downtown Akron offers the technology, expertise and staffing to treat all injuries regardless of severity. Operating rooms, diagnostic services and trauma specialists are on-call 24 hours a day.
PATH Center
PATH Center
The PATH (Providing Access To Healing) Center at Akron General's main emergency department provides quality, trauma-informed, compassionate care to victims of sexual assault, domestic violence, elder abuse and neglect for Summit and surrounding counties, while also ensuring quality of evidence collection.
The PATH Center is staffed by professionals trained in the systematic collection of evidence in an atmosphere of support and compassion, treating every patient with the utmost respect.
If the patient desires, an advocate from the Rape Crisis Center will be contacted. Medical, legal and emotional support services are provided to all patients.
If you need immediate assistance or care following an assault, please call 911 or the Akron General Emergency Department at 330.344.6611. If you would like more information about our PATH Center, please call 330.344.1148.
Recovery's in Reach
Recovery's in Reach
Opioid addiction is a frustrating illness. Admitting that you or someone you care about is addicted to opioids isn't easy, but recovery is possible.
We can help. Our Recovery's in Reach team will work with you to create a treatment plan just for you. From immediate treatment, education and support, to assisting with the transition of care, we're here to support you 24/7 at the Akron General Emergency Department in downtown Akron.
Recovery's in Reach is available 24 hours a day, seven days a week.
Recovery Coordinators start the addiction recovery process in the Akron General Emergency Department.
Our coordinators provide emotional support, guidance, education and coordinate follow-up appointments with local recovery and/or programs offered through Cleveland Clinic.
Patients who suffer from symptoms of withdrawal may be provided relief with medication while under the care of an emergency department provider.
Patients will be offered a peer recovery coach who provides support through recovery.
Our team will also assist in the patient's transition from the emergency department to treatment to ensure they don't leave the hospital without a treatment option in place.
If you're addicted to opioids, or know someone who is, the Recovery's In Reach team at Cleveland Clinic Akron General is here to help you start your recovery.
For more information about Recovery's in Reach, call 330.344.4606.