Overview
Overview
If you have heartburn twice a week or more, you may have acid reflux disease, also known as Gastroesophageal Reflux Disease (GERD). Cleveland Clinic Akron General is pleased to offer a comprehensive center that can help you manage and eliminate heartburn and other symptoms of GERD. Our specialists in digestive health and surgery carefully evaluate each patient and custom tailor treatment based on the individual's medical history, causes of GERD and his or her preferences.
Having a comprehensive evaluation is important in uncovering these issues and getting the most appropriate care. Our team approach addresses these needs and offers management through medical or surgical options.
Our unique Heartburn Center offers:
A multidisciplinary team of surgeons, gastroenterologists, nurses and dieticians that supports a comprehensive model not found elsewhere in the area.
Evaluation and testing using state-of-the-art equipment.
Flexible, tailored treatment options for each patient including medical management and cutting-edge surgical options.
Diet assessment and instruction.
Education about heartburn, its causes and effects.
Services
Services
Treatment of heartburns
Following a thorough evaluation, some additional testing may be required in order to determine the cause of your symptoms. The Heartburn Center offers access to state-of-the-art diagnostic tests, including manometry, which assess swallowing function, upper endoscopy and pH monitoring. Based on the test results, an individualized treatment plan will be developed, which could include lifestyle modifications, medication management or incisionless or minimally invasive surgery.
Medications and lifestyle changes
Infrequent and mild reflux can sometimes be managed with medication or lifestyle changes, such as:
Weight-loss.
A diet low in fat.
Not eating before lying down.
Reduced amounts of caffeine and alcohol.
Surgery
Surgical options correct the anatomy, eliminating GERD and its symptoms for good.
Incisionless surgery
Akron General is proud to be a leader in state-of-the-art surgery without incisions. TIF (Transoral Incisionless Fundoplication*) can help reduce or eliminate reflux, reduce or eliminate the need for daily medication and alleviate symptoms, such as hoarseness, coughing and burning. This procedure reconstructs the valve and restores the body's natural protections against reflux.

There is no scarring and less potential for infection. The average length of stay in the hospital for this procedure is just one day. It allows patients to return to work and normal activities faster than a procedure that requires incisions.

Certain medical conditions prohibit people from being a candidate for TIF. *Prior insurance approval required.


Minimally invasive surgery
For medical reasons, including a hiatal hernia larger than 2 cm, the TIF procedure may not be right for some people. This same type of surgery may also be performed using another minimally invasive approach, called the laparoscopic Nissen fundoplication. During this procedure, the upper part of the stomach is wrapped around the lower esophageal sphincter to strengthen the sphincter, prevent acid reflux, and repair a hiatal hernia. Because the laparoscopic fundoplication is also a minimally invasive approach, hospital stays tend to be one day and patients may return to work within two to three weeks.
Treatment of swallowing disorders
Also called dysphagia, issues or difficulty swallowing can occur at different stages of the swallowing process. Treatment starts with thorough testing and evaluation to determine the source of the problem. Treatment can include seeing our expert gastroenterologist, dietary changes, medications or a referral to our speech pathologist.
Treatment of Barrett's esophagus
Chronic reflux can lead to Barrett's esophagus. This condition is diagnosed through a biopsy of esophageal tissue during an upper endoscopy. People with Barrett's esophagus are at increased risk of developing esophageal cancer. Medical societies recommend that a patient with Barrett's esophagus undergo regular surveillance endoscopies for their lifetime. Another treatment option is endoscopic radiofrequency ablation of the diseased tissue
Our Team
Our Team
The Heartburn Center includes a multidisciplinary team of surgeons, gastroenterologists, nurses and dieticians.
Surgeons
Heartburn Center Coordinator
Cathy Burke, RN, BSN
Appointments & Location
Appointments & Location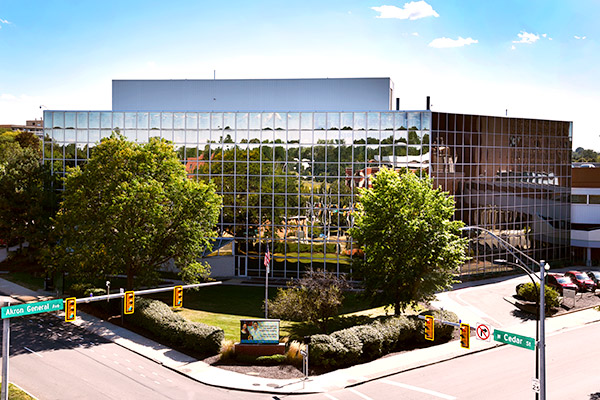 For more information about our services, please call 330.344.2876.
Location
Our office is located in the Ambulatory Care Center at the Akron General campus:
Ambulatory Care Center
1 Akron General Avenue
Building 301
Suite 492
Akron, OH 44307