Magnet® Status Hospital Recognition
Magnet® Status Hospital Recognition
These five hospitals within the Cleveland Clinic health system have Magnet® Status:
Cleveland Clinic main campus
Akron General
Fairview Hospital
Hillcrest Hospital
South Pointe Hospital
Cleveland Clinic main campus has been recognized as a Magnet® organization since 2003, with Fairview Hospital achieving designation in 2009, Akron General in 2013, Hillcrest Hospital in 2014 and South Pointe Hospital in 2017. In order to accomplish this, each hospital underwent extensive reviews and systematic evaluations of its nursing practice by the American Nurses Credentialing Center (ANCC).
This involved the review of hundreds of pages of documentation, and a four to five-day site visit by ANCC professionals who evaluated Cleveland Clinic against more than 65 stringent quantitative and qualitative standards that epitomize excellence in nursing services, clinical outcomes and patient care delivery. Cleveland Clinic must continue to pass bi-annual reviews as part of its four-year designation.
What Does it Take to Achieve Magnet® Status?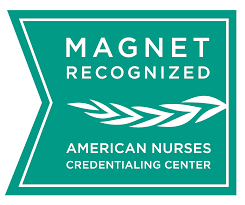 Magnet® hospitals exemplify the 14 forces of magnetism established by the American Nurses Credentialing Center by demonstrating:
A high-quality care environment
Clinical autonomy and responsibility
Participatory decision-making
Strong nurse leaders
Two-way communication with staff
Community involvement
Opportunity and encouragement for professional development
Effective use of staff and resources
High levels of job satisfaction (directly affects patient satisfaction)
Attention to cultural and ethnic diversity
Magnet® Status is the highest national recognition awarded to a hospital or medical center for excellence in nursing. It is accepted nationally as the gold standard of patient care and provides healthcare consumers with a benchmark to measure quality of nursing care.
What Does Magnet® Status Mean?
The American Nurses Credentialing Center, a subsidiary of the American Nurses Association and the largest and most prominent nursing credentialing organization in the United States, established Magnet® recognition in 1994. Research has shown that patient care outcomes are better at Magnet® hospitals, where there is an environment that empowers nurses, values their contributions and supports nursing leadership. Magnet® status is awarded for a four-year period, after which hospitals must apply again for the recognition.
The Difference in Being a Magnet® Hospital Independent research shows that Magnet® facilities consistently outperform non-Magnet® facilities by demonstrating:
For Patients
Lower mortality rates
Shorter lengths of stay
Increased stability in care and positive outcomes
Increased satisfaction and confidence levels
For Nurses
Higher rates of job satisfaction
More appropriate RN mix
Better delivery of quality care
Autonomy in clinical practice
Lower incidence of needlestick injury
For Hospitals
Increased retention and recruitment of nurses
Collaborative work environment
Lower rates of staff nurse turnover
Increased attraction of high-caliber nurses, physicians and specialists
Journey to Magnet Excellence®
Hospitals seeking to create and sustain a culture of excellence may embark on the Journey to Magnet Excellence®. The process involves a self-assessment of the organization's performance against the Magnet® sources of evidence. During the process between self-assessment and application, the hospital has an opportunity to transform and embed their culture with the principles of nursing excellence. After the application process, the same documentation requirements and site visit are conducted before granting Magnet® Recognition status to a hospital.
Pathway to Excellence®
Pathway to Excellence®
The American Nurses Credentialing Center's (ANCC) Pathway to Excellence® designation is earned by healthcare organizations that create work environments where nurses can excel in their practice. The designation substantiates the professional satisfaction of nurses and identifies best places to work. In its excellence to serve Cleveland Clinic's mission, Marymount and Euclid Hospitals received Pathway to Excellence designation in 2013, Cleveland Clinic Florida and Lutheran Hospital in 2014 and Medina Hospital in 2015.
What Does Pathway to Excellence® Designation Mean?
A Pathway to Excellence® designated organization is committed to nurses and to what nurses identify as a match with their values and contributions toward the overall pursuit of safe, quality patient care. This designation confirms to the public that nurses working in a Pathway to Excellence® designated organization know that their efforts are supported and invite other nurses to join their colleagues in this desirable and nurturing environment.
What Does it Take to Achieve Pathway to Excellence® Designation?
An organization earns the Pathway to Excellence® designation through a review process where it fully documents that the Practice Standards of the ideal practice environment are present in the organization's practices, policies, and culture. The Practice Standards are based upon expert nurse input and nursing literature that supports the qualities of a positive practice environment. After successful document review, nurses in the organization verify the presence of the Practice Standards in the organization through participation in a confidential online survey.
National Appointments & Representation
National Appointments & Representation
Cleveland Clinic nurses have a well-deserved national reputation for being leaders in their profession. Many of its nurses serve in leadership roles at a variety of professional organizations that are committed to furthering the profession.
Dr. Nancy M. Albert, PhD, CCNS, CHFN, CCRN, NE-BC, FAHA, FCCM
Dr. Nancy M. Albert, PhD, CCNS, CHFN, CCRN, NE-BC, FAHA, FCCM, Senior Director, Nursing Research & Innovations
Professional Organization Volunteerism
American Association of Critical-care Nurses

Member, CCNS Exam Development Committee, February – September, 2012

American Association of Heart Failure Nurses

Chair, Certification Board (AAHFN-CB), 2011-2014

American College of Cardiology – Cardiac Care Associate.

Co-Chair, Cardiovascular Team Section, Practice, Outcomes & Research Working Group; September 2010-March 2013.
Member, ACCF/AHA Task Force on Practice Guidelines, April 2010-March 2013
Member, ACCF/AHA Task Force on Performance Measures, April 2012-March 2015

American Heart Association

Member, Executive Database Steering Committee; July 1, 2012-June 30, 2013.
Member, Professional Education Committee; December 1, 2010-June 30, 2012; July 1, 2012-June 30, 2013.
Member, Consumer Health & Quality Coordinating Committee, – Liaison from the Professional
Education Committee, July 1, 2012-June 30, 2013.
Member, The Guideline Advantage Steering Committee; November 1, 2010-October 1, 2012; October 1, 2012-September 30, 2014.
Member, Get With The Guidelines, Heart Failure Clinical Work Group; July 2010-June 30, 2011;
Reappointed in July 2011-June 30, 2012; reappointed July 2012-June 30, 2013
QCOR Program Committee for AHA's Scientific Sessions, July 1, 2010-November 30, 2013.

Heart Failure Society of America:

Executive Board member, September, 2012-2015
Guidelines/Clinical Positions Committee member, 2008-2012.
Nominating Committee member, Sept 2009-2012..

Midwest Nursing Research Society

Chair, Research in Practice thru Academic-Clinical Partnership Section; 2012

National Association of Clinical Nurse Specialists:

Chair, Research Committee; 2010-2013

Society of Critical Care Medicine

Member, Research Committee, 2010-2014

Centers for Medicare and Medicaid

Member, Technical Expert Panel (TEP): Heart Care; Oklahoma Foundation for Medical Quality(OFMQ); September 2012-September 2014.

The Joint Commission.

Member, Advanced Certification for Heart Failure Technical Advisory Panel; March 2011 to present.
Editorial Boards
Clinical Nurse Specialist; Associate Editor; appointed March 2008
Heart & Lung; Editorial board; appointed May 2009
Journal of Cardiac Failure; Editorial board; appointed January 2011
Journal of Cardiovascular Nursing; Editorial board; appointed January 2000
Journal Reviewer
American Heart Journal, since 2004
American Journal of Critical Care, since 2006
Applied Nursing Research, since 2001
British Medical Journal, since 2004
Critical Care Nurse; since 2003
Circulation-Heart Failure, since 2009
Congestive Heart Failure, since 2010
European Journal of Heart Failure, since 2005
European Journal of Cardiovascular Nursing, since 2006
Journal of the American Medical Association (JAMA), since 2009
Journal of the American College of Cardiology (JACC), since 2011
Journal of General Internal Medicine, since 2010
Kathleen Burns, MSN, RN, ACNS-BC, CEN
Kathleen Burns, MSN, RN, ACNS-BC, CEN, Clinical Nurse Specialist and Stroke Program Manager, Medina Hospital
Boy Scouts of America (BSA)

National Health and Safety Committee member, 2010-present
Editor, Health and Safety Newsletter, 2012
Publication and Medical subcommittee member for Health and Safety Committee, 2010-present
Chief Medical Officer for Nursing, 2010 and 2013 National Boy Scout Jamborees
Audrey Godoy, MSN, CNP
Audrey Godoy, MSN, CNP, Nurse Practitioner
Philippine Nurses Association of Ohio, President 2010-2012
Philippine Nurses Association of America

Co-Chair for the APN Forum
Kenneth A. Gorski, RN, RCIS, RCSA, FSICP
Kenneth A. Gorski, RN, RCIS, RCSA, FSICP, Assistant Manager, Cardiovascular Laboratories
The Society of Invasive Cardiovascular Professionals

Board of Directors
Co-Chair, Professional Standards Committee
Kathleen Hill, MSN, RN, CCNS
Kathleen Hill, MSN, RN, CCNS, Surgical Intensive Care Unit
American Association of Critical Care Nurses

Evidence Based Practice Resources Work Group
CCNS Exam Development Committee
CNS Scope and Standards Task Force
Barbara J. Hocevar, RN, CWOCN
Barbara J. Hocevar, RN, CWOCN, Wound Ostomy
Journal of Wound, Ostomy and Continence Nursing
Wound, Ostomy, Continence Nurses Society
Deborah Klein, MSN, RN, APRN-BC, CCRN, CHFN, FAHA
Deborah Klein MSN, RN, APRN-BC, CCRN, CHFN, FAHA,Clinical Nurse Specialist, Coronary ICU, Heart Failure ICU, and Cardiac Short Stay/PACU
American Heart Association

Member, Planning Committee for Cardiovascular Nursing Clinical Symposium

American Association Critical-Care Nurses

Member, Advanced Practice Qualitative Continuing Education Review Panel

Critical Care Nurse

Contributing Editor, Cardiovascular Medicine
Meredith Lahl, MSN, PCNS-BC, PNP-BC, CPON
Meredith Lahl, MSN, PCNS-BC, PNP-BC, CPON, Senior Director Advanced Practice Nursing, Pediatric Clinical Nurse Specialist
Association of Pediatric Hematology/Oncology Nurses

Member, Nominating Committee American Association Critical-Care Nurses
Member, 2013 National Conference Planning Committee

American Nurses Credentialing Center

Member, Content Expert Panel for Pediatric Clinical Nurse Specialist Exam
Vice Chair, Content Expert Panel for Pediatric Clinical Nurse Specialist Exam
Joan Mitchell, MSN, RN
Joan Mitchell, MSN, RN, Education Nurse Specialist
Editorial Review Panel, Journal of Gerontological Nursing, 2000-present
Lynda N. Newman, MSN, RN, ACNS-BC, CNN
Lynda N. Newman, MSN, RN, ACNS-BC, CNN, Clinical Nurse Specialist, Transplant and GI
Nephrology Nursing Journal-Manuscript reviewer
Denese Sabatino, MSN, ARNP, NP-C, CCRN
Denese Sabatino, MSN, ARNP, NP-C, CCRN, Nurse Practitioner, Department of Critical Care Medicine
Board of Advisory for Foundation for the Advancement of Cardiac and Thoracic Surgery
American Heart Association

Regional Affiliate Faculty Member in the discipline of Advance Cardiac Life Support
Kathleen Singleton, RN, MSN, CNS, CMSRN
Kathleen Singleton, RN, MSN, CNS, CMSRN, Fairview Hospital
Past President, Academy of Medical-Surgical Nurses
Claudia Straub, MSN, RN, BC, CNS
Claudia Straub, MSN, RN, BC, CNS, Clinical Nurse Specialist
American Nurses Credentialing Center
Content Expert Registry for the Nursing Professional Development Examination
Cheryl Switzer, MSN, RN, CPNP, CDE
Cheryl Switzer, MSN, RN, CPNP, CDE, Cleveland Clinic Children's
Treasurer, Pediatric Endocrinology Nursing Society (4th term)
Laura Smolenak, RN CBN
Laura Smolenak, RN CBN, Bariatric and Metabolic Institute
American Society for Metabolic and Bariatric Surgery
Dr. Sandra L. Siedlecki, PhD, RN, CNS
Dr. Sandra L. Siedlecki, PhD, RN, CNS, Senior Nurse Scientist, Nursing Research & Innovation
Professional Organization Volunteerism
Sigma Theta Tau International 1987 – 2013

Collateral Reviewer Sigma Theta Tau International 2006 – 2013

Midwest Nursing Research Society Member 2005 – 2013

MNRS Liaison for Cleveland Clinic Health System Hospitals 2007 – 2013
MNRS grants Committee (2-year appointment) 2012 - 2014

Council for the Advancement of Nursing Science (Abstract Reviewer) 2010 – 2013
Editorial Reviewer
Journal of Interprofessional Care
Behavioral Health Services & Research
Psychology of Music Journal (since 2012)
Journal of American Psychiatric Nurses Association (since 2012)
Journal of the Society of Integrated Oncology (since 2011)
Journal of Depression and Anxiety (since 2007)
Journal of American Psychiatric Nurses Association (since 2009)
Worldviews on Evidence-Based Practice (since 2006)
Journal of Nursing Scholarship (since 2007)
Journal of Applied Research, Therapeutic Solutions (since 2007)
Journal of Behavioral Health Services & Research (since 2007)
Journal of Policy, Politics, and Nursing Practice (since 2007)
Journal of Advanced Nursing (since 2006)
Open Nursing Journal, Reviewer and Editorial Board Member (since 2007)
Dr. Jeanne Sorrell, PhD, RN
Dr. Jeanne Sorrell, PhD, RN, Senior Nurse Scientist, Nursing Research & Innovation
Department Editor, Aging Matters, Journal of Psychosocial Nursing and Mental Health Services, 2005 – present
Editorial Review Board, Ethics Department Editor, On-line Journal of Issues in Nursing, 2000 - present
Collateral Reviewer, Sigma Theta Tau International, 2001 – present
Commission on Collegiate Nursing Education, Program Evaluator, 2000 – present
Editorial Review Board, Nursing Research, 2002 - present
Editorial Review Board, Advances in Nursing Science, 1993 – present
Manuscript Reviewer. Research in Nursing and Health, 2004 – present
Dr. Marianela Zytkowski, DNP, RN
Dr. Marianela Zytkowski, DNP, RN, Associate Chief Nursing Officer, Nursing Informatics
Mosby/Elsevier Nursing Advisory Board
Healthcare Information Management System Society – Nursing Informatics Committee