Overview
Overview
Quality Care at Avon Hospital
Cleveland Clinic believes in providing quality of care information to patients and the public. As a non-profit hospital and responsible member of the community, you should know how we are performing.
Cleveland Clinic's commitment to "transparency" includes providing the most current quality data available, and that is what this Quality Performance Report will show you. On an ongoing basis, the Report will be updated as new data becomes available.
The Quality Performance Report shows how Avon Hospital has been doing at providing the right care for specific common conditions. Information about surgery and how patients view their experiences at Avon Hospital is also included. Click below for data and details:
Keep in mind that you should not choose a hospital based solely on data in reports like this one.
You can find out more about the quality of a hospital's care by doing the following:
Ask your doctor if the hospital treats a lot of people who have your health problem.
Ask if the hospital has a special team of health professionals who work with people with your health problem.
Ask your doctor what he or she thinks about the quality of the hospital's care.
Ask the hospital what steps are taken to improve the quality of the care it provides patients.
Recognition
Anthem Blue Distinction Center for Knee and Hip Replacement, 2019
Accreditations and Awards
Joint Commission Accreditation of Health Organizations, 2019
Joint Commission Certification for Advanced Primary Stroke Centers, 2019
Nursing Recognition
Nursing Recognition
Nursing at Cleveland Clinic Avon Hospital
Nurses are central to the patient experience, and their ability to manage and respond to changing and challenging situations is essential for the best possible outcomes. They need to continually assess, plan and implement patient care, all while offering compassion and making critical decisions. Our reputation for nursing excellence is rooted in preparing our nurses for these challenges and our longstanding tradition of investing in them as a nursing team.
Who We Are
Avon Hospital is a 126-bed acute care hospital serving the needs of Lorain and Western Cuyahoga Counties since 2016. We are 250 nurses strong utilizing the Zielony Nursing Institute Professional Practice Model. Nursing care at Avon Hospital is organized to provide comprehensive care that helps patients attain optimum health and wellness with specialized care to meet their individualized needs.
Professional Practice Model
Our Professional Practice Model is a visual representation of the values, organizational structures, and processes that provide a unifying framework for the practice of nursing at Cleveland Clinic Avon Hospital. It ensures consistency in the delivery of nursing care, and defines for all registered nurses their authority, autonomy and accountability as they care for patients and families.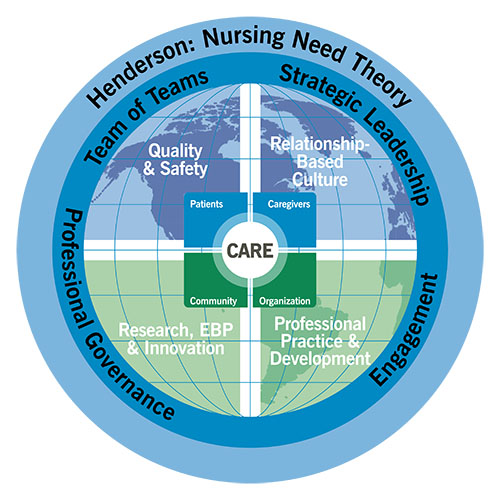 Shared Governance at Cleveland Clinic Avon Hospital
Shared governance is an empowering organizational model that creates a structure for shared decision-making in the clinical care of patients. When granting Magnet® Recognition and Pathway to Excellence® Program designations, the American Nurses Credentialing Center considers how well the principles of shared governance are implemented throughout an organization.