Quality & Accreditation
Quality & Accreditation
Quality Care at Fairview Hospital
Cleveland Clinic believes in providing quality of care information to patients and the public. As a non-profit hospital and responsible member of the community, you should know how we are performing.
Cleveland Clinic's commitment to "transparency" includes providing the most current quality data available, and that is what this Quality Performance Report will show you. On an ongoing basis, the Report will be updated as new data becomes available.
The Quality Performance Report shows how Fairview Hospital has been doing at providing the right care for specific common conditions. Information about surgery and how patients view their experiences at Fairview Hospital is also included. Click below for data and details:
Keep in mind that you should not choose a hospital based solely on data in reports like this one.
You can find out more about the quality of a hospital's care by doing the following:
Ask your doctor if the hospital treats a lot of people who have your health problem.
Ask if the hospital has a special team of health professionals who work with people with your health problem.
Ask your doctor what he or she thinks about the quality of the hospital's care.
Ask the hospital what steps are taken to improve the quality of the care it provides patients.
Accreditations & Awards
Fairview Hospital currently holds the following accreditations and awards:
Nursing Recognition
Nursing Recognition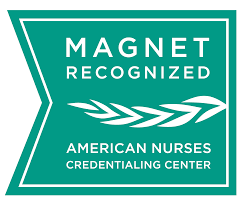 Fairview Hospital s proud to have received the nursing profession's highest honor, the American Nurses Credentialing Center's (ANCC) Magnet® Recognition. Magnet Recognition® provides the ultimate benchmark for patients, their families, and our community to measure the quality of care they can expect. Our hospital achieved this designation in 2009 and continues to maintain this designation, recognized nationally as a gold standard of patient care.