Quality & Accreditation
Quality & Accreditation
Quality Care at Euclid Hospital
The diverse programs and services within The Center for Orthopaedics and Rehabilitation at Euclid Hospital (CORE) further our hospital vision: embracing a "patient first" philosophy, we will be the regional leader in orthopaedics and rehabilitation and set the standard for comprehensive community hospital care.
We believe it is important to share this information with our referring physicians, potential patients and individuals interested in our medical, surgical and rehabilitation services. It is our hope that this overview will allow you to consider how the Center for Orthopaedics and Rehabilitation at Euclid Hospital (CORE) can best serve you and your patients. The outcomes derived from these measurements exemplify our commitment to exceptional quality care, and provide an overview of the scope and volume of services.
Accreditations
Joint Commission on Accreditation of Healthcare Organizations (JCAHO)
American Heart Association/American Stroke Association
American Hospital
Ohio Department of Health
Nursing Recognition
Nursing Recognition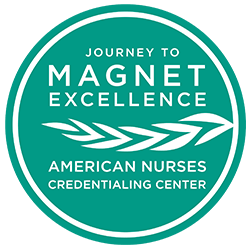 Nursing at Cleveland Clinic Euclid Hospital
Euclid Hospital has been designated by the American Nurses Credentialing Center's (ANCC) as a health facility on the Journey to Magnet Excellence® designation. This designation recognizes a health care organization's commitment to creating and sustaining a culture of excellence in nursing.
Our orthopedic floor received the nationally recognized AACN Beacon award, which signifies exceptional care through improved patient outcomes.
Employee satisfaction scores were the highest in the organization. These scores exceeded the national benchmarks for the American Nurses Credentialing Corporation categories of autonomy, quality nursing care, interprofessional relationships, leadership access and responsiveness, professional development and RN-RN team collaboration.
Achieved the Gold Standard for the Stroke program from the American Heart Association/American Stroke Association.
Who We Are
Euclid hospital is a 166 staffed bed hospital on the shores of Lake Erie. The hospital has been serving Northeast Cuyahoga and western Lake county residents at its present location since 1952. We are 257 nurses strong providing care for patients across the healthcare continuum. Cleveland Clinic Euclid Hospital offers acute medical/surgical care, emergency services, surgical services, sub-acute care, senior behavioral health and outpatient care including chronic care clinic, cardiac rehabilitation and a neuro day program. We are also one of the region's leading orthopedic and outpatient rehabilitation centers.
As part of the Cleveland Clinic we have access to all the technology and services of a large healthcare system, with the advantage of provide evidence-based care in a patient-focused small community hospital. The Nurses at Euclid Hospital take pride in providing competent, compassionate, high-quality care in a culturally diverse setting.
Professional Practice Model
Our Professional Practice Model is a visual representation of the values, organizational structures, and processes that provide a unifying framework for the practice of nursing at Cleveland Clinic Euclid Hospital. It ensures consistency in the delivery of nursing care, and defines for all registered nurses their authority, autonomy and accountability as they care for patients and families.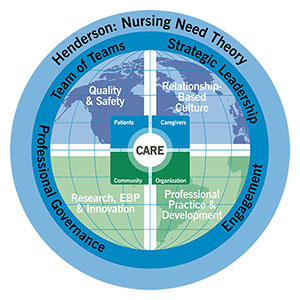 Shared Governance at Cleveland Clinic Euclid Hospital
Shared governance is an empowering organizational model that creates a structure for shared decision-making in the clinical care of patients. When granting Magnet® Recognition and Pathway to Excellence® Program designations, the American Nurses Credentialing Center considers how well the principles of shared governance are implemented throughout an organization.