Quality & Accreditation
Quality & Accreditation
Quality Care at South Pointe Hospital
The Quality Performance Report shows South Pointe Hospital's record of providing the right care for certain common conditions and preventing certain types of infections.
Accreditations & Awards
Nursing Recognition
Nursing Recognition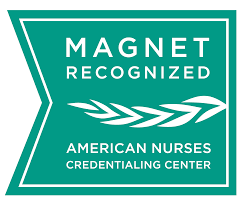 Nursing at Cleveland Clinic South Pointe Hospital
South Pointe Hospital is proud to have received the nursing profession's highest honor, the American Nurses Credentialing Center's (ANCC) Magnet® Recognition. Magnet Recognition® provides the ultimate benchmark for patients, their families, and our community to measure the quality of care they can expect. Our hospital achieved this designation in 2017 and continues to maintain this designation, recognized nationally as a gold standard of patient care
Who We Are
South Pointe Hospital is a 172-bed acute care hospital serving the needs of Warrensville Heights and the Southeast communities of Cuyahoga County since 1957. We are 350 nurses strong utilizing the Zielony Nursing Institute Professional Practice Model. Nursing care at South Pointe Hospital is organized to provide comprehensive care that helps patients attain optimum health and wellness, supports those with treatable illnesses and conditions, and provides comfort and specialized care to those with terminal diseases.
Cleveland Clinic South Pointe nurses exemplify the mission of Cleveland Clinic South Pointe Hospital and the Magnet vision. Our team of patients, families, and each other remains at the forefront of our practice. Our nurses are grounded in proven principles and continually strive for discovery and innovation through evidence-based practice and nursing research. Excellence in patient care exceed national benchmarks.
South Pointe nurses are invested in the surrounding community. Nurses actively participate in programs and volunteer activities that help to improve the health of our patients by addressing social needs and promoting wellness in the community overall. Some examples include:
Girls on the Run – nurses participate in this national program that empowers girls 8-13 years old by teaching life skills through running.
Accountable Health Communities – nurse leaders collaborated with United Way to implement this project that addresses the health related social needs of patients in the emergency department.
Addressing food insecurity – nurses worked together with a local foundation to help them identify and provide medically tailored meals for food insecure older adults in the community.
Promoting empathy - nurses help local grade school students create get well cards for patients, and in turn support a school supply drive.
Community health fairs for diabetes – this annual event is coordinated and driven by nurses to raise awareness and help people better live with diabetes.
Volunteering at a local food bank – over 20 South Pointe nurses volunteered in 2019.
Professional Practice Model
Our Professional Practice Model is a visual representation of the values, organizational structures, and processes that provide a unifying framework for the practice of nursing at Cleveland Clinic South Pointe Hospital. It ensures consistency in the delivery of nursing care, and defines for all registered nurses their authority, autonomy and accountability as they care for patients and families.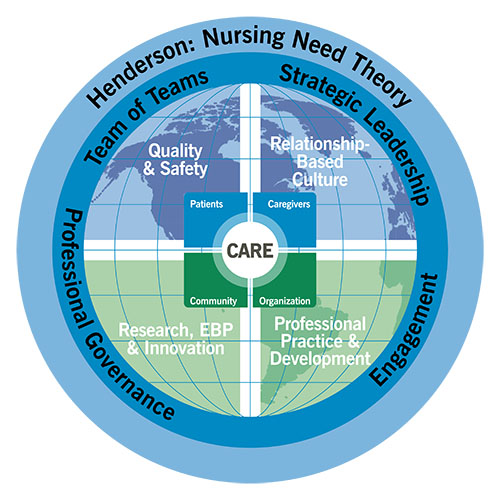 Shared Governance at Cleveland Clinic South Pointe Hospital
Shared governance is an empowering organizational model that creates a structure for shared decision-making in the clinical care of patients. When granting Magnet® Recognition and Pathway to Excellence® Program designations, the American Nurses Credentialing Center considers how well the principles of shared governance are implemented throughout an organization.