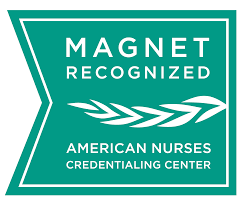 The Quality Performance Report shows South Pointe Hospital's record of providing the right care for certain common conditions and preventing certain types of infections.
Accreditations & Awards
Nursing Recognition
South Pointe Hospital is proud to have received the nursing profession's highest honor, the American Nurses Credentialing Center's (ANCC) Magnet® Recognition. Magnet Recognition® provides the ultimate benchmark for patients, their families, and our community to measure the quality of care they can expect. Our hospital achieved this designation in 2014 and continues to maintain this designation, recognized nationally as a gold standard of patient care
Who We Are
South Pointe Hospital is a 172-bed acute care hospital serving the needs of Warrensville Heights and the Southeast communities of Cuyahoga County since 1957. We are 350 nurses strong utilizing the Zielony Nursing Institute Professional Practice Model. Nursing care at South Pointe Hospital is organized to provide comprehensive care that helps patients attain optimum health and wellness, supports those with treatable illnesses and conditions, and provides comfort and specialized care to those with terminal diseases.