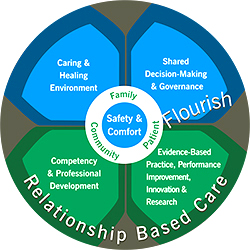 Nursing Professional Practice Model
The Cleveland Clinic Akron General's professional practice model represents a unique integration of our core values and beliefs; vision and guiding principles that embrace professional practice as a means to achieve quality care that is grounded in evidence-based caring practices. The model encourages and facilitates nurses' contributions to FLOURISH and achieve excellent empirical outcomes.
Magnet® Recognition
Cleveland Clinic Akron General is proud to have received the nursing profession's highest honor, the American Nurses Credentialing Center's (ANCC) Magnet® Recognition. Magnet Recognition® provides the ultimate benchmark for patients, their families, and our community to measure the quality of care they can expect.