Quality & Accreditation
Quality & Accreditation
Quality Care at Hillcrest Hospital
Cleveland Clinic believes in providing quality of care information to patients and the public. As a non-profit hospital and responsible member of the community, you should know how we are performing. These Quality Performance Reports show how Hillcrest Hospital has been doing at providing the right care for specific common conditions. Information about surgery and how patients view their experiences at Hillcrest Hospital is also included. Click below for data and details:
Hillcrest Hospital's Quality Report
Cleveland Clinic reports data on outcomes, volumes, and surgical and medical trends as well as a review of new medical technologies and innovations. This popular series of books is used by consumers and referring physicians to make informed decisions when choosing or recommending a specialist for medical or surgical care.
How were these quality indicators selected?
The Joint Commission, the Centers for Medicare and Medicaid Services and National Quality Forum have defined and endorsed certain quality indicators and safe practices to allow hospitals to be compared "apples to apples." The Quality Report is "open," meaning anyone can see how the results were obtained.
Does this quality report include data about individual physicians?
No. We are publishing hospital data only.
Why is Cleveland Clinic publishing its quality data?
We like what open reporting does for you. We believe that you should know how we are performing. We want patients and families to have better information about the quality of healthcare in Cleveland.
We also like what open reporting does for us. We have found that public reporting has helped us document our care more carefully, obtain more valid data and continually improve patient care.
We like what open reporting does for hospital care. We hope that our quality report will contribute to a better understanding of how to assess, report and improve hospital quality.
What does "risk adjusted" mean?
Risk adjustment takes into account differences in patient and procedure risk factors, so that comparisons are more meaningful. Risk adjustment allows for comparison of actual performance with predicted performance, based on the average U.S. hospital.
The risk of a complication or death varies by patient and by procedure. For example, an older surgical patient who has other illnesses such as kidney failure and diabetes is at greater risk of developing complications than is a young, otherwise healthy patient.
How often will the data on this report be updated?
This report will be updated quarterly or as new data become available.
Award-Winning Recognition
Cleveland Clinic Hillcrest Hospital is recognized regionally and within Ohio for its expertise and care.
Hillcrest Hospital has been nationally recognized 11 times as one of America's 100 Top Hospitals®, a designation based on extensive research of U.S. hospitals, as conducted by Thomson Reuters.
In Consumer Guide to Ohio Hospital Quality, Hillcrest received the highest possible ranking in five cardiac categories, including angioplasty, cardiac catheterization, carotid (neck) artery surgery, congestive heart failure and coronary artery bypass graft.
Accreditations & Awards
Hillcrest Hospital currently holds the following accreditations and awards:
Joint Commission on Accreditation of Healthcare Organizations.
Full Accreditation with PCI from the Society of Chest Pain Centers.
American Nurses Credentialing Center Magnet® designation for quality patient care, nursing excellence and innovations in professional nursing practice.
The American Heart Association recognizes Hillcrest Hospital for its continued success in using the Get With The Guidelines® program.
Hillcrest Hospital has earned accreditation from the National Accreditation Program for Rectal Cancer (NAPRC), a quality program of the American College of Surgeons.
Nursing Recognition
Nursing Recognition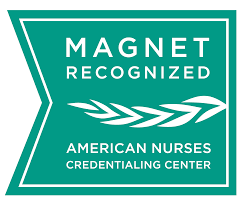 Hillcrest Hospital is proud to have received the nursing profession's highest honor, the American Nurses Credentialing Center's (ANCC) Magnet® Recognition. Magnet Recognition® provides the ultimate benchmark for patients, their families, and our community to measure the quality of care they can expect. Our hospital achieved this designation in 2014 and continues to maintain this designation, recognized nationally as a gold standard of patient care.
Nursing at Cleveland Clinic Hillcrest Hospital
Magnet® designation is the highest and most prestigious credential a healthcare organization can achieve for nursing excellence and quality patient care. Cleveland Clinic Hillcrest nurses exemplify the mission of Cleveland Clinic Hillcrest Hospital and the Magnet vision of serving as a fount of knowledge and expertise for the delivery of nursing care globally. Our team of patients, families, and each other remains at the forefront of our practice. Our nurses are grounded in proven principles and continually strive for discovery and innovation through evidence-based practice and nursing research. Excellence in nursing care of our patients, families and community are seen in the multiple metrics measuring patient, family, and staff satisfaction and engagement. Outcome measures for patient care exceed national benchmarks.
Who We Are
Cleveland Clinic Hillcrest Hospital is a 500-bed, non-profit hospital which is part of the Cleveland Clinic Health System. The hospital was founded as Doctors' Hospital in 1946 to serve the needs of the east side Cleveland community, and in 1968 the hospital was relocated to Mayfield Heights and became known as Hillcrest Hospital. In 1984, Hillcrest merged with other neighboring hospitals to form the Meridia Health System and then Meridia merged with the Cleveland Clinic Health System in 1997 with Hillcrest becoming the flagship hospital for the eastern region.
The mission of the Cleveland Clinic Hillcrest Hospital is to provide better care of the sick, investigation into their problems and further education of those who serve. Notable achievements include being one of the first hospitals in the area to offer hospital-based home care nursing, same-day surgery, and outpatient cancer treatment. Hillcrest has been recognized for its excellent patient care with numerous awards and honors. The American Nurses Credentialing Center, Magnet Recognition Program® recognized Hillcrest Hospital as a leader among hospitals across the world for nursing excellence with their first Magnet designation in 2014 and their second designation in 2019.
Professional Practice Model
Our Professional Practice Model is a visual representation of the values, organizational structures, and processes that provide a unifying framework for the practice of nursing at Cleveland Clinic Hillcrest Hospital. It ensures consistency in the delivery of nursing care, and defines for all registered nurses their authority, autonomy and accountability as they care for patients and families.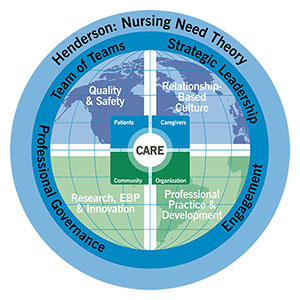 Shared Governance at Cleveland Clinic Hillcrest Hospital
Shared governance is an empowering organizational model that creates a structure for shared decision-making in the clinical care of patients. When granting Magnet® Recognition and Pathway to Excellence® Program designations, the American Nurses Credentialing Center considers how well the principles of shared governance are implemented throughout an organization.