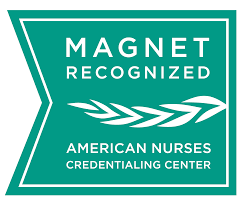 Award-Winning Recognition
Cleveland Clinic Hillcrest Hospital is now ranked as the No. 4 hospital among Cleveland-area hospitals and the No. 5 hospital in Ohio, according to U.S. News & World Report's "2019-20 Best Hospitals."
Hillcrest Hospital has been nationally recognized 11 times as one of America's 100 Top Hospitals®, a designation based on extensive research of U.S. hospitals, as conducted by Thomson Reuters.
In Consumer Guide to Ohio Hospital Quality, Hillcrest received the highest possible ranking in five cardiac categories, including angioplasty, cardiac catheterization, carotid (neck) artery surgery, congestive heart failure and coronary artery bypass graft.
Accreditations & Awards
Hillcrest Hospital currently holds the following accreditations and awards:
Joint Commission on Accreditation of Healthcare Organizations
Full Accreditation with PCI from the Society of Chest Pain Centers
American Nurses Credentialing Center Magnet® designation for quality patient care, nursing excellence and innovations in professional nursing practice
Commitment to Quality Care
Cleveland Clinic believes in providing quality of care information to patients and the public. As a non-profit hospital and responsible member of the community, you should know how we are performing. These Quality Performance Reports show how Hillcrest Hospital has been doing at providing the right care for specific common conditions. Information about surgery and how patients view their experiences at Hillcrest Hospital is also included. Click below for data and details:
Hillcrest Hospital's Quality Report
Cleveland Clinic reports data on outcomes, volumes, and surgical and medical trends as well as a review of new medical technologies and innovations. This popular series of books is used by consumers and referring physicians to make informed decisions when choosing or recommending a specialist for medical or surgical care.
How were these quality indicators selected?
The Joint Commission, the Centers for Medicare and Medicaid Services and National Quality Forum have defined and endorsed certain quality indicators and safe practices to allow hospitals to be compared "apples to apples." The Quality Report is "open," meaning anyone can see how the results were obtained.
Does this quality report include data about individual physicians?
No. We are publishing hospital data only.
Why is Cleveland Clinic publishing its quality data?
We like what open reporting does for you. We believe that you should know how we are performing. We want patients and families to have better information about the quality of healthcare in Cleveland.
We also like what open reporting does for us. We have found that public reporting has helped us document our care more carefully, obtain more valid data and continually improve patient care.
We like what open reporting does for hospital care. We hope that our quality report will contribute to a better understanding of how to assess, report and improve hospital quality.
What does "risk adjusted" mean?
Risk adjustment takes into account differences in patient and procedure risk factors, so that comparisons are more meaningful. Risk adjustment allows for comparison of actual performance with predicted performance, based on the average U.S. hospital.
The risk of a complication or death varies by patient and by procedure. For example, an older surgical patient who has other illnesses such as kidney failure and diabetes is at greater risk of developing complications than is a young, otherwise healthy patient.
How often will the data on this report be updated?
This report will be updated quarterly or as new data become available.