Blood Vessels: Illustrations
Upper Body Circulation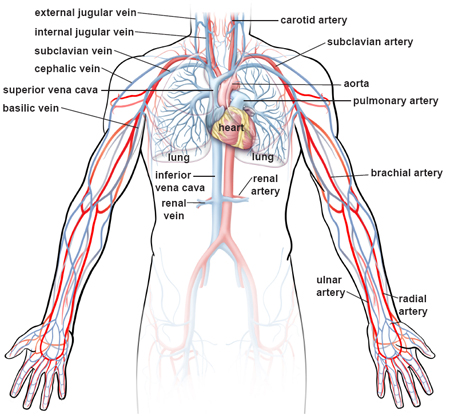 In the lungs, the pulmonary arteries (in blue) carry unoxygenated blood from the heart into the lungs. Throughout the body, the arteries (in red) deliver oxygenated blood and nutrients to all of the body's tissues, and the veins (in blue) return oxygen-poor blood back to the heart.
The aorta is the large artery leaving the heart. The superior vena cava is the large vein that brings blood from the head and arms to the heart, and the inferior vena cava brings blood from the abdomen and legs into the heart.
Lower Body Circulation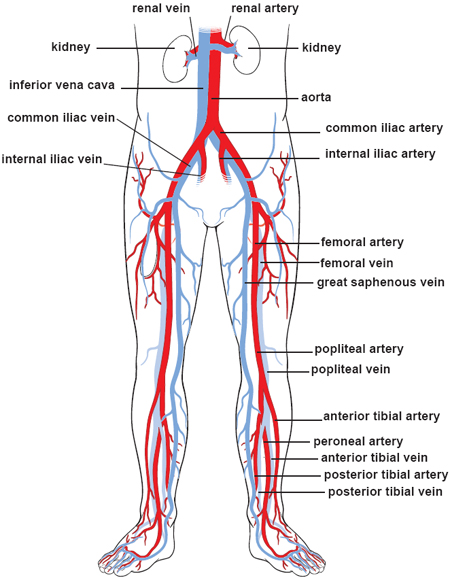 Arteries (in red) are the blood vessels that deliver blood to the body.
Veins (in blue) are the blood vessels that return blood to the heart.
Deep veins, located in the center of the leg near the leg bones, are enclosed by muscle. The iliac, femoral, popliteal and tibial (calf) veins are the deep veins in the legs.
Superficial veins are located near the surface of the skin and have very little muscle support. The great saphenous vein is a superficial vein.
Cleveland Clinic is a non-profit academic medical center. Advertising on our site helps support our mission. We do not endorse non-Cleveland Clinic products or services. Policy