Deep Vein Thrombosis (DVT)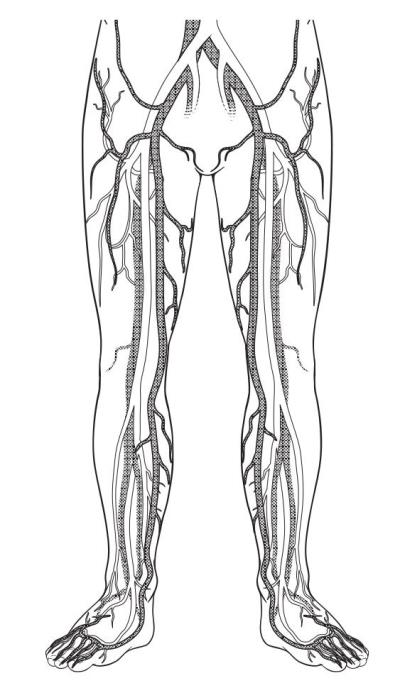 What is deep vein thrombosis?
Deep vein thrombosis (DVT, also called venous thrombosis) is a blood clot that develops in a vein deep in the body. The clot may partially or completely block blood flow through the vein. Most DVTs occur in the lower leg, thigh or pelvis, although they also can occur in other parts of the body including the arm, brain, intestines, liver or kidney.
What is the danger of DVT?
Even though DVT itself is not life-threatening, the blood clot has the potential to break free and travel through the bloodstream, where it can become lodged in the blood vessels of the lung (known as a pulmonary embolism). This can be a life- threatening condition. Therefore, prompt diagnosis and treatment are necessary.
DVT can also lead to complications in the legs referred to as chronic venous insufficiency or the post-thrombotic syndrome. This condition is characterized by pooling of blood, chronic leg swelling, increased pressure, increased pigmentation or discoloration of the skin, and leg ulcers known as venous stasis ulcers.
What is the difference between DVT and a superficial venous thrombosis?
A superficial venous thrombosis (also called phlebitis or superficial thrombophlebitis) is a blood clot that develops in a vein close to the surface of the skin. These types of blood clots do not usually travel to the lungs unless they move from the superficial system into the deep venous system first.
What are the symptoms of DVT?
A DVT usually forms in one leg or one arm. Not everyone with a DVT will have symptoms, but symptoms can include:
Swelling of the leg or arm (sometimes this happens suddenly)
Pain or tenderness in the leg (may only happen when standing or walking)
The area of the leg or arm that is swollen or hurts may be warmer than usual
Skin that is red or discolored
The veins near the skin's surface may be larger than normal
Symptoms of a pulmonary embolism include:
Sudden shortness of breath or fast breathing
Sharp chest pain that often comes with coughing or movement
Pain in the back
Cough (sometimes with bloody sputum/phlegm)
Sweating more than normal
Fast heartbeat
Feeling dizzy or fainting
Some people do not know they have a DVT until the clot moves from their leg or arm and travels to their lung.
It is important to call your doctor right away or go to the emergency room if you have symptoms of a pulmonary embolism or DVT. Do not wait to see if the symptoms "go away." Get treatment right away to prevent serious complications.
What causes a DVT?
The following conditions can increase your risk of a DVT:
Cancer and some of its treatments (chemotherapy)
Limited blood flow in a deep vein, due to injury, surgery, or immobilization
Long periods of inactivity that decrease blood flow, such as:

Sitting for a long period of time on trips in a car, truck, bus, train or airplane
Immobility after surgery or a serious injury

Pregnancy and the first 6 weeks after giving birth
Being over age 40 (although a DVT can affect people of any age)
Being overweight
Taking birth control pills or hormone therapy
Having a central venous catheter or pacemaker