Carotid Artery Disease (Carotid Artery Stenosis)
What are the carotid arteries?
Arteries carry oxygen-rich blood away from the heart to the head and body. There are two carotid arteries (one on each side of the neck) that supply blood to the brain. The carotid arteries can be felt on each side of the lower neck, immediately below the angle of the jaw.
The carotid arteries supply blood to the large, front part of the brain, where thinking, speech, personality and sensory and motor functions reside.
The vertebral arteries run through the spine and supply blood to the back part of the brain (the brainstem and cerebellum).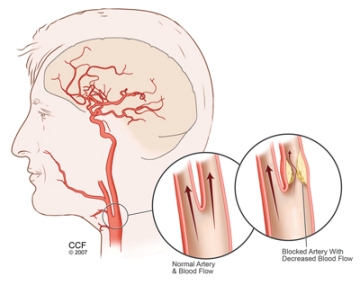 What is carotid artery disease?
Carotid artery disease, also called carotid artery stenosis, is the narrowing of the carotid arteries, usually caused by atherosclerosis. Atherosclerosis is the buildup of cholesterol, fat and other substances traveling through the bloodstream, such as inflammatory cells, cellular waste products, proteins and calcium. These substances stick to the blood vessel walls over time as people age, and combine to form a material called plaque.
Plaque buildup can lead to narrowing or blockage in the carotid artery which, when significant, can put an individual at increased risk for stroke.
What are the symptoms?
There may not be any symptoms of carotid artery disease. However, there are warning signs of a stroke. A transient ischemic attack (also called TIA or "mini-stroke") is one of the most important warning signs of a stroke. A TIA occurs when a blood clot briefly blocks an artery that supplies blood to the brain. The following symptoms of a TIA, which are temporary and may last a few minutes or a few hours, can occur alone or in combination:
Sudden loss of vision or blurred vision in one or both eyes
Weakness and/or numbness on one side of the face, or in one arm or leg, or one side of the body
Slurred speech, difficulty talking or understanding what others are saying
Loss of coordination
Dizziness or confusion
Difficulty swallowing
A TIA is a medical emergency, since it is impossible to predict if it will progress into a major stroke. If you or someone you know experiences these symptoms, get emergency help (Call 9-1-1 in most areas). Immediate treatment can save your life or increase your chance of a full recovery.
TIAs are strong predictors of future strokes; a person who has experienced a TIA is 10 times more likely to suffer a major stroke than someone who has not experienced a TIA.
What is a stroke?
A stroke, or "brain attack," occurs when a blood vessel in the brain becomes blocked or bursts. The brain cannot store oxygen, so it relies on a network of blood vessels to provide it with blood that is rich in oxygen. A stroke results in a lack of blood supply, causing surrounding nerve cells to be cut off from their supply of nutrients and oxygen. When tissue is cut off from its supply of oxygen for more than 3 to 4 minutes, it begins to die.
A stroke can occur if:
The artery becomes extremely narrowed by plaque
A piece of plaque breaks off and travels to the smaller arteries of the brain
A blood clot forms and blocks a narrowed artery
A stroke also can occur as a result of other conditions, such as sudden bleeding in the brain (intracerebral hemorrhage), sudden bleeding in the spinal fluid space (subarachnoid hemorrhage), atrial fibrillation, cardiomyopathy, or blockage of the tiny arteries inside the brain.