Heart Attack (Myocardial Infarction)
What is a heart attack?
A heart attack, or myocardial infarction (MI), is permanent damage to the heart muscle. "Myo" means muscle, "cardial" refers to the heart, and "infarction" means death of tissue due to lack of blood supply.
A closer look inside your coronary arteries
Your heart muscle needs to receive a good supply of blood at all times to function properly. Your heart muscle gets the blood it needs to do its job from the coronary arteries.
What is coronary artery disease?
Coronary artery disease is the narrowing or blockage of the coronary arteries caused by atherosclerosis. Atherosclerosis (sometimes called "hardening" or "clogging" of the arteries) is the buildup of cholesterol and fatty deposits (called plaque) on the inner walls of the arteries that restricts blood flow to the heart.
Without adequate blood, the heart becomes starved of oxygen and the vital nutrients it needs to work properly. This can cause chest pain called angina. When one or more of the coronary arteries are completely blocked, a heart attack (injury to the heart muscle) may occur.
What happens during a heart attack?
A network of blood vessels known as coronary arteries surround the heart muscle and supply it with blood that is rich in oxygen and nutrients. The heart muscle needs this continuous supply of oxygen and nutrients to function.
A heart attack occurs when a coronary artery becomes suddenly blocked, stopping the flow of blood to the heart muscle and damaging it.
Types of Heart Attacks
When fat builds up inside your arteries it causes slight injury to your blood vessel walls. In an attempt to heal the blood vessel walls, the cells release chemicals that make the blood vessel walls stickier. Other substances traveling through your blood stream, such as inflammatory cells, cellular waste products, proteins and calcium, begin to stick to the vessel walls. The fat and other substances combine to form a material called plaque.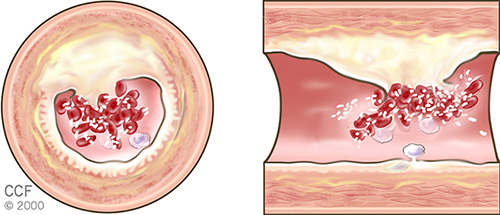 Over time, the inside of the arteries develop plaques of different sizes. Many of the plaque deposits are soft on the inside with a hard fibrous "cap" covering the outside. If the hard surface cracks or tears, the soft, fatty inside is exposed. Platelets (disc-shaped particles in the blood that aid clotting) come to the area, and blood clots form around the plaque.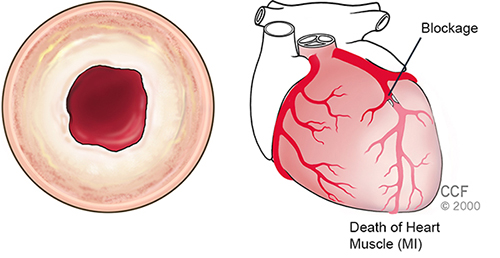 If a blood clot totally blocks the blood supply to the heart muscle, called a coronary thrombus or coronary occlusion, the heart muscle becomes "starved" for oxygen and nutrients (called ischemia) in the region below the blockage. Within a short time, an acute coronary syndrome can occur.
Acute Coronary Syndrome is a name given to three types of coronary artery disease that are associated with sudden rupture of plaque inside the coronary artery: unstable angina, Non-ST segment elevation myocardial infarction or heart attack (NSTEMI), or ST segment elevation myocardial infarction or heart attack (STEMI).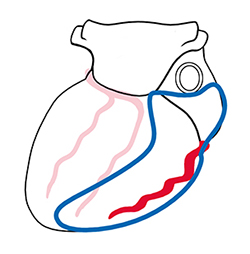 Circumflex Occlusion (Back of heart)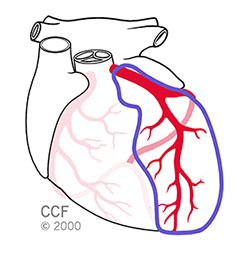 Left Anterior Descending (LAD) Occlusion (Front of heart)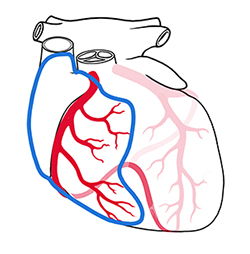 Right Coronary Artery Occlusion (Front of heart)
Dark red = artery
Blue = outlines region of heart affected by blockage
Each coronary artery supplies blood to a region of the heart muscle. If an artery is occluded (blocked) there is no blood supply to that region.
The amount of damage to the heart muscle depends on the size of the area supplied by the blocked artery and the time between injury and treatment.
What is a Coronary Spasm?

Spasm
A heart attack can also occur less frequently by a spasm of a coronary artery. During coronary spasm, the coronary arteries constrict or spasm on and off, causing lack of blood supply to the heart muscle (ischemia). It may occur at rest and can even occur in people without significant coronary artery disease. If coronary artery spasm occurs for a long period of time, a heart attack can occur.
What are the symptoms of a heart attack?
If you are having any one of the symptoms described below that lasts for more than 5 minutes, SEEK EMERGENCY TREATMENT (CALL 911) WITHOUT DELAY. These symptoms could be the signs of a heart attack (also called myocardial infarction or MI) and immediate treatment is essential.
Symptoms of a heart attack include:
Angina: Chest pain or discomfort in the center of the chest; also described as a heaviness, tightness, pressure, aching, burning, numbness, fullness or squeezing feeling that lasts for more than a few minutes or goes away and comes back. It is sometimes mistakenly thought to be indigestion or heartburn.
Pain or discomfort in other areas of the upper body including the arms, left shoulder, back, neck, jaw, or stomach
Difficulty breathing or shortness of breath
Sweating or "cold sweat"
Fullness, indigestion, or choking feeling (may feel like "heartburn")
Light-headedness, dizziness, extreme weakness or anxiety
Rapid or irregular heart beats
Women's Symptoms Sometimes Differ
Although most women and men report symptoms of chest pain with a heart attack, women are slightly more likely than men to report unusual symptoms. Those who have more vague or less typical "heart" symptoms have reported the following:
Upper back or shoulder pain
Jaw pain or pain spreading to the jaw
Pressure or pain in the center of the chest
Light headedness
Pain that spreads to the arm
Unusual fatigue for several days
In a multi-center study of 515 women who had an acute myocardial infarction (MI), the most frequently reported symptoms were unusual fatigue, sleep disturbances, shortness of breath, indigestion and anxiety. The majority of women (78%) reported at least one symptom for more than one month before their heart attack.
Lessons learned:
If you have chest pain or other symptoms of heart attack that last longer than 5 minutes - do not ignore it - seek emergency care to rule out a heart attack.
Learn to identify the common symptoms of heart disease. They may be warning signs of a heart attack.
Get a physical exam that includes screening for heart disease risk factors.
If you have questions and symptoms persist, seek a second opinion.
Learn more about women and heart attack.
Silent MI
Some people have a heart attack without having any symptoms (a "silent" myocardial infarction). A silent MI can occur among all patients, though it is more common among women or people with diabetes. A silent MI may be diagnosed during a routine doctor's exam.
If You Take Nitroglycerin
If you have been prescribed nitroglycerin and you experience angina, stop what you are doing and rest. Take one nitroglycerin tablet and let it dissolve under your tongue, or if using the spray form, spray it under your tongue. Wait 5 minutes. If you still have angina after 5 minutes, call 911 to get emergency help.
For patients diagnosed with chronic stable angina:
If you experience angina, take one nitroglycerin (NTG) tablet and let it dissolve under your tongue. If chest discomfort or pain is not improved or getting worse 5 min after one dose, call 9-1-1 immediately to get emergency help before taking additional NTG. If symptoms are much improved by 1 dose of NTG, you may repeat the dose every 5 min for up to 3 tablets over 15 minutes. If you still have angina after taking 3 doses of nitroglycerin, call 911 to get emergency help.
Do not wait to get help: Time is Muscle
At the first signs of a heart attack, call for emergency treatment (911). Do not wait for your symptoms to "go away." Early recognition and treatment of heart attack symptoms can reduce the risk of heart damage and allow treatment to be started immediately. Even if you're not sure your symptoms are those of a heart attack, you should still be evaluated.
The best time to treat a heart attack is within one hour of the onset of the first symptoms. When a heart attack occurs, there's a limited amount of time before significant and long-lasting damage occurs to the heart muscle. If a large area of the heart is injured during the heart attack, full recovery becomes much more difficult.
Studies show that the people who have symptoms of a heart attack often delay, or wait to seek treatment, for longer than seven hours.
Reasons why people wait to get help:
People who delay tend to be older, female, African-American and to have a history of angina, high blood pressure or diabetes. People who delay also consult their family members or try to treat themselves first before seeking treatment.
Reasons people delay:
They are young and don't believe a heart attack could happen to them
Symptoms are not what they expected
They may deny the symptoms are serious and wait until they go away
They may ask the advice of others, especially family members
They may first try to treat the symptoms them-selves, using aspirin or antacids
They may think the symptoms are related to other health problems (upset stomach, arthritis)
They may put the care of others first (take care of children or other family members) and not want to worry them
Waiting just a couple hours for medical help may limit your treatment options, increase the amount of damage to your heart muscle, and reduce your chance of survival.
Call 911 -- Not a Friend
Calling 911 is almost always the fastest way to get life-saving treatment. When you call, emergency personnel may tell you to chew an aspirin to break up a possible blood clot, if there is not a medical reason for you to avoid aspirin. When emergency help arrives, they can promptly begin treatment, and they are trained to revive someone whose heart has stopped. Also, you're likelier to get treated faster at the hospital if you arrive by ambulance. If you are having symptoms, do not drive yourself unless there is absolutely no other option.
If you've had prior heart treatments
Even if you've been treated for a prior heart attack or if you've had other treatments for coronary artery disease, a heart attack CAN happen again. Treatments such as medications, open heart surgery and interventional procedures DO NOT cure coronary artery disease, so it is still important to lead a healthy lifestyle.
Action Plan
Ask your doctor whether you are at risk for a heart attack and what you can do to reduce your risk factors. Be sure to ask about aspirin and nitroglycerin.
Learn the signs and symptoms of a heart attack.
Learn what to do if you have symptoms: Call 911 after five minutes - do not call a friend or family member for help.
Talk with your family members, friends and coworkers about the heart attack warning signs and the importance of acting quickly.
Importance of a heart-healthy lifestyle
It is important for you to be committed to leading a heart-healthy lifestyle to reduce your risk of a heart attack. Your health care team can help you achieve your goals, but it is up to you to take your medications as prescribed, make dietary changes, quit smoking, exercise regularly, keep your follow-up appointments and be an active member of the treatment team.
Share this information with your family members and caregivers so they learn to recognize the symptoms of a heart attack and when to help you seek emergency treatment.