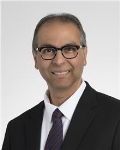 Vidyasagar Kalahasti, MD
Tuesday, August 21, 2017 | Noon
Description
The aorta is the largest artery in the body and is the blood vessel that carries oxygen-rich blood away from the heart to all parts of the body. An aortic aneurysm is an abnormal enlargement or bulging of the wall of the aorta. Dr. Vidyasagar Kalahasti, Director of the Marfan Clinic answers your questions about aortic aneurysm and Marfan syndrome.
More Information
View more information on aorta disease or learn more about our Aorta Center.
If you need more information, contact us or call the Miller Family Heart, Vascular & Thoracic Institute Resource & Information Nurse at 216.445.9288 or toll-free at 866.289.6911. We would be happy to help you. View previous chat transcripts.
---
Aorta Disease: Monitoring; Prevention of Growth of Size
IASNJ: I am a healthy 55-year-old male. 5'11", 165lbs, NEVER smoked. I check my B/P twice a day and seem to average around 115/76 and when home relaxing I am at 110 or under a lot of the times. A CT scan in January showed a "mild dilation of the aortic root" of 3.9cm. Also confirm same size with an echo. The echo was otherwise all normal. I DO NOT have bicuspid valve or connective tissue disease. My cardiologist told me after adjusting for my age, height, weight and body mass, for me, 3.9cm at the root is right at the outer limits of normal. He tells me it's very unlikely that I would ever need surgery, but wants to repeat a CT scan in one year. He says I have no physical restrictions. I have an office job so I don't do any heavy lifting or weight lifting but I am an avid walker and recreational cyclist. Do you agree?
Vidyasagar Kalahasti, MD: I agree that your aorta is at the upper limit of normal for your age and gender. I do not believe that you need annual CT and you can be followed with echocardiogram.
gragard: I am 73 years old, a veteran using the VA medical system at Long Beach VA in California. I have been diagnosed with a thoracic aortic aneurysm measuring 4.7 cm. I am not seeing a Vascular Doctor and I am concerned. Have had a CT scan 7/27/17 ordered by primary Doctor. What are my risk, what can I do to keep it from getting worse? Can it be fixed with surgery? How can I see a specialist at Cleveland Clinic and have the VA pay the cost? Your recommendations appreciated thanks.
Vidyasagar Kalahasti, MD: Blood pressure control is very important in preventing growth of the aneurysm and if you smoke, complete cessation is recommended. Yes, ascending aortic aneurysm can be fixed surgically with a low risk at centers like Cleveland Clinic. You will probably have to speak to the VA regarding your last questions.
travelinglady2017: Dear Doctor Roselli, Doctor Kalahasti: At first, please allow me to note that I have the out most respect for the tremendous expertise you acquired during your career! I would wish to be treated by you, when reaching the time of surgery! I submit questions earlier, I am currently in Australia/ NO online access. (I am Female, fit/ slender/ Lupus/ NO abnormal heart function/aneurysm of 4.2 cm of the Aorta ascending/ BP lowered 115/ 90 mmHg) Do frequent SUDDEN tachycardias/ endocrine effects of anxiety increase the risk of dissection/ expansion/ rupture of ascending aorta aneurysm? (will take time to eliminate my anxiety) Is maintaining a recommended (ideal?) heart rate between 50 and 60 important, OR is a low BP the more decisive variable for enlargement/ rupture/ dissection prevention? Is there any risk of a frequent heart rate much higher than 60, during walking OR exercising? How fast can one accelerate the heart rate without risk, i.e. climbing steep mountains?
Vidyasagar Kalahasti, MD: Both maintaining an ideal heart rate and blood pressure are important in preventing aortic aneurysms from growing further. When you do exercise your heart rate does increase and I do not believe that you can avoid your heart rate increase but with medication the maximum heart rate can be lower.
---
Aorta Disease Surgery
Derrylynn: I am a 77-year-old 5' 8" male in generally good health. About five years ago I was diagnosed with an ascending aortic aneurysm. At that time the diameter of the aortic was 4.6cm. A month ago I had an MRA that showed that the aneurysm had grown to 4.9cm. At what point do you normally advise patients to undergo surgery to prevent rupture or dissection of an enlarging aneurysm?
Vidyasagar Kalahasti, MD: In patients without family history or genetic basis for aortic aneurysm, surgery is recommended at 5.5 cm. At our institution we also use aortic cross sectional area index (aortic cross section area/height in meters) more than 10 cm2 per meter as a tool to offer elective surgery.
Derrylynn: Under what circumstances is it possible to treat a thoracic aneurysm with a procedure involving an endovascular stent as opposed to the standard open chest surgical treatment?
Vidyasagar Kalahasti, MD: In general ascending aortic aneurysm are treated surgically and aortic arch and descending aorta can be treated with endovascular stent. We would be happy to evaluate you here at Cleveland Clinic to answer your questions in more detail.
---
After Aorta Surgery
spansosa1: Thank you for the response. A follow up question is, can a case be made to have the surgery sooner rather than waiting for the 5cm mark so that I don't miss the parent window?
Vidyasagar Kalahasti, MD: I would recommend you come and be evaluated with vascular surgery at Cleveland Clinic - Dr. Roselli for an opinion about earlier surgery. Please call 877.843.2781.
Tim11201: I am a 50-year-old Marfan patient. I had an ascending aortic aneurysm successfully repaired 13 years ago. Two questions:
1) Since the surgery, I've regularly experienced (about 2-3 times per month) rather severe chest pains, non-responsive to sublingual nitroglycerin. After seeing 3 different cardiologists with no luck, Dr. Valentin Fuster, Mount Sinai, diagnosed it as "secondary to microvascular disease" and is treating me with Cyproheptadine. This medicine seems to have reduced the frequency and intensity of the painful episodes. My question is whether you've encountered other cases of people who have undergone aortic repair and experienced the same type of "angina" as a result. Again, my painful episodes started immediately after the surgery and (prior to the new med) have persisted ever since.
2) For a Marfan's patient who has already had a thoracic aortic aneurysm repair, how often should they have their aorta scanned? Are aneurysms likely in other sections of the aorta?
Vidyasagar Kalahasti, MD: In my experience I have not seen many patients who have microvascular disease. Annual scanning with ultrasound (echo cardiogram and ultrasound of the abdominal aorta) is reasonable and if dimensions are stable then extend the interval to every 2 years. CT/MRI can be used to follow up if there is aortic dilation in other segments of the aorta. In patients with Marfan syndrome, aneurysms can occur in other sections of the aorta and so there is a need for surveillance.
MayGarden: Q1: Flying to Cleveland and get AAA surgery done at your clinic, how do folks manage post-surgery (after 7 days hospitalization) should re-exam or issues surface? Would flying back and forward complicate post-surgical management?
Q2: Do you accept Medicare with supplement?
Q3: Do you have competent (AAA) surgeons in FL (for Weston/West Palm Beach, which hospital)? If not, who are there that specialized in treating folks with AAA, from conducting catheterization to post surgery clinical management?
Q4: Are interventional cardiologists more experienced (better trained) in conducting catheterization or just any cardiologists would do?
Thanks. May Garden
Vidyasagar Kalahasti, MD: Q1: We would recommend you contact your surgeon's office at Cleveland Clinic for specific questions regarding post-operative management. We do offer a 24/7 phone line to speak to a nurse for our post-operative patients.
Q2. Cleveland Clinic participates with most major medical insurance programs. See my.clevelandclinic.org/patients/billing-insurance/accepted-insurance for information on insurance plans accepted by Cleveland Clinic. Please contact our Financial Counselor for Cardiothoracic Surgery at: 216.445.0430 (long distance, call 800.223.2273 ext 50430) if you need further financial information.
Q3: We do have vascular surgeons in Florida – see my.clevelandclinic.org/florida/departments/heart/depts/general-vascular-surgery#staff-tab
Q4: Cardiologists trained in performing cardiac catheterization
Derrylynn: How common, in your experience, are post-operative complications of aortic aneurysm surgery, such as infection, stroke, heart attack, irregular heartbeat, etc.? What is the most recent mortality data for surgery to repair ascending aortic aneurysms?
Vidyasagar Kalahasti, MD: Mortality rate with elective repair of ascending aortic aneurysm at Cleveland Clinic is under 1%. Post-operative complications are also minor with elective surgery at Cleveland Clinic.
gm3: I had open type surgery for AAA back in 2013 and have recently been advised that individuals with this type of surgery may face development of an Aneurysm behind a knee. Further advised that there is a 50% chance of the knee Aneurysm materializing. Your comments on this advice would be appreciated.
Vidyasagar Kalahasti, MD: Please talk to your physician about a screening ultrasound of your legs for aneurysm behind the knee.
---
Exercise, Activity and Aneurysm
trumpeter: My mid-ascending aorta grew from 45 x 43 mm to 47 x 44, sinus of Valsalva went from 44 x 43 to 44 x 44 mm last year. As a lifelong trumpet player, does my playing exacerbate my condition? (Blood pressure does not increase during playing.) Age 69, 6'2", 270lbs. (down 20 lbs. in 12 months) Metoprolol 25x2, Ramapril 2.5, Crestor 10, levothyroxin 88, aspirin, dha/epa 3 grams.
Vidyasagar Kalahasti, MD: Based on your reports the aortic dimensions are relatively stable. I am not aware of many studies that show trumpet playing increases the aortic size. Although, I have seen a patient who plays the trombone, and he brought a research paper about the effect of playing the trombone in patients with aortic disease but no definite conclusions can be drawn from this paper. Happy trumpeting!
coffeedog1019: Thank you for holding this session. I am a 45-year-old male, about 5'11", 190 lbs. I was recently diagnosed with a thoracic aortic aneurysm measuring 4.7 cm following a hospitalization for an a-fib/rapid heartbeat event while running. I was an avid runner/weightlifter and baseball player. My cardiologist frightened me about my activity level so badly that I have since retired from all sports activities and frankly I have my home gym up on eBay as we speak. I am still reconciling myself to going from an athlete to a former athlete with heart disease in the span of a month. Aside from maybe a therapist, what do you recommend for activities with people like me whose lifestyles are so suddenly stopped? Can I do push-ups/sit-ups/pull-ups? Are body-weight exercises ok? What can I do to remain feeling strong and healthy without feeling older than I am?
Vidyasagar Kalahasti, MD: In general we recommend to avoid weight lifting, heavy isometric exercise for patients with aortic dilation. You can still continue with aerobic exercise and careful monitoring of your heart rate response with exercise. Sometimes a stress test is helpful to assess your heart rate response and based on that recommendations can be made about your exercise. You can do sit ups but should avoid pull ups and push-ups. You can use light weights with multiple repetitions to maintain muscle tone.
Trekker: Hello, I am a fit 57-year-old male, 6', 150 lbs with a sunken chest, long loose limbs, near sighted, but no marfans, history of MV repair with much gratitude to Dr. Gillinov. Ascending aorta is 42 mm, growing 1 mm per year. Echos 1/year. My local doctor advises no restrictions in activity. But I have seen you advise either 50 lbs, or 50% of weight. 1) Do you have any new recommendations? I'd like to be conservative to be safe. 2) Would you consider surgery at 5 cm or...?
Vidyasagar Kalahasti, MD: At the current size of the ascending aorta, we do recommend that you keep weight lifting to less than half of your weight as you have other features of connective tissue disease. Elective surgery can be considered at 5 cm or if the aortic cross sectional area index is greater than 10cm2/meter.
gm3: After open type surgery for AAA is there any limitation on physical exercise. It is my understanding that after the graft placement there are no limitations. Your comments appreciated.
Vidyasagar Kalahasti, MD: If the rest of the aorta is completely normal in size then you can do all of your activities without limitations.
Vastarr27: Hello, I am a 61-year-old female, thought I was in excellent health until recently diagnosed with a 4.3cm ascending aortic aneurysm, no valve issues, no plaque in the heart, just the aneurysm. I already do aerobics almost daily and treadmill walking. Can I play golf? What about paddle boarding? Is bowling ok? My cardiologist hasn't been a font of information regarding my exercise activity guidelines. I'll have an MRI in 6 months to see if this is growing. Any help you can provide regarding exercise parameters would be most appreciated. Thank you!
Vidyasagar Kalahasti, MD: You can do aerobics and treadmill walking as well as play golf. Bowling is fine as well. In general we recommend not lifting weights more than 75 pounds or half of your body weight and isometric exercise.
federins: Is this disease related to the new Lindsay's Law?
Vidyasagar Kalahasti, MD: Patients with Marfan syndrome, LDS, EDS, and bicuspid aortic valve can die suddenly if they had an aortic dissection. In general they are recommended to avoid competitive sports if they have significant aortic dilation/aneurysm. I am not aware if this comes under the Lindsey's Law.
---
Family History of Aortic Disease
TimoS: MY question is about familial thoracic aortic diseases. If you have 100 people who suffer from TAAD (thoracic aneurysm or dissection to the aorta), how many of these have a familial disease? Also form the people having FTAAD (familial aortic thoracic diseases), how many have Marfan of these people. How many have EDS, LD. And how many have a familial diseases that cannot be connected to the connective tissue diseases - but it is still familial, and affect the thoracic aorta? Thank you if you find time to answer this
Vidyasagar Kalahasti, MD: Because of tertiary practice, we see patients with Marfan, LDS, EDS and bicuspid valve more frequently. In the general population these are not very common. There is signification association with high blood pressure and smoking along with family history in a lot of patients. Although specific mutations are not routinely detected in patients with family history, we still follow them very closely and recommend screening of first degree relatives.
CASmock: I have a stable 4.3 to 4.8cm aortic root fusiform aneurysm. Diagnosed in December, 2014 during a routine checkup on Valley Fever progress. Valley Fever is in remission. I have intense back pain 1-2 times annually that literally brings me to my knees and has sent me to the ER twice. There are no deficiencies in my spine / back structure. Opioids make it tolerable for several days until eventually the pain returns to a nagging ache, rather than a sharp, "take my breath away" pain. I have sharp/pinchy pain when I walk 3.2mph for 2+ miles. That pain alternates with squeezing chest pain throughout the entire day. I have a hiatal hernia that produces some acid reflux if I'm not cautious about diet, but that pain is not the pain I feel from exercise. Hypertension is controlled. My younger brother had aortic root / BAV replacement on May 22, 2017. My nephew is being tested Marfan's. What should I be doing? Is surgical repair an option given the family history?
Vidyasagar Kalahasti, MD: We would recommend an evaluation at the aortic center at Cleveland Clinic to discuss all options, including seeing genetics based on your family history. Please call 800.659.7822 to speak with a patient representative.
Corinthian05: My husband has Marfan's Syndrome but we have no family history as he is adopted. I have Ehlers-Danlos syndromes. What are the chances that our son will have similar issues like us?
Vidyasagar Kalahasti, MD: We would recommend a visit with a genetic counselor/medical geneticist to discuss further.
Allis: Have repaired Type A with prior paternal aunt deceased during AD surgery at CC. Subsequently my brother dissected, and my mother died during AD surgery. Clearly familial, but genetic testing after my AD and then after my brother's showed nothing. Any hope for future research for the sake of kith and kin?
Vidyasagar Kalahasti, MD: More research is being done to understand the familiar aortic aneurysm and aortic dissection syndromes and hope to have more information in the near future. Stay tuned!
---
Marfan Syndrome/Aorta Disease in children
robbockscc: I have a 17-year-old boy with Marfan Syndrome and an enlarged aortic root currently measuring 4.5cm. If current (relatively slow and steady) growth rate continues, he will likely hit the 5cm threshold in his early twenties. What are the most important factors to consider when evaluating and deciding on a surgeon and the institution where to have valve-sparing aortic root replacement surgery, and how far in advance should we start planning?
Vidyasagar Kalahasti, MD: Most important factor is experience of the surgeon in operating on patients with Marfan syndrome. It is also important to see how many valve sparing aortic replacement surgeries the surgeon and the center have done. If the dimensions of the aortic root continue to increase at the next follow up then you should establish care at the center where surgery will be eventually performed.
robbockscc: I have a 13-year-old boy with Marfan Syndrome and moderate/severe pectus excavatum and of course an enlarged aortic root. What is the relationship between pectus excavatum and aortic root replacement surgery? Is there a general recommendation to have the pectus excavatum treated with a Nuss procedure several years ahead of likely aortic root replacement surgery?
Vidyasagar Kalahasti, MD: I would recommend you be seen by a pediatric cardiologist/thoracic surgeon specializing in Marfan syndrome to discuss Nuss procedure for pectus. If the aortic root is normal in size then surgery will not be needed immediately.
---
Pregnancy and Marfan Syndrome
spansosa1: Approximately how long after aortic replacement surgery could a woman of child baring age with Marfan syndrome attempt a pregnancy (being aware of all other risks associated with pregnancy in a Marfan patient)?
Vidyasagar Kalahasti, MD: Out of the patients I have taken care of, they have become pregnant at 6 months -1 year after surgery. I would recommend that you be seen by a high risk obstetrician who has experience in caring for Marfan patients and also follow closely with your cardiologist during pregnancy.
---
Bicuspid Aortic Valve Disease
JosieCan: Hello, I am a 46-year-old, 5'1", 116lb female with BAV. 4.2 cm ascending aorta Aneurysm, Moderately calcified cusps with fusion NCC and LCC with moderate AS (PG 60 mmHg, MG 35 mmHg. V2max 3.90 m/sec, AVA 1.1cm2 and moderate AI. My cardiologist said I am close to needing surgery, but not quite yet. I fatigue easily. I have a cough that seems to come on more frequently and have been getting short of breath frequently. How much time does a person have from the onset of feeling short of breath to surgery?
Vidyasagar Kalahasti, MD: Your question is difficult to answer here. We would be happy to see you in person to discuss further options such as surgery.
Faith53: Hello, I am a 54-year-old female. 5 '3 and 115 pounds. I have a bicuspid aorta valve as well as a 4.3 aorta aneurysm which was found due to SVT episodes. I have recently been put on 12.5 mg Cozaar. Is there any other medication that I should be taking?
Vidyasagar Kalahasti, MD: Because of your history of SVT, you may be treated with a beta blocker medication such as Metoprolol or Atenolol to keep your heart rate under control.
xdwl: Hello, Doctor, I am a patient with HCM post-myectomy. I have no family history. Recently my son (34 years) is found with BAV in cardiac ultrasound. The valves are function well and aorta size normal. And he has no symptoms. But I am quite concerned. What is BAV's prognosis? Would BAV progress to HCM or aneurysm of aorta like Marfan? Any treatment for BAV? Really appreciate your time to answer my question!
Vidyasagar Kalahasti, MD: In general bicuspid aortic valve has many manifestations and as your son has normal function with normal sized aorta, he should be able to do all the activities without any limitations. He needs surveillance echo periodically (every 2-3 years) to assess valve function and aortic size. BAV does not progress to HCM but can lead to aortic dilation/aneurysm and that's why we do surveillance echo.
---
Coronary Artery Disease
Donedeal56: Hi. Thank you for taking my question(s). I have Atherosclerosis. My doctor calls it CAD. How can I prevent having heart surgery? I have gotten rid of my cokes, ice cream, fried foods, and whatever else tastes good. I also walk 2-4 miles a day. How do I clean out my Atherosclerosis? Thank you.
Vidyasagar Kalahasti, MD: You have done all the necessary and important lifestyle changes to prevent having heart disease. Atherosclerosis can be stabilized by your lifestyle changes. It's important to control cholesterol and have a lipid test done by your physician and if need be you may need to be on a statin. It is important to maintain the lifestyle that you have now for the rest of your life.
Reviewed: 08/17
This information is provided by Cleveland Clinic as a convenience service only and is not intended to replace the medical advice of your doctor or health care provider. Please consult your health care provider for advice about a specific medical condition. Please remember that this information, in the absence of a visit with a health care professional, must be considered as an educational service only and is not designed to replace a physician's independent judgment about the appropriateness or risks of a procedure for a given patient. The views and opinions expressed by an individual in this forum are not necessarily the views of the Cleveland Clinic institution or other Cleveland Clinic physicians. ©Copyright 1995-2017. The Cleveland Clinic Foundation. All rights reserved.