Mitral Valve Repair at Cleveland Clinic
At Cleveland Clinic we have the world's greatest experience with mitral valve repair, the best option for most patients with a leaking mitral valve (mitral regurgitation).
Our surgeons have special expertise in mitral valve repair. As a consequence, at Cleveland Clinic, nearly all leaking mitral valves are repaired rather than replaced. A repair rate of nearly 100% for patients with leaking mitral valves provides patients with ideal outcomes. And for those with isolated mitral valve problems, the majority of operations are performed robotically or minimally invasively, ensuring rapid recovery.
In 2019, patients traveled to Cleveland Clinic from all 50 states and 103 countries for their cardiovascular care.
What are the symptoms of a leaking mitral valve?
Many patients with mitral valve disease are asymptomatic (have no symptoms), even with a leak that is severe. When symptoms develop, they include shortness of breath, fatigue, loss of energy, swelling of the ankles and palpitations (extra or skipped heart beats).
How is a leaky mitral valve diagnosed?
The first step involves listening with a stethoscope. Using a stethoscope, the doctor hears a murmur, which represents turbulent blood flow across an abnormal valve. The diagnosis is confirmed by an echocardiogram. Ultrasound is used in an echocardiogram to allow the doctor to visualize the heart valves and determine the severity and cause of the leak. In most patients, a standard transthoracic echocardiogram (a probe placed on the skin of the chest) is adequate to visualize the valve. Sometimes a transesophageal echocardiogram (a probe passed through the mouth into the esophagus) is necessary to more closely visualize the valve; this is an outpatient procedure.
What is mitral valve prolapse?
Mitral valve prolapse is a common condition in which the mitral valve leaflets are floppy or loose. Mitral valve prolapse is diagnosed by echocardiography. Most patients with mitral valve prolapse do not have a leaky valve and do not require surgery. When a valve with prolapse has a severe leak, surgery should be considered.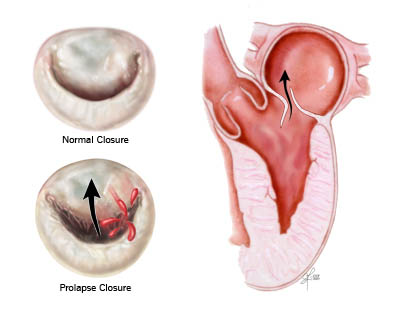 Mitral Valve Prolapse
What are the indications for surgical repair of a leaking mitral valve?
Surgery should be considered when the leak is severe. In most facilities, the regurgitation (leak) is graded on a scale from 0 to 4, with 0 being no leak and 4 being a severe leak.
Surgery should be considered in virtually all patients with a leak that is graded as a 4 (severe) and in some patients with a leak that is graded as a 3 (moderately severe). When a patient with mitral regurgitation develops symptoms, a decrease in heart function, or an increase in heart size, surgery is nearly always recommended. Surgery should also be considered when a patient develops atrial fibrillation, which is an irregular heartbeat. Surgery is also recommended in most asymptomatic patients who have a severe leak. In asymptomatic patients with severe mitral regurgitation, surgery improves long-term survival. In contrast, waiting for the development of symptoms or changes in heart function can leave patients with permanent heart damage.
What is the chance that a leaky mitral valve can be repaired?
Nearly 100%. The most common cause of mitral regurgitation is a condition called degenerative mitral valve disease—this is also called mitral valve prolapse, myxomatous mitral valve disease, and a floppy mitral valve. Such valves can be repaired (rather than replaced) in more than 95% of patients. Cleveland Clinic heart surgeons have the world's largest experience with mitral valve repair.
What is the chance that a leaky mitral valve can be repaired minimally invasively?
Approximately 60-80%. When a patient requires isolated mitral valve surgery for a degenerative valve, at Cleveland Clinic we can perform the operation through a 2 to 4 inch skin incision in in the majority of cases. Preoperative testing enables us to choose the safest approach for each patient. We offer several different minimally invasive approaches, including a small incision on the right chest, a small incision in the mid-line, and robotically assisted procedures. Expertise with several approaches enables us to determine the best procedure for each patient, optimizing results.