Valve Disease Types
Valve Disease Types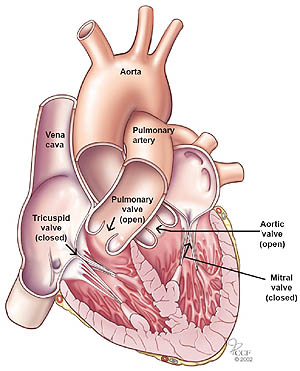 There are four valves within your heart. They are the mitral, tricuspid, aortic and pulmonic valves. The valves make sure blood flows in only one direction through the heart. Learn more.
What is heart valve disease?
Valvular heart disease occurs when your heart's valves do not work correctly. Valvular heart disease can be caused by valvular stenosis or valvular insufficiency.
In the valvular heart disease condition valvular stenosis , the tissues forming the valve leaflets become stiffer, narrowing the valve opening and reducing the amount of blood that can flow through it. If the narrowing is mild, the overall functioning of the heart may not be reduced. However, the valve can become so narrow (stenotic) that heart function is reduced, and the rest of the body may not receive adequate blood flow.
Another valvular heart disease condition, called valvular insufficiency (or regurgitation, incompetence, "leaky valve"), occurs when the leaflets do not close completely, letting blood leak backward across the valve. This backward flow is referred to as "regurgitant flow."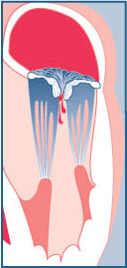 Stenotic Valve A narrowed or stenotic valve requires the heart to pump harder, which can strain the heart and reduce blood flow to the body.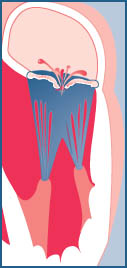 Regurgitant Valve A regurgitant (incompetent, insufficient, or leaky) valve does not close completely, letting blood move backward through the valve.
Some patients may have both valvular stenosis and valvular insufficiency in one or more valves. Valve disease causes the heart muscle to work harder to circulate the right amount of blood through the body.
Reviewed: 07/15