Aorta: Thoracic Aortic Aneurysm
Thoracic Aortic Aneurysm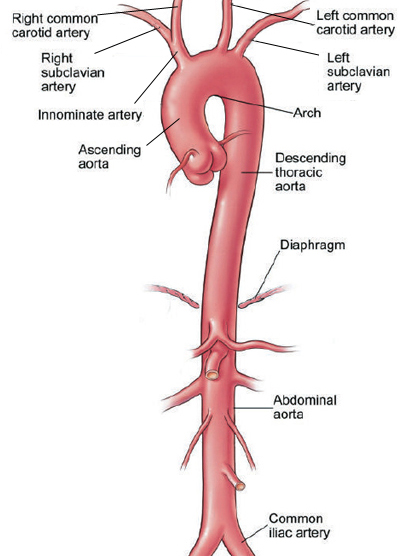 The aorta is the largest artery in the body and is the blood vessel that carries oxygen-rich blood away from the heart to all parts of the body.
The section of the aorta that runs through the chest is called the thoracic aorta and, as the aorta moves down through the abdomen it is called the abdominal aorta.
What is a thoracic aortic aneurysm?
When an artery wall in the aorta weakens, the wall abnormally expands or bulges as blood is pumped through it, causing an aortic aneurysm. The bulge or ballooning may be defined as a:
Fusiform: Uniform in shape, appearing equally along an extended section and edges of the aorta.
Saccular aneurysm: Small, lop-sided blister on one side of the aorta that forms in a weakened area of the aorta wall.
An aneurysm can develop anywhere along the aorta:
Aneurysms that occur in the section of the aorta that runs through the abdomen (abdominal aorta) are called abdominal aortic aneurysms.
Aortic aneurysms that occur in the chest area are called thoracic aortic aneurysms and can involve the aortic root, ascending aorta, aortic arch or descending aorta.
Aneurysms that involve the aorta as it flows through both the abdomen and chest are called thoracoabdominal aortic aneurysms.
Who is affected by thoracic aortic aneurysms?
Thoracic aortic aneurysms affect approximately 15,000 people in the United States each year.
Up to 47,000 people die each year from all types of aortic disease; more than from breast cancer, AIDS, homicides, or motor vehicle accidents, making aortic disease a silent epidemic.
Is a thoracic aortic aneurysm serious?
A thoracic aortic aneurysm is a serious health risk because, depending on its location and size, it may rupture or dissect (tear), causing life-threatening internal bleeding. When detected in time, a thoracic aortic aneurysm can often be repaired with surgery or other less invasive techniques.
Small aneurysms place one at increased risk for:
Atherosclerotic plaque (fat and calcium deposits) formation at the site of the aneurysm
A clot (thrombus) may form at the site and dislodge, increasing the chance of strokeIncrease in the aneurysm size, causing it to press on other organs, causing pain
Aortic dissection, or tearing of the layers of the aorta, a potentially fatal complication and a medical emergency.
Aneurysm rupture, because the artery wall thins at this spot, it is fragile and may burst under stress. A sudden rupture of an aortic aneurysm may be life threatening and is a medical emergency