Coronary Artery Bypass Surgery
Overview
Coronary artery bypass surgery (also called coronary artery bypass grafting or CABG) is a treatment for patients with coronary artery disease.
Coronary artery disease (CAD) is narrowing or blockage of one or more of the coronary arteries that supply oxygen-rich blood to the heart. It is common for three or four coronary arteries to be bypassed during surgery.
Coronary artery bypass surgery restores normal blood flow to the heart by creating a "detour" (bypass) around the blocked artery/arteries. This is done by using a healthy blood vessel, called a graft. Grafts usually come from your own arteries and veins located in the chest, leg or arm. The graft creates a new pathway to carry oxygen-rich blood to the heart.
Do I need coronary artery bypass surgery?
Your heart doctor will order tests to find out more about your coronary artery disease. The results of these tests will be considered along with the structure and function of your heart, your age, your symptoms, other medical conditions you have and your lifestyle. This information will help your cardiologist, surgeon and you determine the best treatment option for you. The goals of the coronary artery bypass surgery are to:
Relieve your symptoms of coronary artery disease (such as angina [chest discomfort] or shortness of breath)
Help you return to your normal lifestyle and activities
Lower your risk of a future heart attack or other heart problems
At Cleveland Clinic, bypass surgery is often performed along with other heart surgeries, such as valve surgery, aortic aneurysm surgery or surgery to treat atrial fibrillation (an abnormal heart beat).
Types of coronary artery bypass grafts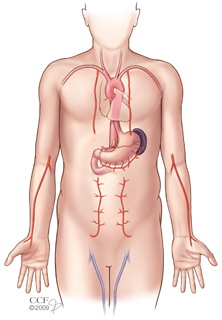 Arterial Grafts
Internal thoracic arteries (also called ITA grafts or internal mammary arteries [IMA]) are the most common bypass grafts used. They are the standard of care, and the goal is to use these arteries for every patient who has isolated coronary artery bypass surgery. The ITAs result in the best long-term results (for more information about performance, see STS star-ratings). You have two internal thoracic arteries in your chest. If these arteries are used for bypass surgery, they can usually be kept intact at their origin because they have their own oxygen-rich blood supply. The other end is cut and sewn to the coronary artery below the site of the blockage. If the artery needs to be completely removed, it is called a "free" artery.
The radial (arm) artery is another common type of arterial graft. There are two arteries in the arm, the ulnar and radial arteries. The ulnar artery delivers blood to the arm, so most people do not have any side effects if the radial artery is used as a graft. If your surgeon decides to use your radial artery, you will have tests before and during surgery to make sure this is the best option. If the radial artery is used as the graft, you may need to take a calcium channel blocker medication for several months after surgery. This medication helps keep the artery open. Some people who have radial artery bypass grafts have numbness in the wrist after surgery. But, this sensation usually goes away. This type of graft is known to have good results, although long-term outcomes are not fully known. Less commonly used arteries are the gastroepiploic artery, which is a branch leading to the stomach, and the inferior epigastric artery, which leads to the abdominal wall. These arteries are more difficult to use, but can be a good option if other arteries cannot be used.
Vein Grafts
Saphenous veins are veins in your legs that can be used as bypass grafts. Minimally invasive saphenous vein removal does not require a long incision. Instead, 1-2 incisions are made at the knee and a small incision is made at the groin. This type of removal leads to less scarring and a faster recovery than traditional surgery. Although much has been done to improve the results with vein grafts, they still tend to fail in the long term.
What is the best type of graft for me?
Your surgeon will determine the right type of bypass graft for you. The choice depends on many factors, including the location and extent of the blockage, size of the coronary arteries, availability of arteries and veins, your age and other medical conditions you have.
Procedure Details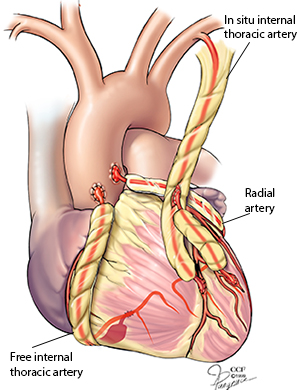 What happens during coronary artery bypass surgery?
You will have general anesthesia for the surgery.
The first step in the surgery is for the surgeon to prepare the arteries or remove the veins that will be used as bypass grafts.
Next, the surgeon makes an incision down the center of your chest, through your sternum (breast bone), so your heart and coronary arteries can be seen. Your heart will likely be stopped for a short time so the surgeon can perform the bypass procedure on a "still" heart. During this time, the heart-lung bypass machine takes over for the heart and lungs, so blood keeps moving throughout the rest of the body. This is called "on-pump" surgery. The pump is turned off after the grafts are in place. Your heart beat and blood flow return to normal.
The surgery can sometimes be done without using the heart-lung machine, while your heart is still beating. This is called "off-pump" or "beating heart" surgery.
The bypass grafts are put in place by sewing one section of the artery or vein around a tiny opening just below the blockage in the diseased coronary artery and attaching the other end to a tiny opening made in the aorta. This redirects the blood flow around the blockage. If an internal thoracic (mammary) artery is used, one end is connected to the coronary artery while the other stays attached to the aorta.
During the surgery, your surgeon will place temporary pacing wires and a chest tube before your sternum is closed with special wires. Your chest incision will be closed with internal stitches or traditional external stitches. The chest tube is needed to drain fluid. The pacing wires are placed in case you have an abnormal heart rhythm after surgery. This is common, and if it happens, the wires are attached to a temporary pacemaker until your heart rhythm returns to normal. The surgery generally lasts 3 to 5 hours, depending on the number of arteries that are being bypassed.
After Coronary Artery Bypass Surgery
You will start your recovery in an intensive care unit (ICU). You will stay in the ICU for 1-2 days so your healthcare team can closely keep track of your condition and vital signs. You will continue your recovery in a step-down unit. Most patients stay in the step-down unit for 3-5 days.
How will I feel after surgery?
It will take about two months to recover from surgery. In the beginning, you may feel worse than you did before surgery. This is normal and is usually related to the trauma of surgery, not how well your heart is working. The way you feel after surgery depends on your overall health, the outcome of the surgery, how well you take care of yourself after surgery, and how well you felt before surgery. Most patients feel better after they recover. Call your doctor if you are concerned about your symptoms or speed of your recovery.
Risks / Benefits
Risks of coronary artery bypass surgery
As with any surgery, there are risks involved. Your surgical risks are related to your age, other medical conditions you have, and the number of procedures you have during a single operation. Your cardiologist will talk with you about these risks before surgery; please ask questions to make sure you understand why the procedure is recommended and what all of the potential risks are.
Recovery and Outlook
Activity during Recovery from Bypass Surgery
Your doctor will give you specific guidelines for your recovery and return to work, including information about activity and your general health. Most patients are able to drive in about 3 to 8 weeks after surgery.
It is very important to enroll in a Cardiac Rehabilitation program. You will begin working with a cardiac rehabilitation specialist while you are in the hospital, and you should continue your rehab after you go home. Cardiac rehab includes exercise, education about your risk factors and lifestyle, and peer support. The program will help you recover safely, enjoyably and provide long-term benefits, like reducing your risk of future heart problems.
Follow-Up Care
You will see your heart surgery team a few days after you leave the hospital. You will also need to visit your cardiologist or primary care doctor within the first month after surgery, and again 6-8 weeks after surgery. These follow-up appointments are very important. Your doctor will make sure you are taking the right types and amounts of medications and ensure that your recovery is on track.
Regular follow-up appointments with your cardiologist are important, even if you do not have symptoms. These appointments should be scheduled every year, or more often, as recommended by your doctor. You may also need regular testing, such as an echocardiogram.
Call your doctor if your symptoms become worse or happen more often. Do not wait until your next appointment to tell your doctor about changes in your symptoms.
How Important Are Lifestyle Changes?
Coronary artery bypass graft surgery increases the blood supply to your heart, but it does not cure coronary artery disease. It is critical that you take your medications exactly as prescribed and make changes in your lifestyle to reduce your risk of future heart problems. Lifestyle changes include:
Quit smoking
Manage high cholesterol
Manage high blood pressure and diabetes
Exercise regularly
Reach and maintain a healthy weight
Eat a heart-healthy diet
Control stress and anger
Take all medications as directed
Take part in a cardiac rehabilitation program
See your doctor for regular follow-up visits
Learn more about prevention and making lifestyle changes at Heart and Vascular Health and Prevention.
Additional Details
Coronary artery bypass surgery history
Cleveland Clinic has a long history of diagnosis and treatment of patients with coronary artery disease. This includes the world's first selective angiogram performed by Mason Sones in 1958 and the first coronary artery bypass graft surgery performed by Dr. Rene Favaloro in 1967. In the 1970 and 80s, Dr. Floyd Loop confirmed that internal mammary artery (internal thoracic artery) grafts result in superior outcomes for patients who have this procedure. More recent studies by Dr. Lytle and the coronary team suggested that using two internal mammary arteries in select patients results in increased longevity. It is on this foundation that Cleveland Clinic has built a center of excellence in coronary artery bypass surgery.
Outcomes
Our outcomes speak for themselves.
Cleveland Clinic is a high-volume center, ranked number one in heart care since by U.S. News since 1995. Surgeons are experienced in:
Coronary artery bypass graft surgery at the same time as other heart and vascular procedures
Reoperation coronary artery bypass graft surgery
Complex coronary artery bypass graft surgery in patients who have other medical problems
Coronary artery bypass graft surgery in high-risk patients, such as those with severe heart failure
Our team of cardiologists, cardiovascular surgeons, nurses, and other healthcare providers are committed to providing the best care to our patients.
Less than 15% of US hospitals received the STS "3 Star" rating for CABG surgery. This is the highest category of quality. Since 2014, Cleveland Clinic has been in this highest quality STS 3-star rating group.
Resources
Doctors Who Treat
Doctors vary in quality due to differences in training and experience; hospitals differ in the number of services available. The more complex your medical problem, the greater these differences in quality become and the more they matter.
Clearly, the doctor and hospital that you choose for complex, specialized medical care will have a direct impact on how well you do. To help you make this choice, please review our Miller Family Heart and Vascular Institute Outcomes.
Cleveland Clinic Heart and Vascular Institute Cardiologists and Surgeons
Choosing a doctor to treat your coronary artery disease depends on where you are in your diagnosis and treatment. The surgeons in our Cardiothoracic Surgery Department have expertise in providing surgery to treat coronary artery disease. Request an appointment online or contact us by phone to be evaluated for coronary artery bypass surgery at Cleveland Clinic.
The Miller Family Heart and Vascular Institute offers specialty centers and clinics for patients whose treatment requires the expertise of a group of doctors and surgeons who focus on a specific condition.
You may also be interested in these additional Centers:
Use the following links to learn more about other Sections and Departments who treat patients with Coronary Artery Disease:
See About Us to learn more about the Sydell and Arnold Miller Family Heart & Vascular Institute.
Contact
If you need more information, click here to contact us, chat online with a nurse or call the Miller Family Heart and Vascular Institute Resource & Information Nurse at 216.445.9288 or toll-free at 866.289.6911. We would be happy to help you.
Becoming a Patient
Conditions
Treatment Guides
Diagnostic Tests
Diagnostic tests are used to diagnose coronary artery disease and the most effective treatment method.
Anatomy
Webchats
Our webchats and video chats give patients and visitors another opportunity to ask questions and interact with our physicians.
Videos
Interactive Tools
Additional information and resources
*A new browser window will open with this link.
The inclusion of links to other websites does not imply any endorsement of the material on those websites nor any association with their operators.
Cleveland Clinic is a non-profit academic medical center. Advertising on our site helps support our mission. We do not endorse non-Cleveland Clinic products or services. Policy