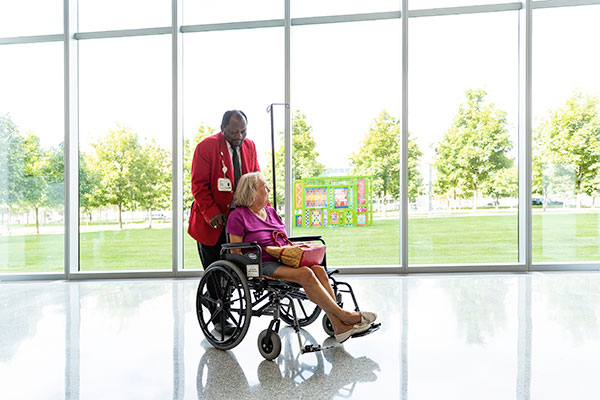 What is Cleveland Clinic's Discharge Process?
When you are admitted to the hospital, your first thought probably isn't about leaving. After all, you're just getting there. You'll hear us mention what we call "discharge planning" — the preparation for your transition out of the hospital — and it starts right away. At Cleveland Clinic, we want you to know what to expect from the time you walk in our door until you head out. It's part of how we help make your stay and recovery as smooth as possible. We always keep your departure in mind because we want the successful treatment you receive during your stay to continue after you leave.
Managing your care
While you're with us, you'll be talking regularly with your healthcare providers. We do something called daily plan of care visits (POCV). During your POCVs, we'll talk about how your treatment is going. We can also answer your questions, go over the next steps, and try to figure out how many days you may need to stay in the hospital.
Our registered nurses, social workers and case managers are also here to support you and your family. Throughout your visit, they'll answer questions about your care and help with other issues like:
Working with your insurance provider.
Ways to manage your medications.
How to set up advanced directives like a living will and healthcare power of attorney.
Connecting you to community resources.
This team can also help you get ready to leave the hospital. If you or your family would like to speak to a social worker or case manager about discharge plans, please ask your nurse.
Planning to Leave the Hospital
On the day you leave the hospital, we'll try to have you ready to leave by noon. But we'll first make sure you're feeling well enough to go.
If you are, we'll talk about your ride and where you're going to recover – home or another care facility. If you are going home, it's important that you choose a family member or friend as your Pick-Up Person (aka PUP) at least a day prior to your planned discharge. Plan to have them arrive at the hospital by 11 a.m. If they're running late, you may be a candidate to relax in our discharge lounge (available at some locations) until they arrive. If you do not have an available Pick-Up Person, you may be charged a fee for your ride. We'll partner with you to find the best option for transportation, whether it's through your insurance or directly with a transport company.
It's important to have all plans in place before you go. We want to be sure you have a way to leave safely.
Where will you go next?
After leaving the hospital, you may be able to go right home to recover on your own.
But sometimes, your providers might feel you need more care once you leave. If so, we'll work closely with you and your loved ones so you can continue recovering at:
An acute rehabilitation facility, skilled nursing facility, an extended care facility or long-term acute care facility.
Home with a home care agency to help with your ongoing medical needs and rehabilitation.
Questions to ask before you leave the hospital
We know you might have questions about what to expect when you leave the hospital. Here are a few to keep in mind.
What medications will I be taking once I leave? What do I need to know about them?
Your healthcare team will talk with you about all medications you need to take after you leave – including how and when to take them and any side effects. You'll also get this information printed out for you when you leave the hospital.
If you are unable to afford your medications, your care team can work with you to find a solution.
What is Bedside Pharmacy Delivery? How can I have this arranged?
At some hospital locations, you can have your medications delivered from Cleveland Clinic pharmacies directly to your hospital room before you leave. Ask your healthcare team about availability.
Our pharmacy teams know how things work when you're leaving the hospital and have access to your medical records. There is no need to stop at a retail pharmacy after you leave unless that is your preference. Bedside Pharmacy Delivery is safe, easy and convenient.
A form of payment will need to be provided for any cost or copay prior to medication delivery.
Can I pick up my medications at a pharmacy close to my home?
Of course. We can electronically send your prescriptions to your favorite retail pharmacy.
Our convenient Cleveland Clinic pharmacies are also available. We can make sure the medicines you need are delivered to you before you leave the hospital. And, if you want, you can keep using our pharmacies for all of your prescription needs once you are home. Cleveland Clinic pharmacies want to be your "Pharmacy for Life."
How do I schedule my follow-up appointments?
We'll work with you to schedule any needed follow-up appointments. If your appointment is scheduled before leaving the hospital, it will be included in your printed discharge information and added to your MyChart account. If the appointments are unable to be made at that time, you will be given instructions on how to make sure you have needed follow-up appointments.
Am I signed up for MyChart?
As a Cleveland Clinic patient, you can sign up for a MyChart account. We don't automatically sign patients up for this service. Once you are signed up, you can use MyChart via the MyClevelandClinic™ app on any device or our website.
MyChart makes it easy to track and schedule appointments. You can also get test results, access your medical records and have virtual visits with your providers - all in one place.
Where can my ride park and pick me up when I leave the hospital?
We know each of our hospitals is large, but there are places where your family can pick you up. Each location has parking lots or garages where your family or loved ones can park so they can come in and meet you at your room or in the discharge lounge, if available. Each hospital also has a designated pick-up door where they can meet you.
Learn more about parking options at each of our hospitals.
At Main Campus, you can be picked up at the Entrance Area (J Building - Sydell & Arnold Miller Family Pavilion) and discharge lounge. They can also use our valet service or park in one of our self-parking locations.
What do I need to take with me when I leave?
Leaving the hospital can get hectic. But there are things you'll need to remember to pack in your bag before you leave. Make sure you have your:
Discharge instructions.
Keys to get into your house.
Medical equipment (walker, wound care supplies, etc.) if needed.
Personal items you brought into the hospital (wallet, phone, clothing, glasses, charger).
After You Leave Cleveland Clinic
It's important to follow your healthcare team's discharge process instructions as you recover outside of the hospital — no matter if you're going home or to another care facility.
If you have any questions, it's best to get answers from your healthcare team before you leave. This can help prevent unexpected visits back to the hospital. It's also important that you go to all of your follow-up appointments.
If you are having problems after you get home, reach out to your primary care physician (PCP) or main provider overseeing your care. In the event of an emergency, call 911.