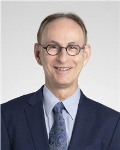 Allan Klein, MD

Douglas Johnston, MD
Friday, January 16, 2015 - Noon
Description
Pericarditis is an inflammation of the pericardium, which is a thin, two-layered, fluid-filled sac that covers the outer surface of the heart Pericarditis develops suddenly and may last up to several months. Sometimes excess fluid develops in the space between the pericardial layers and causes a pericardial effusion, a potentially life threatening condition. Dr. Klein and Dr. Johnston answer your questions about pericarditis and other pericardial conditions.
More Information
---
Diagnostic Tests
indranil: Recent echocardiogram suggested mild fluid about 8mm in my pericardium. Doctor said it is normal. Do I need to worry much about it?
Allan_Klein,_MD: It's probably an insignificant finding unless you have chest pain. Maybe have another cardiac ultrasound in one year.
debbrier: Me again. After MRI pericardium is not constricted anymore but inflammation has increased to 6 mm. After slow taper doctor is sure the only way to keep inflammation away is to never go off meds which is clearly not an option. Been on triple therapy since April 2014.
Allan_Klein,_MD: It is good that the lining is no longer constricted, however the inflammation does take time to improve. You should continue slow weaning of the medication according to the specialist. We would be happy to see you for a second opinion.
---
Causes (Etiology) and Pathophysiology
ursor: How can you determine what the actual cause is?
Allan_Klein,_MD: The most common cause is either viral or idiopathic (we don't know). There are causes (such as autoimmune, trauma, etc.).
MedHistory: What is the pathophysiology of pericarditis and are NASID's just for symptomatic relief or are they therapeutic?
Allan_Klein,_MD: The pathophysiology of pericarditis is related to, for example, viral insult of the lining or damaging the lining of the pericardium and setting up an auto-inflammatory process within the pericardium. The NSAID and other drugs such as colchicine have potent anti-inflammatory process which can alleviate the inflammation. The virus can lie dormant within the pericardium, but that is not well known.
MedHistory: I am a 69 year old nephrologist with otherwise normal cardiac function and with no previous medical history other than controlled hypertension. I have been suffering from this frustrating condition for the last four months with intermittent 8/10 pain and sometimes severe supraventricular arrhythmias but after three episodes it seems to now be slowly resolving. I have used colchicine and NSAID's and have avoided steroids since most feel they lead to an increased rate of recurrence. I have had to self-treat BP and arrhythmias with calcium channel and beta blockers along with valsalva and I might say that I have no idea how a non-physician might deal with these complex arrhythmias and the BP changes that the necessary medications cause. I suspect that there is an autoimmune component since this does not act like any virus I have ever dealt with. Any thoughts on etiology? Thanks
Douglas_Johnston,_MD: Most of the recurrent pericarditis is idiopathic or viral. You could be screened for autoimmune conditions to check ANA and rheumatoid factor. Your therapy is sufficient with the colchicine and NSAIDS. It is a slow process to heal the inflamed pericardium. You could have imaging tests, such as MRI to assess the status of the pericardium.
---
Symptoms
azer50: I was diagnosed with acute pericarditis two years ago and am still having symptoms. I take colchicine two times daily. My most annoying symptom is daily palpitations. I have had 2D echo-cardiograms and have worn a heart monitor for 24 hours and both tests showed nothing abnormal. Are these palpitations just part of the pericarditis disease or do I need additional testing? What other tests should I be getting?
Allan_Klein,_MD: You should check your inflammatory markers to make sure pericarditis is under control. It is possible the palpitations are not part of pericarditis. Consideration for starting low dose beta blocker may be indicated if your palpitations are symptomatic. You need to discuss with your cardiologist.
---
Pericarditis after Heart Surgery
George22: If you have pericarditis after mitral valve surgery - is it likely to be chronic. I had it after my surgery last year and it still is not under control.
Douglas_Johnston,_MD: It can be a problem that takes a long time to resolve. However, with appropriate treatment, most patients will have relief from post-surgical pericarditis.
---
Management of Acute Pericarditis
Nofunpericarditis: Hello, I was having minor chest pain when I woke up this past Thanksgiving Day 11/27/14, and ended up in the ER that night with severe chest pain and trouble breathing. After tests, I was diagnosed with viral pericarditis. I was given 125mg of prednisolone and some pain meds via IV. I was prescribed a five or six day taper pack of prednisolone and naproxen. I saw a cardiologist two or three days later, and was told to stop the prednisolone. He prescribed naproxen for 10 days, and said that after the 10 days, I should only take it for breakthrough pain. I was also prescribed colchicine 0.6mg x2 a day for three months. I had an echocardiogram with normal results. I still have constant chest pain every day (three or four on a 10 pain scale). After doing a lot of research, it is apparent that the best treatment is ibuprofen 600-800mg 3x a day, colchicine x2 a day, omeprazole 1x a day (I'm taking 20mg). I added the PPI and ibuprofen one week ago. Is there anything else I should be doing?
UPDATE: Since my ER visit and acute pericarditis diagnosis on 11/27/14, I am still having constant mild/moderate chest pain. I am normally very active and very healthy (ice hockey x2 and gym x5 a week) but this has stopped since my ER visit. I am growing concerned as I am almost at the two month mark and have not seen any improvement. I have been on NSAIDs since 11/27/14, and Colchicine 0.6mg 2x day since about 12/5. I had been taking about 1000mg of naproxen/Aleve a day since my 11/27/14, until this past week when I switched the NSAID to ibuprofen 800mg x3 a day. Is it correct to think that the longer the inflammation exits, the more my pericardium is being damaged? Also, how long would you recommend that I continue this regime before pursuing the possible need for more aggressive treatment? Thank you.
Allan_Klein,_MD: Long story short, it takes time for severe cases of acute pericarditis, to calm down. It may take three - six months of anti-inflammatories to calm it down. It may take the combination of the colchicine and NSAID to calm it down. For advanced cases you may need to be on a third drug such as prednisone. You need to be patient with treatments and I do not recommend the ice hockey until you are under control and you are tapered off the medicines.
Nofunpericarditis: Hello, It's the hockey player again (have pericarditis for almost two months since thanksgiving). I saw that you were concerned with the one patient who is only 25 years old with pericarditis. I am 26. How long would you recommend that I give the Ibuprofen and colchicine a chance to work before needing to visit your center?
Allan_Klein,_MD: It is hard to know how long it will take for the pericarditis to heal, therefore if you want to play hockey like I do, it would be good to stage the status of the pericarditis and the appropriate weaning of the medicine, before heading back on the ice and scoring a hat trick. A visit sooner than later would be appropriate.
---
Management of Recurrent and/or Chronic Pericarditis
Gymnat: My daughter is a college athlete and has recurring Pericarditis, (six times now I think) She sometimes feels her heart pounding when she's working out at gym, during treatment for symptoms. Her Cardiologist gives her Indomethacin when she has symptoms. How do we know when symptoms are dangerous or typical.
Allan_Klein,_MD: In general, exercise and recurrent pericarditis do not go well together. The pericarditis has to heal and only when that is under control you can do vigorous exercise. The increased heart rate can aggravate the pericarditis. She should have frequent blood tests to see if she has actual inflammation and she needs to stay on some baseline anti-inflammatory medicine to control the symptoms (such as indomethacin or colchicine). If your daughter continues to exercise, it will come back.
bill@tallent.com: I've had recurrent or chronic pericarditis for six years. Been to the ER eight times when the pain got serious enough to make me question whether a more serious problem existed. Was sent to the cath lab five times, always check out ok. Prednisone helps sometimes for long periods, other times for short periods. Asked for colchicine but it conflicted with my crestor, so my cardio opted to keep me on crestor because it, in combo with Zetia has been very effective in reducing my LDL Cholesterol. All my labs look normal except blood sugar a little high at 100. So, any other ideas on controlling the pericarditis. Right now I use 800-1600mg ibuprofen a lot of days. Have reached 3200 on occasion, so the pain can interfere with daily life where I run a technology company which is demanding. Have APS if that makes any difference and take Pradaxa to counter clotting.
Allan_Klein,_MD: The best results are a combination of the ibuprofen, low dose colchicine - the low dose colchicine can be as low as 0.3 mg/day. You can follow the LDL and be careful with the statin. Also you need to be careful with the pradaxa and ibuprofen for bleeding. Try to stop the start-stop of the medication to avoid a yo-yo effect.
norsky: Dr. Klein, I spoke w/you on a chat in Aug 2014. Let me summarize my health hist. 55y female, active distance runner my whole life, diagnosed w/severe mitral regurgitation and had repair, minimal invasive, done 11/21/13. Developed post pericardiotomy syndrome three weeks later. Had two short term prednisone tapering courses (60-0mg over 15days) then a longer prednison tapering, 40-0mg over 4mo-febr-june 2014. Colcrys 0.6mg bid. Each time the pericarditis came back in 2-3 days. I insisted on following your plan, taper 1mg/mo once I got down to 10mg. Also Colcrys and Ibuprofen 8-1200mg/day added. Per your advice very little exercise past 6 mo., no running, just walking. Had bronchitis and sinusitis in Nov. and started getting "heart pain" again, increased last 2wks/fatigued. Down to 3mg pred/day, colcrys 0.6 bid, Ibuprofen 800 tid. ESR/CRP normal. Keep the current plan? Worried about ending up very sick again once I get off Pred in March. Is it worth coming to see you?
Allan_Klein,_MD: It sounds like you have done reasonably well with the plan. Would suggest a follow up visit with a MRI to look at how inflamed the pericardium is. Would suggest a visit and then we can discuss return to exercise as well.
PenguinLuv: I was diagnosed with idiopathic pericarditis three months ago. Started treatment with 600 mg/3X day ibuprofen but it didn't work. Then added .6 mg colchicine/day, but it didn't work. Bumped up to .6 mg colchicine/2x day but still no resolution. My cardiologist then took me off the ibuprofen and added 20 mg prednisone/day. It is helping but after four weeks I still don't have symptom resolution (milder but persistent chest pain, left arm and shoulder pain, very small effusion, but ECG has normalized. No physical symptoms or signs of constriction on echoes). Any suggestions on my next step? Do I stay on 20 mg of prednisone until symptom resolution and then start to taper or do I need a higher dose to get this under control? I'm a 51 year old female, 112 lbs, in otherwise very good health. Many thanks for any help or guidance you can provide.
Allan_Klein,_MD: I would suggest you follow your inflammatory markers to see if the prednisone and colchicine are adequately controlling inflammation. For every severe case, all three drugs: prednisone, colchicine and NSAIDS are considered. You may need to be seen at a pericardial center to evaluate you and decide what medications you need and how fast to taper.
Jillbernier: Hello. I am a 50 yr old woman who was diagnosed with pericarditis for the 2nd time in March 2014. I was prescribed steroids, ibuprophen and colchicine, which had worked for me in the past. This most recent time, I started to feel better, but shortly after finishing the meds, the pericarditis came back with a vengeance. I am still experiencing all of the symptoms of pericarditis. An MRI in August 2014 showed no fluid in the pericardium. Is it possible that this is still pericarditis, or is something else probably going on? I have seen cardiologists, rheumatologists, neurologists, physiatrists and my internal medicine doc for help with this. All say it is pericarditis except for the cardiologist. Help!
Allan_Klein,_MD: It is very possible that it is recurrent pericarditis which often occurs after stopping the medications. The MRI should not just be evaluated for fluid but degree of inflammation - you probably need to be seen by a pericardial specialist.
DeniseB: I've been struggling with chronic pericarditis since 2009 when I had a pericardial window to eliminate effusion. I was treated with simultaneous prednisone and colchicine, but the flares returned within a couple of months. Steroids didn't stop the recurrence of flares (not only have they been ineffective, I also cannot take them anymore due to avascular necrosis in my hip, osteopenia, and symptoms of Cushing's syndrome.) I also had ulcerative colitis (underwent a colectomy in 2011 and I now have a j-pouch). Aleve, ibuprofen, and indomethacin have limited effectiveness and cause inflammation in my GI. I currently take indomethacin but I re-flare between two to four weeks after stopping. I recently read a 2005 article ("Efficacy of intravenous immunoglobulin in chronic idiopathic pericarditis: report of four cases" by D. Peterlana, et al) about the use of hIVIgs for treatment of cases like mine. Could this be effective for me and where could I seek this treatment?
Allan_Klein,_MD: There have been cases of using IV Ig. Consideration for other drugs called dmarvs, like imuran or biologics like anakinra can be used. You should see a pericardial specialist. We would be happy to see you here.
DeniseB: In a previous Cleveland Clinic chat, I read that chronic pericarditis tends to eventually "burn itself out". Are there any signs that accompany this? That is, does the frequency or severity of flares diminish if a patient is nearing that point, or can it happen suddenly?
Allan_Klein,_MD: I have patients that have pericarditis for 10 - 15 years but usually over time, with the proper therapy it will get better and occasionally the patients can have a flair once or twice a year. It is a gradual process. The episodes decrease and you can also look at what aggravates the pericarditis.
SHB: My 25 year old son has been dealing with pericarditis for about two years- started while attending college in Mississippi. We/he now live in the Atlanta area and he has been seen my 'our' cardiologist for this condition...been on colchicine etc...seems under control now, but from what I've read, 'flare-ups' can occur. Can you recommend a doctor in the Atlanta area who 'specializes' in this condition, or are all cardiologists equipped to handle??? Also, are there lifestyle changes (eating, exercising, etc.) that will help ward off a recurrence of pericarditis? Thank you, Sherry B
Allan_Klein,_MD: Based on his age, he may want to see a pericardial specialist and go over these issues such as lifestyle, diet and exercise. We can work with his local cardiologist in Atlanta for monitoring his condition. Because of his age, it may be worth coming to a specialized center.
SHB: In a previous answer, I saw 'look at what aggravates Pericarditis...what types of thing(s) could aggravate the condition?
Allan_Klein,_MD: Exercise, stress. If your son injures his ankle in sports, how do you treat it - you treat it with rest, ice anti-inflammatories and after time you have to do rehab on the ankle. Similar to pericarditis, the pericardium has to heal.
BETHELMOM: My daughter has recurring pericarditis for three years - nothing helping. On steroids since that time and issues trying to wean her off. Every time they lower dosage - recurrence happens. They are considering new procedure but we do not know must about it. Have you heard of Kineret? Is it safe, side effects, safe to become or be pregnant? Thank you.
Allan_Klein,_MD: Kineret or anakinra seems to be a promising drug to treat pericarditis. I don't think it would be safe during pregnancy.
BETHELMOM: Back to Kineret pregnancy side effects - do we know what they might be?
Allan_Klein,_MD: It is not a side effect - it is a contraindication - it is best to check with the pharmacist and the rheumatologist.
debbrier: How effective is this kineret?? Side effects? I am being treated at mayo. No mention of it .
Allan_Klein,_MD: There is a clinical trial at Mayo involving this medication, kineret.
---
Surgical Treatment
Shannon1968: Dr. Johnson - how do you know when surgery is the right treatment vs. medical treatment?
Douglas_Johnston,_MD: There are two main reasons for surgery on the pericardium. The first is pericardial constriction, which is diagnosed with a combination of MRI, echo and catheterization findings. The second is very difficult to treat recurrent pericarditis often in patients who cannot come off steroids. In both cases, it is important that the surgeon and cardiologist collaborate to determine when surgery is appropriate.
AndreaCT: My husband has been looking for a specialist for surgery for his pericarditis. We want one who is experienced. Is it possible to do this surgery with a minimal incision? What does the surgery involve. He was told he is going to need surgery.
Douglas_Johnston,_MD: There is a major difference to pericardial surgery whether it is done at a pericardial center or somewhere else. We firmly believe, as do the surgeons at the Mayo Clinic, that a complete pericardiectomy should be performed. This usually requires a full sternotomy incision, which allows all the pericardium to be removed with the best safety.
Tanner: What is a pericardial window?
Douglas_Johnston,_MD: A window literally means an opening in the pericardium which is designed to drain fluid.
---
Pericarditis and auto-immune or rheumatology factors
helen: Is pericarditis related at all to lupus or other auto immune/inflammatory conditions? How do they test for that?
Allan_Klein,_MD: In our practice, roughly 10 - 15% are definitely autoimmune, including lupus. The rheumatologist can do blood tests to assess if they have an autoimmune condition.
SHB: We have not seen a rheumatologist yet, but probably should schedule a visit. Can you explain what the rheumatologist would contribute to the treatment.
Allan_Klein,_MD: The rheumatologist is useful if the usual anti-inflammatories such as NSAID, colchicine or prednisone - the rheumatologist would have other drugs at their disposal, such as dmar and biologics. It would be important to have a rheumatologist who is knowledgeable about pericarditis - at the pericardial centers - this is possible.
simoncoomes@hotmail.com: Alice had partial AVSD May 2013 aged 10. Now has pericarditis. 10mg Prednisolone, 3 colchicine and tapering 1mg per month. Only get to 6mg then flare up. Doctor wants Alice to start Aziathiaprine, but Alice has a low TMTP of 20 and is prone to side effects on what she is taking now. Both grandmothers died of Cancer. Alice is well and bounces back. What is the problem staying on prednisolone for a bit longer or at least until 7mg.
Allan_Klein,_MD: If the azothiaprine is not going to be useful due to low TMTP - it may be helpful to start a new medication called anakinra, which is an injectable. You will need to see a rheumatologist and be approved by insurance, but it is very promising as a treatment for pericarditis.
---
Constrictive Pericarditis
debbrier: Hi. I was diagnosed April 2014 with constrictive pericarditis after six years of complaining for aches in glands low grade fever and slightly elevated WBC and other counts. Was told I was fighting something for years took Advil and always felt better. Finally a high fever SEd rate 89/c reactive 64. I got a CAT and showed constriction with some 10 mm pockets of pericardium Went on triple therapy started with 60 mg of pred/naproxen/ colchicine slow taper after eight months. During that time blood work was good, after taper below two pain started again. After three days off prednisone sed rate 15/ c reactive 46 went to have another MRI, constrictive gone but 6 mm pericardium. History of hashimotos/pre diabetic.... do you use cormatrix with your surgeries? I heard because of hashimotos they don't recommend that product. They don't know why I got this. If I have surgery won't my inflammation just go to another organ???? I am 53 years old, thank you. My constriction did go away with triple therapy (eight months with a very slow taper) but the inflammation has increased from 5 mm in sections to 6 mm. I am being told that removing the pericardium is the next step. Steroids etc. masking the problem......Also I was wondering if your facility uses the cormatrix product to repair and or restore the pericardium??? if so could the cormatrix product be used if you are in need of a total pericardectomy????
Douglas_Johnston,_MD: First of all, it is important to determine whether you have pericardial constriction or thickening of the pericardium. CT scan is not the best test for this - you would need a compilation of echo, MRI and catheterization to make a determination. There is no need to replace or reconstruct the pericardium in total pericardiectomy. Products like cormatrix can be used to repair the heart itself in instances where the calcium involves the atrium or other parts of the heart, but it is not in common use.
Hotnana: My son visited the C.C. last Sept. and saw both Dr. Klein and Dr. Johnston. Was diagnosed with constrictive pericarditis due to radiation. Will this condition continue to get worse?
Douglas_Johnston,_MD: Radiation heart disease is very unpredictable as it affects the heart valves, muscle, coronary arteries and the pericardium. Some patients may remain stable for many years but how fast the disease progresses depends on the radiation effect on all these structures of the heart.
---
Pericardial Fluid
SteveH: What causes fluid to collect around the heart? In my case, why does it come and go?
Allan_Klein,_MD: It depends on the cause - most likely it is related to a previous episode of pericarditis. Other conditions such as low thyroid can cause it. Over time it can stabilize. Occasionally it does get worse and has to be removed. As long as it is not moderate - large, then it should be followed.
Lawrence88: What does pericardiocentesis involve and what are the risks of surgery?
Douglas_Johnston,_MD: Pericardiocentesis involves draining the pericardial fluid with a needle. If the echo shows that the effusion is in a good position to access through the skin with a needle, then this is a very safe procedure. Sometimes the fluid is not accessible this way and the patient may need a surgery to remove the fluid, called a pericardial window.
b777snitz: Daughter -31 High functioning Down Syndrome -moderate amount of pericardial fluid around heart for several yrs. (seven, eight +). She is seen by pediatric cardiologist yearly. As parents, we were told that it could be "sucked out by needle" (forgot term) but would likely return. She has hypothyroidism, low hypercholesterolemia and is somewhat active. Can swim if challenged, did zumba and Curves (past) and is a walker inside with others usually. Hates Special Olympics, except golf (learning the basics). As parents, we cannot MAKE her interested in activities, how else do we stimulate? No real friends and doesn't care to be identified with the slower population. Molly is 4"8", 140#. Her Dr. says she is doing well. He is not concerned, says this is a pediatric condition (he sees much, much worse). Should we remain calm or have concerns to bring up at our next appointment soon?
Douglas_Johnston,_MD: Along as the fluid around the heart is not expanding or compressing, it is easy to follow it with echoes every six months to one year. Only if it is compressing, would you be concerned to take out the fluid with the needle.
Ricky: My dad had a pericardial effusion yesterday and they sent the fluid for lab work - what are they looking for?
Allan_Klein,_MD: They are looking for benign causes or more serious causes. They will measure the protein, white count, number of cells, type of cells, etc.
---
Pericardial Center
Jillbernier: I have heard that Cleveland Clinic and the Mayo Clinic have great pericardium specialists. Are there any other pericardium 'centers' in the US?
Allan_Klein,_MD: No - there are really only two major centers - although we do work with your local cardiologist and rheumatologist on the treatments, weaning off the medicines and possible surgery for the condition. We see many patients from far distances and work with them for their care.
Cleveland Clinic Pericardial Center
DeniseB: To make an appointment to discuss my chronic pericarditis treatment with you, is it best to start with the MyConsult option or make an in-person appointment? I live about 350 miles away and my health issues make travel difficult. How much time would I plan to spend in Cleveland for an in-person appointment? That is, should I anticipate follow-ups for a short period of time?
Allan_Klein,_MD: Since these are very complicated conditions - it is best to come here - plan a one - two day visit and call my office and we will set you up.
---
Other Questions
lilin020288: Dear Doctor Allan Klein: I am Lilin from China. I got the examination of disease is "pulmonary hypertension" in 2009, it was 110mmHg. In these five years, I didn't take any medicine. And in the end of last month, I went for re-checking, it is 130mmHg. And oxygen saturation is 28%. I have "atrial septal defect", the doctor said it is not the main reason can make the hypertension so high, but they cannot get the exact reason for the result. In the daily life, if it is very difficult for me to climb the stairs. Even 2nd floor. If did, my heart moving very fast, and lips became dark. Sorry, doctor Allan, I don't know if you could understand my expression for my illness. Looking forward to chat with you on 16th. Best Regards!
Allan_Klein,_MD: You need to see a congenital heart disease expert. We have an Adult Congenital Heart Disease Center you may be interested in. We would be happy to evaluate you in person or we do have a second opinion consultation service that may be helpful to you, called MyConsult (my.clevelandclinic.org/online-services/myconsult).
Christina2484: Hi I was diagnosed Right bundle branch block, sinus Tachycardia, heart murmur and recently I went to the Hospital and was diagnosed with chest wall pain, and Mild Tricuspid Regurgitation and Mild Tricuspid Pulmonic Regurgitation?? With unspecified hypertension and Ectopic Atrial rhythm and other specific cardiac dysrhythmias. I haven't been put on medication, but what should I expect now to happen?? What do you recommended? Should I be worried?
Allan_Klein,_MD: You need a good cardiology follow up and evaluation.
ilvchandan: Dear Sir, please help me. My mother age on 2015 is 57 years and I can't understand the problem. I found some diagnostic reports in different test. I planned ECG diagnosis (without prescribed by any doctor) when I remember the 10 years old ECG report. The current diagnosis reports and problems are described below:
1. Left axis deviation and nonspecific ST abnormality found in ECG on 13Jan'15 (found same problem approx 10-12 years ago in a medical treatment, but no emergency or surgical procedure performed till date).
2. Always feeling full of stomach with small meal or without meal.
3. Some evening feeling unknown fear.
4. Hemoglobin 11.9 found on Nov'14.
5. Irritable bowel syndrome in upper left stomach since three to four years.
Otherwise my mother is feeling everything normal and living normal life, but I'm scared. Here is the current ECG report and image. (QRS: 82ms; QT/QTC: 370/462ms; PR: 186ms; P: 124ms; RR/PP: 638/635ms; P/QRS/T: 59/-37/53Deg;). Please guide me. Regards.
Douglas_Johnston,_MD: We would suggest your mother sees a cardiologist to evaluate her condition.
Reviewed: 01/15
This information is provided by Cleveland Clinic as a convenience service only and is not intended to replace the medical advice of your doctor or health care provider. Please consult your health care provider for advice about a specific medical condition. Please remember that this information, in the absence of a visit with a health care professional, must be considered as an educational service only and is not designed to replace a physician's independent judgment about the appropriateness or risks of a procedure for a given patient. The views and opinions expressed by an individual in this forum are not necessarily the views of the Cleveland Clinic institution or other Cleveland Clinic physicians.