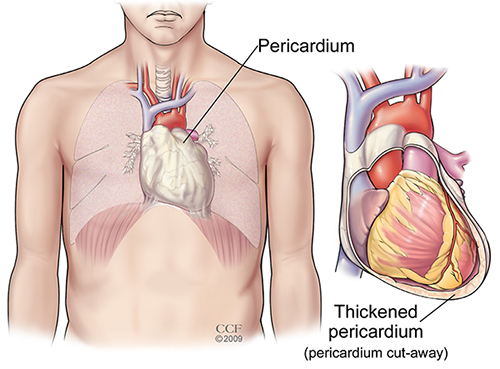 The Pericardium
The pericardium is a thin, two-layered, fluid-filled sac that covers the outer surface of the heart. It provides lubrication for the heart, shields the heart from infection and malignancy, and contains the heart in the chest wall. It also keeps the heart from over-expanding when blood volume increases, which keeps the heart functioning efficiently.
What is pericarditis?
Pericarditis is an inflammation of the pericardium. Pericarditis is usually acute – it develops suddenly and may last up to several months. The condition usually clears up after 3 months, but sometimes attacks can come and go for years. When you have pericarditis, the membrane around your heart is red and swollen, like the skin around a cut that becomes inflamed. Sometimes there is extra fluid in the space between the pericardial layers, which is called pericardial effusion. Pericarditis can affect anyone, but it is most common in men aged 16 to 65.