What is a blood clotting disorder?
A blood clotting disorder makes your blood form clots too easily. This is also called a hypercoagulable state or thrombophilia.
When you get hurt, your body stops the bleeding by forming a blood clot. Clotting factors (proteins) your liver makes stick to platelets in your blood to form a blood clot (coagulate). Normal coagulation is important for stopping a cut from bleeding and starting the healing process.
However, too much clotting can cause problems.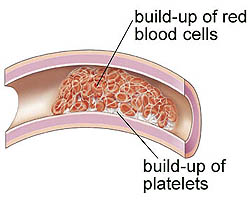 Is a blood clotting disorder dangerous?
Yes, blood clotting disorders can be dangerous, especially when you don't get treatment. People with coagulation disorders have an increased risk of getting a blood clot in their:
Arteries (blood vessels that carry blood away from your heart).
Veins (blood vessels that carry blood to your heart).
Another name for a clot inside a blood vessel is a thrombus or an embolus.
Blood clots in your veins can travel through your bloodstream and cause:
Deep vein thrombosis (a blood clot in the veins of your pelvis, leg, arm, liver, intestines or kidneys).
A pulmonary embolus (blood clot in your lungs).
Blood clots in your arteries can increase your risk for:
Severe leg pain.
Difficulty walking.
Loss of an arm or leg.
Can a blood clotting disorder cause miscarriage?
Yes, it's possible to have a miscarriage if you have a blood clot disorder like antiphospholipid syndrome. This disorder increases your blood clot risk, especially if you've had blood clots before. Higher blood volume and pressure during pregnancy play a role in making you five times more likely to develop a blood clot, even if you don't have a blood clotting disorder.
What are the most common blood clotting disorders?
Factor V Leiden and prothrombin gene mutation (G20210A) are the most commonly identified genetic defects that increase your risk for blood clotting.
About 3% to 8% of people with ancestors from Europe have a copy of the factor V Leiden mutation. Only 1 in 5,000 people has two copies of the mutation.
About 1 in 50 white people in America and Europe have the prothrombin mutation.
Both of these mutations are less common in other populations.