What is atherosclerosis?
Atherosclerosis is the gradual buildup of plaque in the walls of your arteries. Arteries are blood vessels that carry oxygen-rich blood to organs and tissues throughout your body. Plaque (atheroma) is a sticky substance made of fat, cholesterol, calcium and other substances.
As plaque builds up, your artery wall grows thicker and harder. This "hardening of the arteries" is usually a silent process in the early stages. You may not notice symptoms for a long time. But eventually, as the plaque grows, the opening (lumen) of your artery narrows, leaving less room for blood to flow. This means less blood can reach your organs and tissues. Plus, the constant force of blood flow can lead to plaque erosion or rupture, causing a blood clot to form.
A narrowed artery is like a highway reduced to one lane. But a blood clot is like a barricade in the middle of the road. It blocks blood flow to certain organs or tissue the artery normally feeds. The effects on your body depend on where the blood clot forms. For example, blockages in a coronary artery deprive your heart of oxygen-rich blood, leading to a heart attack.
But there's a reason for hope. You can lower your risk for atherosclerosis, or slow its progression, by making lifestyle changes and managing underlying conditions. Research shows some treatments can reduce the size of plaque in your arteries (plaque regression) or change its chemical makeup, so it's less likely to rupture.
That's why visiting a healthcare provider for yearly checkups is important. They'll evaluate your risk for atherosclerosis and explain what you can do to lower it.
What are the complications of atherosclerosis?
Atherosclerosis interferes with the normal workings of your cardiovascular system. It can limit or block blood flow to various parts of your body, including your heart and brain. Possible complications of reduced blood flow include:
Atherosclerosis can also weaken your artery walls, leading to the formation of aneurysms.
Early diagnosis and treatment of atherosclerosis can help you avoid or delay complications.
How common is atherosclerosis?
Atherosclerosis is very common. The complications of plaque buildup (including heart attacks and strokes) are the leading cause of death worldwide.
About half of people age 45 to 84 have atherosclerosis but aren't aware of it, according to the U.S. National Institutes of Health.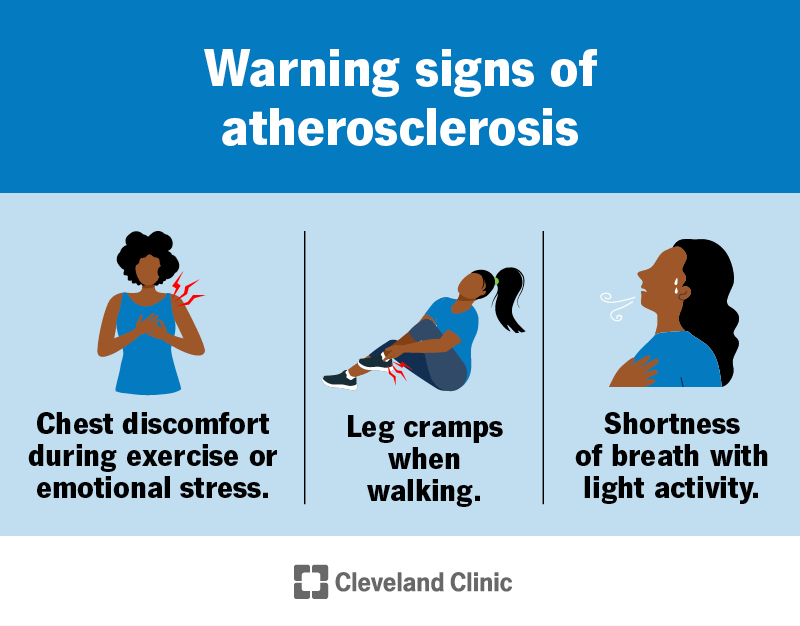 If you have warning signs of atherosclerosis, tell a healthcare provider. Early treatment can lower your risk of life-threatening complications.