Vascular Disease: Non-Invasive Testing
Overview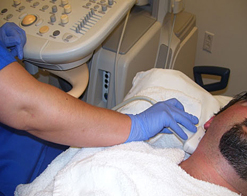 Cleveland Clinic's accredited Vascular Laboratory performs non-invasive studies such as diagnostic ultrasound and segmental pressures/ pulse volume recordings to detect vascular disease. Ultrasound is the most important tool in the vascular laboratory. Large ultrasound machines are used to take pictures of blood vessels and blood flow in these vessels with color Doppler and pulsed Doppler. Segmental pressures and pulse volume recordings is another important tool used in a vascular laboratory. These tests are performed to locate the area of blockage in the arms and legs.
After a physician's physical examination, testing in a vascular laboratory is often the first step in diagnosing vascular disease. Specific tests are ordered according to the patient's symptoms and suspected vascular problems. Diagnosing vascular disease begins by taking a careful medical history, including risk factors and a physical exam (including symptoms, temperature of the skin, appearance of limbs and blood vessels, and presence or absence of pulses).
From this information, the physician decides if further testing is needed. Testing is performed by a registered vascular technologist/sonographer. Non-invasive testing utilizes various types of technology to evaluate flow, perfusion, and pressures within the vessels at rest and with exercise. These procedures are generally painless and can help to determine if blood vessel disease is present, the location, and severity. Once a test is completed, the images are sent to a physician for review and interpretation. From the results of these tests, the physician will determine the need for more non-invasive testing or procedures to treat vascular disease.
Cleveland Clinic's non-invasive vascular laboratory is committed to world class patient care and service. It is accredited by the Intersocietal Accreditation Commission* which means that the lab has a long-term commitment to high standards of quality patient care and monitoring.
Studies performed in the non-invasive vascular laboratory include:
Abdominal Aorta ultrasound
Pulse volume recordings and segmental pressures of the upper and lower extremities
Exercise and treadmill testing of both upper and lower extremities
Venous reflux testing
Upper and lower extremity graft surveillance
Intra-operative duplex ultrasonography
Venous plethysmography
TCP02 testing
Cleveland Clinic's Non-invasive Vascular Lab is one of the busiest laboratories in the country. The average number of studies performed in one day range from 110-130 studies. This provides a highly skilled staff and an exceptional environment for education and training.An affiliation with the Oregon Institute of Technology* and Cuyagoga Community College allows for education and training of vascular technology students. Additionally, we offer educational opportunities for outside vascular surgeons, vascular internists, cardiologists, and ultrasound technologists who are interested in expanding their knowledge base and ultrasound skills.
Features of the non-invasive vascular laboratory include:
Staff of 18 physicians, 26 registered vascular technologists, and four registered lead technologists. Each study is reviewed and interpreted by either a vascular medicine physician or a vascular surgeon.
Two fully functional vascular laboratories are available for patient care in J3-5 or F30. Vascular screenings are also available in J3-5. Diagnostic machines have portable capability to meet the needs of the entire Cleveland Clinic patient population.
The lab is committed to meet the needs of patients and staff, including patients involved in research studies and outside physician referrals.
Digital image management sets us apart from all vascular laboratories in terms of information processing and accuracy. Computer workstations allow the immediate transfer of digital information at the time of examination and allow the physician to be able to review critical images more easily. This system allows for review of duplex ultrasound examinations, arteriography, MRI, and CT scans. This enables a direct comparison of different modalities of imaging for better and quicker correlation and quality assurance.
Continuing education and a commitment to state-of-the-art technology allows for a knowledgeable and well-trained staff.
*A new browser window will open with this link. The inclusion of links to other web sites does not imply any endorsement of the material on the web sites or any association with their operators
Resources
Main Campus
Cleveland Main Campus
9500 Euclid Avenue
Locations:

Desk Vascular Medicine: J3-5
Desk Vascular Surgery: F30

Appointments: 216-444.4420 or Toll-free: 800.223.2273, extension 44420
Regional Vascular Lab Locations
East
Beachwood Family Health and Surgery Center
26900 Cedar Road Suite 32 North Beachwood, OH 44122
Appointments: 216.839.3800
Chagrin Falls Family Health Center
551 East Washington Street Chagrin Falls, OH
Appointments: 440.839.9393
Twinsburg Family Health and Surgery Center
8701 Darrow Road Twinsburg, Ohio 44087
Appointments: 330.888.4000
Vascular Surgery Office and Vein Center at Hillcrest
6801 Mayfield Road Building 2 - Suite 146 and 300 Mayfield Heights, Ohio 44124
Appointments: 440.461.1150
Willoughby Hills Family Health Center
2570 SOM Center Road Willoughby Hills, Ohio 44094
Appointments: 440.943.2500
Chestnut Commons Family Health Center
303 Chestnut Commons Drive Elyria, OH 44035
Appointments: 440.366.9444
West Valley Cardiology
20455 Lorain Road Fairview Park, OH 44126
Appointments: 440.333.8600
West
Fairview Park
Basem Droubi, MD 20997 Lorain Road Fairview Park, Ohio 44126
Appointments: 440.356.1009
Fairview Hospital Medical Office Building
Daniel McLaughlin, MD 18101 Lorain Avenue, Suite 545 Cleveland, Ohio 44111
Appointments: 216.476.9669
Lorain Family Health and Surgery Center
5700 Cooper Foster Park Road, 2nd Floor (in Radiology) Lorain, Ohio 44053
Appointments: 440.204.7400
Chestnut Commons Family Health Center
303 Chestnut Commons Drive, 1st Floor (in Radiology) Elyria, Ohio 44039
Appointments: 440.204.7400
Richard E. Jacobs Health Center
33100 Cleveland Clinic Blvd., 2nd Floor Avon, Ohio 44011
Appointments: 440.695.4000
Westlake Medical Campus Building A
James Bekeny, MD, RPVI
850 Columbia Road, Suite 102 Westlake, OH 44145
Appointments: 440.899.4646
South
Independence Family Health Center
5001 Rockside Road, Crown Center II, 2nd Floor Independence, Ohio 44131
Appointments: 216.986.4000
Marymount Hospital Medical Office Building
12000 McCracken Road, Suite 351 Garfield Heights, Ohio 44125
Appointments: 216.587.4280
Medina Hospital Medical Office Building
1000 E. Washington St., 5th Floor Medina, Ohio 44256
Appointments: 330.721.5700
Strongsville Faily Health and Surgery Center
16761 SouthPark Center, 1st Floor (in Radiology) Strongsville, Ohio 44136
Appointments: 440.878.2500
Wooster Specialty and Surgery Center
721 E. Milltown Rd., 2nd Floor Wooster, Ohio 44691
Appointments: 330.287.4500
To access locations and directions
For more information about visiting our vascular laboratory contact:
Sandra Yesenko, B.S., RVT, R.D.M.S.
Director of Education for the Vascular Laboratory
Phone: 216.445.1622
Email: yesenks@ccf.org