Vascular Disease: Non-Invasive Testing
Non-Invasive Testing for Vascular Disease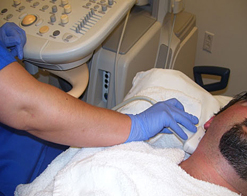 Cleveland Clinic's accredited Vascular Laboratory performs non-invasive studies such as diagnostic ultrasound and segmental pressures/ pulse volume recordings to detect vascular disease. Ultrasound is the most important tool in the vascular laboratory. Large ultrasound machines are used to take pictures of blood vessels and blood flow in these vessels with color Doppler and pulsed Doppler. Segmental pressures and pulse volume recordings is another important tool used in a vascular laboratory. These tests are performed to locate the area of blockage in the arms and legs.
After a physician's physical examination, testing in a vascular laboratory is often the first step in diagnosing vascular disease. Specific tests are ordered according to the patient's symptoms and suspected vascular problems. Diagnosing vascular disease begins by taking a careful medical history, including risk factors and a physical exam (including symptoms, temperature of the skin, appearance of limbs and blood vessels, and presence or absence of pulses).
From this information, the physician decides if further testing is needed. Testing is performed by a registered vascular technologist/sonographer. Non-invasive testing utilizes various types of technology to evaluate flow, perfusion, and pressures within the vessels at rest and with exercise. These procedures are generally painless and can help to determine if blood vessel disease is present, the location, and severity. Once a test is completed, the images are sent to a physician for review and interpretation. From the results of these tests, the physician will determine the need for more non-invasive testing or procedures to treat vascular disease.
Cleveland Clinic's non-invasive vascular laboratory is committed to world class patient care and service. It is accredited by the Intersocietal Accreditation Commission* which means that the lab has a long-term commitment to high standards of quality patient care and monitoring.
*A new browser window will open with this link. The inclusion of links to other web sites does not imply any endorsement of the material on the web sites or any association with their operators