Overview
Overview
All athletes deserve the very best sports-related care and treatment that's one-on-one and state-of-the-art. At Cleveland Clinic Sports Health, this involves conditioning to become stronger and faster, maximizing abilities, treating injuries if they do occur and improving future performance.
Sports Health is a unique center within the Department of Orthopaedic Surgery. It brings together top orthopaedic surgeons, sports medicine physicians, physician assistants, physical therapists, athletic trainers, registered dietitians, radiologists and exercise physiologists to keep athletes in the game.
Our experts treat athletes in all sports, all ages and skill levels. Cleveland Clinic is ranked as one of the nation's top hospitals by U.S. News & World Report. As our patient, you have access to the same nationally-renowned specialists who treat two of Cleveland's professional sports teams.
Download a Free Treatment Guide
Cleveland Clinic offers a number of free treatment guides covering a broad range of information related to Sports Health.
Team and Event Medical Services
We provide team physicians and athletic trainers for professional sports teams, high schools and college athletics.
We offer educational opportunities for athletes, athletic trainers, physicians and coaches.
We provide medical care for athletes at major sporting events.
Official Team Physicians for:
Professional Teams
College Athletes
High School Athletes
Aurora
Avon
Avon Lake
Bay Village
Brecksville-Broadview Heights
Brunswick
Buckeye
Chagrin Falls
Cloverleaf
Cuyahoga Heights
Elyria Catholic
Fairview

Garfield Heights
Independence
Keystone
Lake Catholic
Lakewood
Lorain
Magnificat
Maple Heights
Mayfield
Medina
Midview
North Olmsted

North Royalton
Padua
Rocky River
Shaker Heights
St. Edward
St. Joseph Academy
Solon
Trinity
Vermilion
Walsh Jesuit
Warrensville Heights
Wellington
Other Partners
Sports Injury Clinic
Sports Injury Clinic
Injured during a weekend high school sports event? We can help. Cleveland Clinic Sports Health is providing services for athletes who suffer acute sports injuries on the weekend with its Sports Injury Clinic.
Convenient, Expert Care
Our Sports Injury Clinic assembles a team of all of the experts you need — including sports medicine physicians, sports health orthopaedic surgeons, physical therapists (rehabilitation specialists) and radiologists. They'll use the latest diagnostic technology to evaluate your injury and develop a specialized care plan to return you to your pre-injury performance as quickly as possible.
Services
Our Sports Injury Clinic helps patients who have a wide variety of needs, including:
Acute injury care for athletic-related injuries, such as sprains and strains
Full array of sports medicine services, including X-ray, bracing
Physical therapy consultation to review rehab plan, if needed
Why choose the Sports Injury Clinic?
Athletes who choose this clinic can receive a quicker diagnosis.
You won't have to wait to get an appointment and begin treatment — getting you back in the game faster!
You'll also receive comprehensive care from the same specialists who treat Cleveland's professional sports teams and are ranked No. 3 nationally for orthopaedics by U.S. News & World Report.
Location
Cleveland Clinic Sports Health Center
5555 Transportation Blvd.
Garfield Heights, OH 44125
Hours
August 24, 2019 – October 26, 2019
Saturdays: 8 - 11 a.m. Walk-ins welcome.
Mondays: 8 a.m. - 5 p.m. Acute injuries, by appointment only.
Call 216.518.3475 for an appointment.
Esports Medicine Program
Esports Medicine Program
Cleveland Clinic Sports Health Esports Medicine Program evaluates esports athletes. As with traditional athletes, esports athletes have unique sport-specific training and injury prevention needs. Our Esports Medicine team is primarily focused on the treatment and prevention of esports related injuries, as well as a commitment to protecting and enhancing the health, safety and welfare of all esports athletes.
Our Esports Medicine team has a unique skill set and comprehensive background to provide esports athletes with cutting edge performance enhancement and injury prevention strategies. We are utilizing cutting edge proprietary neurocognitive assessment hardware and software to assist in the performance enhancement, and we have outlined appropriate ergonomic, training and fitness recommendations including:
Preparticipation esports evaluations
Esports exercise, strength and conditioning education
Training recommendations (total hours, breaks, nutrition)
Esports ergonomics (chair, desk, monitor, keyboard, mouse)
Esports stretches and esports yoga
Esports psychology and team dynamics
Prevention, evaluation and management of esports related injuries
Esports athlete neurocognitive assessment and analysis
Esports vision screening and vision training
Appointments
Esports athletes interested in being seen in Esports Medicine Program may call 216.518.3475 to arrange for an appointment.
Where
Cleveland Clinic Sports Health
5555 Transportation Blvd.
Garfield Heights, OH 44125
What We Treat
What We Treat
What is a Sport and Exercise Medicine physician?
Physicians specializing in sports and exercise medicine undergo their initial training and board certification in a specialty such as family medicine, pediatrics, internal medicine, emergency medicine or physical medicine and rehabilitation. They then complete a one-two year training fellowship in sports medicine. This branch of medicine is dedicated to the comprehensive care of athletes and active individuals, promoting lifelong fitness and wellness, and encouraging the prevention of illness and injury.
What do they treat?
A sport and exercise medicine physician's scope of care includes diagnosing and managing acute injuries, musculoskeletal conditions and illnesses (both chronic and acute) that can potentially affect performance.
Common conditions treated and services provided may include:
Acute and overuse injuries (sprains, strains, fractures, tendonitis)
Joint injections (corticosteroid or viscosupplementation)
Injury prevention
Return-to-play decisions for the sick or injured athlete
Athletes with chronic or acute illnesses (such as mono, asthma, hypertension or diabetes)
Athletes with chronic musculoskeletal conditions (chronic muscle injuries, arthritis of various joints)
Exercise and performance counseling
Orthopaedic Surgery
When surgery is needed, our sports and exercise medicine physicians can provide easy access to our orthopaedic surgeons for help for both overuse or traumatic injuries, including:
Torn ligaments (such as ACLs) and tendons
Damaged cartilage
Arthritis and other degenerative conditions
Complex problems of the shoulder of instability and dislocation
Complex throwing related problems of shoulder and elbow
Hip impingement
Our surgeons use minimally invasive techniques whenever possible to minimize pain, scarring and recovery time. Our services include:
Arthroscopic surgery of shoulders, elbows, hips and knees
Anterior cruciate ligament (ACL) reconstruction
Meniscus transplant surgery
Hamstring repairs
Advanced surgery for articular cartilage
Tommy John surgery
Our surgeries are typically done as outpatient, where the patient undergoes regional anesthetic rather than general anesthesia which leads to quicker recovery.
Orthopaedic surgeons work side by side with sports and exercise medicine physicians in the office and on the sidelines. Both specialize in diagnosing and managing musculoskeletal injuries that occur acutely and over time.
Sports Specific Rehabilitation and Performance
Proper early rehabilitation is essential for a swift recovery from injury. Our physical therapists, exercise physiologists, athletic trainers and strength and conditioning specialists collaborate to maximize care for each individual. Patients have access to advanced rehabilitation equipment and the latest in rehabilitation techniques. Our emphasis is on efficient transition from rehabilitation to peak athletic performance, and we pay special attention on educating patients to avoid re-injury.
Integrative Sports Medicine
After an injury, every athlete hopes to heal and get back to the game as quickly as possible. Our Sports Health team collaborates with experts from Cleveland Clinic's Center for Integrative Medicine to provide services with a special focus on supporting the body's natural abilities to heal after a sports-related injury or condition, using techniques such as:
Combined with standard treatments, integrative medicine techniques can help reduce chronic conditions that prevent top-level performance, speed recovery from acute injuries, and enhance and improve conditioning and strength.
Chiropractic Sports Medicine
You can be confident that your Cleveland Clinic sports and exercise medicine specialist will recommend care that does not involve surgery whenever possible. Chiropractic sports medicine has proven effective in treating a wide range of acute and chronic athletic injuries, including:
Shoulder pain
Peripheral nerve entrapment syndromes
Our certified chiropractic sports physician is skilled at identifying problems with body mechanics and eliminating the source of pain without surgical intervention.
Pediatric and Adolescent Sports Medicine
Children aren't just small adults; they need specialized care for any sports-related injuries or conditions.
Our dedicated team of sports medicine experts are specifically trained to provide comprehensive assessment and treatment for both non-surgical and surgical issues in children, teens and young adults, including:
Joint cartilage problems, especially involving the knee and elbow
We also are actively involved in ongoing research with other U.S. children's hospitals to improve understanding and treatment for various pediatric sports injuries.
---
Dance Medicine Clinic
Cleveland Clinic has recently started a Dance Medicine clinic utilizing a multidisciplinary approach to rehabilitation, involving practitioners interested in the care of both amateur and professional dancers.
Appointments
Performers interested in being seen in Dance Medicine clinic may call 216.518.3475 to arrange for an appointment.
Where
Cleveland Clinic Sports Health
5555 Transportation Blvd.
Garfield Heights, OH 44125
When
Dance Medicine Clinic is on the second and fourth Tuesday each month from 4 p.m. to 6 p.m.
---
Nutrition for Athletes
Optimal nutrition is important for maximizing your stamina and ability to perform. Our sports health nutritionists can help you stay healthy, avoid injury or accelerate your healing. Nutritional requirements vary by sport, so our nutritionists will work with you one-on-one to design a nutrition plan that helps you achieve you goals, including:
Improving your diet and hydration status to maximize your performance or workout
Assist with weight loss, muscle and weight gain
Prevention of bone loss and injuries
Playing your best with a chronic condition, such as diabetes or heart disease
Appointments
Athletes interested in being seen by our sports health nutritionist may call 216.518.3475 to arrange for an appointment.
Where
Cleveland Clinic Sports Health
5555 Transportation Blvd.
Garfield Heights, OH 44125
When
Sports Nutrition Clinic is every other Friday from 8 a.m. to 4 p.m.
Locations
Our Doctors
Cleveland Clinic Courage Award
Cleveland Clinic Courage Award
Cleveland Clinic Sports Health Courage Award is an honor given annually by the Greater Cleveland Sports Commission in collaboration with Cleveland Clinic Sports Health at the Greater Cleveland Sports Awards banquet each January. It is awarded to a student athlete who has faced a medical challenge in his or her life and approached the situation with courage and determination to get back into the game.
2019 Courage Award
If you know a student athlete who has overcome a medical challenge in his or her life and would like to submit them for the 2019 Courage Award nominate them today.
2018 Courage Award
Presented by Cleveland Clinic Sports Health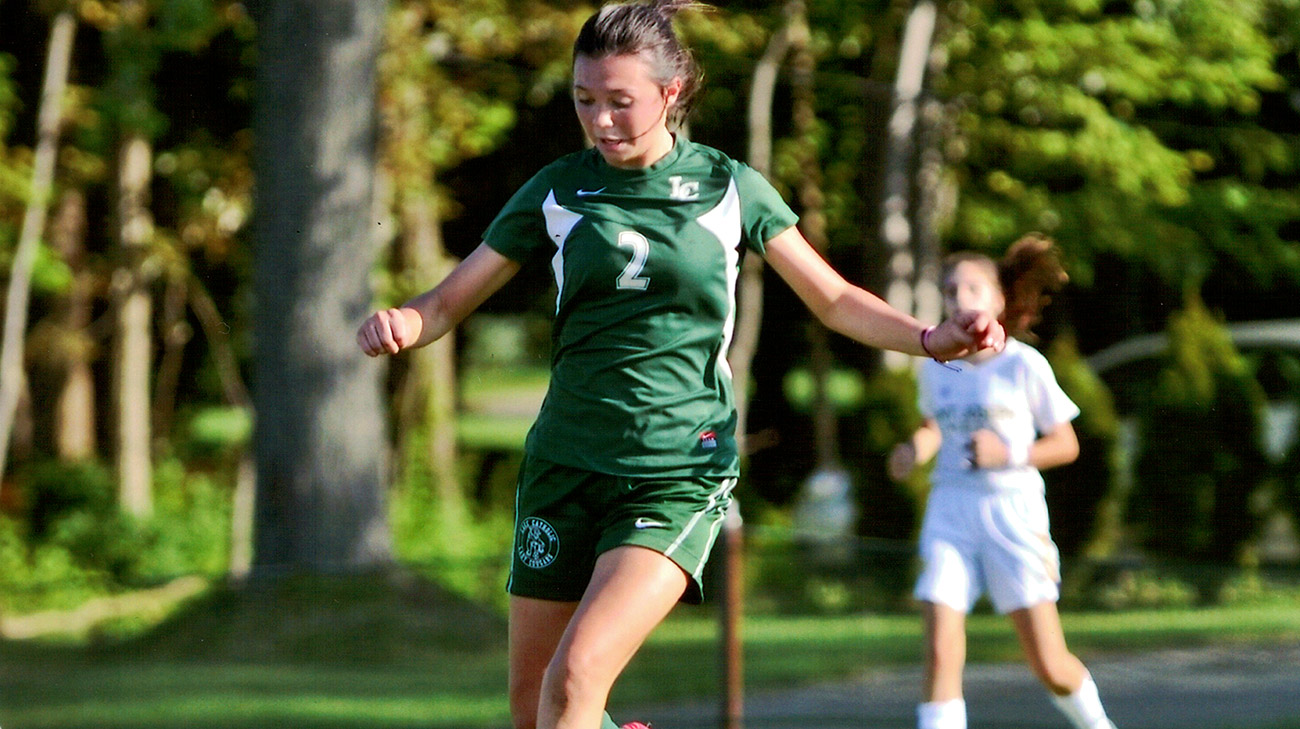 2018 Award Recipient: Sophia Pecjak, Lake Catholic High School, Soccor
Feet away from 10-year-old Sophia Pecjak's Cleveland Clinic Children's hospital room, in the Pediatric Intensive Care Unit, two of her physicians were discussing next steps in the treatment of her sudden heart condition.
A talented soccer and basketball player, Sophia had complained of pains in her chest and a rapid heartbeat. Trips to her pediatrician and the emergency room revealed she had likely contracted a form of myocarditis, an inflammation of the heart muscle usually caused by a viral infection, such as influenza. Further tests and heart biopsies confirmed its seriousness.
"I remember saying that I wouldn't be surprised if she didn't develop more arrhythmias that will be pretty significant," recalled pediatric electrophysiologist Peter Aziz, MD, of his conversation with Gerard Boyle, MD, Medical Director of Pediatric Heart Failure and Transplant Services.
Moments later, Sophia went into full cardiac arrest. With mom Carole and dad Michael looking on in shock, Drs. Aziz and Boyle rushed in and performed cardiopulmonary resuscitation (CPR). It was just one in a series of serendipitous events over the next few days that pulled Sophia back from the cusp of death – so ultimately, she would recover completely.
"Sophia proved at that time, and continues to prove, that she is a special soul," noted Dr. Boyle. "She never let the disease define her. From the beginning, she was determined to be back playing sports."
For her tenacity in overcoming her serious heart condition and returning to elite-level athletic status, Sophia, now 15, has been named the recipient of the Cleveland Clinic Sports Health Courage Award. Bestowed annually by the Greater Cleveland Sports Commission in collaboration with Cleveland Clinic Sports Health, the award honors a student athlete who has faced a medical challenge in his or her life and approached the situation with courage and determination to get back into the game.
"It never crossed my mind that I wouldn't be able to play again," said Sophia, a freshman at Lake Catholic High School in her hometown of Mentor, Ohio. "When people find out what happened, they're kind of shocked that I'm fine now. I guess my case was very out of the ordinary."
According to Dr. Boyle, Sophia went into cardiac arrest again that fateful day (and was again revived) while waiting to be placed on venoarterial extracorporeal membrane oxygenation (ECMO), a room-sized device that often serves as a bridge for patients awaiting heart or lung transplants.
"Generally, patients on ECMO have to be heavily sedated. It can be very difficult to endure," Dr. Boyle explained. "But Sophia always remained calm. At one point, she motioned and made it clear she wanted a selfie of herself on ECMO, with the breathing tube in. Of course, she had a smile on her face."
By now, further testing revealed: Sophia had a form of the disease called fulminant myocarditis, which typically results in either sudden death or is self-resolving in a matter of days. Fortunately, Sophia had the latter result. She was off ECMO after five days, and was discharged soon after – returning home with her parents and two older siblings, John and Catie.
"Her care was phenomenal, but our faith was a big part of her healing process," observed Carole. "It helped us get through this, stay sane and get to the other side."
While Sophia bounced back quickly, a long and arduous recovery remained ahead. Extremely weak from the effects of the virus and her cardiac events, she endured months of physical rehabilitation. While she couldn't return to playing sports for more than a year, she stayed around them – often standing alone, dribbling a basketball, during practices held by her father, who was a middle school coach at the time.
"At times, even without exerting herself, Sophia's heart would be racing," Michael recalled. "Every time she didn't feel quite right, we would take her pulse. She quickly grew tired of that."
Eventually, with the help of medication she no longer has to take, the heart episodes decreased and ultimately stopped. Sophia returned to the sports she loves. She played goalie and forward mostly, on the Lake Catholic JV soccer team in fall, as well as some Varsity games. She also splits time between the varsity and JV teams in basketball.
"It took about a whole year to get back in shape," recalled Sophia, who is interested in pursuing a career in medicine. "But I'm fine now. It doesn't affect me at all anymore."
The nurse in Sophia's room when she went into cardiac arrest, Colleen Nasman, RN, Pediatric Heart Transplant Coordinator at Cleveland Clinic Children's, nominated Sophia for the courage award: "She embodies the essence of courage, facing a life-threatening illness with grace, faith, strength and of course, courage. Never a complaint, never a why me, just determination and enduring optimism."