Overview
Overview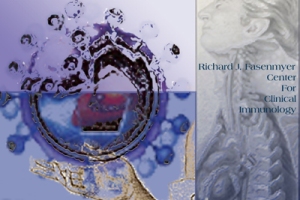 Founded in 2005, The R. J. Fasenmyer Center for Clinical Immunology at Cleveland Clinic has established itself as a premier center of clinical research, educational programs and service to the community.
This is in keeping with our core areas of focus:
Care of patients with complex autoimmune, autoinflammatory and immunodeficiency disease states
Research into autoimmune, autoinflammatory and immunodeficiency disease causes and treatments
Immunologic education to physicians, allied health professionals and the public
Community Outreach
As part of supporting our key directives, the Center has developed focused, innovative programming including live meetings and discussions, webcasts, podcasts, interactive and online monographs and online newsletters, reaching thousands of electronic visitors from around the world. In the process, the R. J. Fasenmyer Center has become the leading provider of CME at Cleveland Clinic. clevelandclinicmeded.com go to : rheumatology/immunology
Working collaboratively with multiple consultants and departments at the Cleveland Clinic, as well as with the Special Immunology Unit at Case Western Reserve University School of Medicine, the RJ Fasenmyer Center is breaking new ground in the care of patients with complex disorders of the immune system and conducting important and innovative research. Their collaborative work in the field of HIV infection is particularly noteworthy as it expolores the seam between autoimmunity and chronic infection, a core focus of the center.
What We Treat
What We Treat
Central Nervous System Vasculitis
Cleveland Clinic has been a leader in care and research in the field of central nervous system (CNS) vasculitis for more than 25 years, developing criteria for its diagnosis that are widely employed today.
At Cleveland Clinic's R.J. Fasenmyer Center for Clinical Immunology, we have established a multidisciplinary team which includes neurologists, neuroradiologists and interventional radiologists, neurosurgeons, infectious disease specialists and rheumatologists. This clinic provides personalized, complete care that is coordinated with the right providers, eliminating needlessly long delays between appointments. This allows patients to meet the complete medical team with expertise in CNS vasculitis to optimize and improve their outcomes.
Autoinflammatory Disease
Autoinflammatory diseases, or periodic fever syndromes, are newly grouped rheumatic conditions. Autoinflammatory Diseases are not the same as autoimmune diseases. Most are hereditary, caused by genetic abnormalities. Diagnosing and managing them can be complex and challenging, and patients often struggle to find specialized care.
The R.J. Fasenmyer Center is one of few centers in the United States to offer expert knowledge and management of these disorders, supported by genetic testing and counseling as well as groundbreaking research.
We treat adults with:
Periodic Fever syndromes http://my.clevelandclinic.org/health/articles/periodic-fever-syndrome
NOD2-associated autoinflammatory Disease (NAID)
Blau Syndrome
Familial Mediterranean fever (FMF)
Cryopyrin-associated periodic syndromes (CAPS)
Tumor necrosis factor receptor-associated periodic syndrome (TRAPS)
Hyperimmunoglobulin D syndrome (HIDS)
Adult-onset Still's disease
Pyogenic arthritis, pyoderma gangrenosum and acne (PAPA) syndrome
Undiagnosed fever, rash, joint pain or swelling
Primary Immunodeficiency
Immunodeficiency is a state where the immune system's ability to fight infections is compromised or absent. Patients with immunodeficiency frequently suffer from recurrent infections but also have an increased incidence of autoimmune disease, hematologic disorders, chronic pulmonary issues and increased risk of malignancies.
Immunodeficiency disease can be classified into primary or secondary. Patients with primary immunodeficiency have an inherent defect in the immune system that most likely will persist lifelong; while secondary immunodeficiency may be temporary if the underlying cause is discovered and resolved.
Due to this complex and varied presentation of disease, immunodeficiency is often difficult to diagnosis and manage. To aid in prompt and accurate diagnosis, the Cleveland Clinic's R.J. Fasenmyer Center for Clinical Immunology has established a multidisciplinary team experienced in immune dysfunction which includes immunologists, rheumatologist, infectious disease specialists, pulmonologists, hematologists, oncologists and gastroenterologists.
Here at the Cleveland Clinic we frequently care for a large array of primary immunodeficiencies, such as:
CVID
Hypogammaglobulinemia
Specific antibody deficiency
CD4 lymphocytopenia
Complement deficiency
Cyclic neutropenia
NK cell deficiency
Chronic granulomatous disease
Many other defects resulting in immune dysfunction
Retroperitoneal Fibrosis
Retroperitoneal fibrosis (RPF), also known as Ormond disease, is a rare condition, reported in 0.1 per 100000 person –years. Retroperitoneal fibrosis results from proliferation of inflammatory tissue around the abdominal aorta and other retroperitoneal organs, such as the ureters, the inferior vena cava, or the kidneys. Patients present with dull back pain, or with symptoms of urinary tract infection secondary to ureteral obstruction, and/or with lower extremity edema, secondary to inferior vena cava compression.
RJ Fasenmyer Center for Clinical Immunology is actively engaged in research designed to increase knowledge about the cause, the pathologic mechanisms that perpetuate the inflammation, and trigger the fibrosis, and optimal treatment.
HIV Disease
HIV RJ Fasenmyer Center for Clinical Immunology cares for a large cohort of HIV+ men and women. Our team addresses not only the intricate health issues, but also the social and economic complexities associated with the disease.
Our goal is to help our patients attain and maintain their healthiest selves possible. Our comprehensive multidisciplinary clinic includes infectious disease specialists, pharmacologists, social workers as well as physicians in other subspecialties who are familiar with the complexities involved in treating HIV+ patients (e.g. cardiologists, orthopedic surgeons, nephrologists, hepatologists, gastroenterologists, endocrinologists, and others)
To refer a patient, please contact the Infectious Disease Department at 216.444.3606.
Our Staff
Education
Education
The R.J. Fasenmyer Education Center, housed on the 4th floor of the Crile Building, provides space for multidisciplinary educational activities. It is state-of-the-art and allows clinicians from all over the world to dial in for meetings and conferences. Residents and fellows rotate with members of the Center, seeing patients with autoimmune, autoinflammatory and immunodeficiency diseases.
Additionally, the Center actively supports several fellowship positions including one in the Center for Vasculitis Care and Research and in 2015 the first combined fellowship in both rheumatic immunology and infectious diseases.
The R.J. Fasenmyer Annual Lectureship brings world leaders in the field to Cleveland Clinic. Every other year the lectureship is incorporated into the highly-successful and well-attended Biologics Summit, which is held on Cleveland Clinic's main campus. Throughout the year, the Center sponsors numerous visiting professors at the Cleveland Clinic, bringing world leaders in the field to the campus.
The Basic Immunology course is held on the 1st Wed of every month during the academic year. It is open to clinicians and researchers from all specialties and has as its instructors not only Dr Calabrese but thought leaders from Cleveland Clinic and around the world.
The Fasenmyer web site at www.ccfcme.org is the largest non-profit site for Rheumatology CME in the world. It has given out over 36,000 CME certificates and hosts over 85,000 learner visits per year. Educational kiosks, detailing "what you can do to maintain a healthy immune system" as well as breaking news from the field of immunology and infectious diseases, are now incorporated into new state of the art patient exam rooms in the Department of Rhematology at A-50 (Crile Building).
Community
Community
A critical element of the Fasenmyer Center's core functions is to support allied events and non-profits in the community. Over the years the Center has been involved with numerous agencies providing strategic support. Knowing that carrying out our mission should be a collaborative and widespread effort, the Center has cultivated relationships with these agencies, who have missions that align to our own. These agencies have included The Free Clinic, The AIDS Task Force, Ursuline Piazza and Recovery Resources.
Appointments & Locations
Appointments & Locations
To make an appointment with the Center for Clinical Immunology, please call 216.444.2606.
Locations