Overview
Overview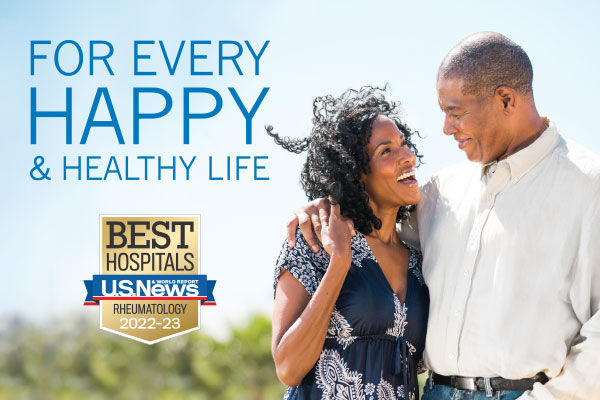 Cleveland Clinic is ranked as one of the nation's top hospitals by U.S. News & World Report and its rheumatology program is one of the largest in the country. Our rheumatologists are leaders in research and specialize in the evaluation, diagnosis and treatment of the conditions that affect the bones, muscles, joints and skin. Our team works with patients and their families to create individualized treatment plans for their rheumatic diseases.
Musculoskeletal disorders and arthritis affect the lives of more than 35 million people in the U.S., with arthritis being the most common cause of disability.
What We Treat
What We Treat
Treatment Guide
Our Doctors
Fibromyalgia Management Program
Fibromyalgia Management Program
Modeled after the most modern pain rehabilitation programs in the U.S., our Fibromyalgia Management Program addresses all factors contributing to your discomfort. It's about more than short-term pain relief. It's about life-changing, longterm improvement.
Our multidisciplinary program includes:
Evaluation by a rheumatologist.
One of our fibromyalgia experts will evaluate the cause of your pain and any factors affecting it, such as sleep problems, depression, arthritis or other musculoskeletal issues. Your doctor will customize your treatment, addressing anything contributing to your pain and fatigue.
Cognitive behavioral therapy.
Learn how to better manage your pain and stress during group sessions. We can help you improve your quality of life through self-talk, positive coping skills, symptom reduction skills, mindfulness meditation and relaxation techniques.
Physical therapy.
Our physical therapy team will evaluate you and design a personalized program that you can do at home, so you can become more active and function better.
Recent Research Articles
Fibromyalgia evolving concepts over the past 2 decades
Goal/aim: This article provides an overview of the changes in fibromyalgia diagnosis, understanding and treatment in the last 20 years.
Summary: The article was based on a review of 150 articles, determined to represent high quality evidence of the treatment and diagnosis of fibromyalgia. The articles were used to develop the 2012 Canadian Guidelines for the Diagnosis and Management of FM Syndrome and endorsed by the Canadian Pain Society.
Important points:
The diagnosis of fibromyalgia (FM) has changed markedly in the past 10 years. Originally the diagnosis was made primary by the presence of tender points and pain, determined through a physical exam. The tender point count (when used as the only measure of FM) was criticized due to its lack of reliability and attention to the severity of other associated symptoms. With the release of the American College of Rheumatology 2010 criteria the diagnosis now also includes attention to symptoms such as fatigue, sleep difficulties, mood disturbance and cognitive complaints; although persistent widespread pain continues to be the core feature.
Fibromyalgia can be easily diagnosed in the primary care setting with the new ACR 2010 criteria. Extensive laboratory testing and imaging studies are typically not necessary, and in excess can contribute to patient dependency and over-utilization of the health care system. Blood tests such as complete blood count, erythrocyte sedimentation rate, C-reactive protein level and creatine kinase level may be ordered when another diagnosis is under consideration. Referral to specialists for diagnosis and/or management should only be initiated when management of the condition is particularly challenging/non-responsive or when the diagnosis is not clear.
There is no one single factor that can account for fibromyalgia. There are numerous neurophysiological changes. Historically FM was conceptualized as purely a soft-tissue disorder, but more recent views account for neuropathic processes.
Treatment for fibromyalgia is most effective when it is multi-modal and tailored to the individual. Ideal strategies include a combination of pharmacological and non-pharmacological treatments.

Medications:

Sustained use of NSAIDs and opioids carry significant risks for the FM patient including toxicity and dependence. Importantly, there is limited evidence for their effectiveness in the treatment of FM and thus should be used with caution.
Long term evaluation of opioid therapy in FMS
What was the goal of the study?
To evaluate the effect of opioid use on outcomes of 1700 patients with fibromyalgia.
How was the study done?
This was a naturalistic study ( no randomization) of 1700 FM patients from multiple centers in the US. Patients were separated in three groups based on: 1) being an opioid, 2) taking tramadol 3) none of the above. All patients included in the study were initiated on a new treatment chosen according to their treating physician.
Several outcome measures were used: the BPI -brief pain inventory for severity and pain related interference, FIQ ( fibromyalgia impact questionnaire), PHQ-8 ( patient health questionnaire for depression), GAD-7 ( general anxiety scale ) , SDS ( Sheehan disability scale), ISI ( insomnia severity index) and economic factors.
What did the study show:
While pain severity was reduced in all groups, opioid users showed less improvement in pain related interference with daily living, functioning, depression and insomnia. The findings show little support for long term use of opioid medications in patients with FMS given the poorer outcomes across multiple assessment domains. Patients on opioids had higher healthcare utilization.
Limitations of the study:
Lack of randomization and patients on opioid medications had more severe symptoms at baseline.
Conclusion:
The one year outcomes of fibromyalgia patients who are treated with opioid medications for the long term treatment of fibromyalgia are worse than those of FMS patients who are not prescribed these drugs. Use of narcotics does not decrease health care utilization, on the contrary may increase it.
Lupus Clinic
Lupus Clinic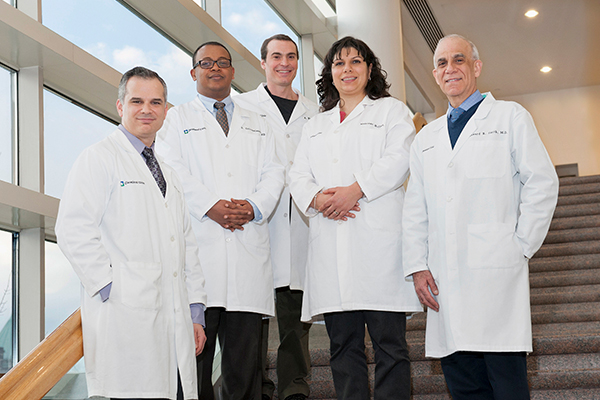 The Lupus Clinic was established by Cleveland Clinic's Department of Rheumatic and Immunologic Diseases specialists work together with the department's entire team of rheumatologists to provide streamlined access to the highest quality of care for these complex patients. The clinic unites specialists, including those in rheumatology, nephrology and dermatology, to care for patients with lupus and overlap syndromes.
The clinic is designed for both newly diagnosed patients as well as those with established disease. The clinic's triage system allows specialists to coordinate care in multiple disciplines and expedites appointments with multiple specialty clinics, including nephrology and dermatology.
Progress has been made in recent years both in diagnoses and treatments for patients with lupus that have resulted in improved outcomes. Multidisciplinary clinics make a positive difference because advanced diagnostic and therapeutic modalities from each specialty are applied to individualized, patient-centered care.
For Appointments
Call 216.444.5632 or 800.223.2273 ext 45632.
To refer a patient to the Lupus Clinic
Call 855.REFER.123 (855.733.3712).
Clinic for Adult Inflammatory Diseases
Clinic for Adult Inflammatory Diseases
Autoinflammatory diseases, or periodic fever syndromes, are newly grouped rheumatic conditions. Most are hereditary, caused by genetic abnormalities. Diagnosing and managing them can be complex and challenging, and patients often struggle to find specialized care.
Now adults with autoinflammatory diseases can get the specialized help they need at the Clinic for Adult Autoinflammatory Diseases at Cleveland Clinic. We are one of few centers in the United States to offer expert knowledge and management of these disorders, supported by genetic testing and counseling as well as groundbreaking research.
Symptoms of Autoinflammatory Diseases
Patients may experience recurring:
Fever
Rash
Joint pain or swelling
Chest or abdominal pain
Eye redness, pain or dryness
Autoinflammatory diseases are not the same as autoimmune diseases. Typically these patients do not have autoantibodies for autoimmune diseases such as lupus.
We treat adults with:
Periodic fever syndromes
NOD2-associated autoinflammatory disease (NAID)
Blau syndrome
Familial Mediterranean fever (FMF)
Cryopyrin-associated periodic syndromes (CAPS)
Tumor necrosis factor receptor associated periodic syndrome (TRAPS)
Hyperimmunoglobulin D syndrome (HIDS)
Adult-onset Still's disease
Pyogenic arthritis, pyoderma gangrenosum and acne (PAPA) syndrome
Undiagnosed fever, rash, joint pain or swelling
Our services
With help from colleagues in Pathology & Laboratory Medicine, Genomic Medicine and Lerner Research institutes, we offer adult autoinflammatory disease patients the most advanced services available, including:
Proper diagnosis and treatment
Genetic testing on-site, providing faster results at a more reasonable cost
Genetic counseling
Scientific research of the diseases
Ready to make an appointment?
Call 216.444.5632, or toll-free 800.223.2273, ext. 45632.
Appointments
Appointments
To make an appointment with any of our rheumatology specialists, please call the phone number provided below. You may also schedule your appointment online.
Department of Rheumatology
Locally 216.444.2606
Toll-free 800.223.2273 ext 42606
Online Second Opinion
We offer second opinions through Cleveland Clinic MyConsult, an effective and secure option for consultation without the time and expense of travel. One of our experts will review your medical records and test results and provide a comprehensive, personalized report, taking care to answer your specific questions.