Overview
Overview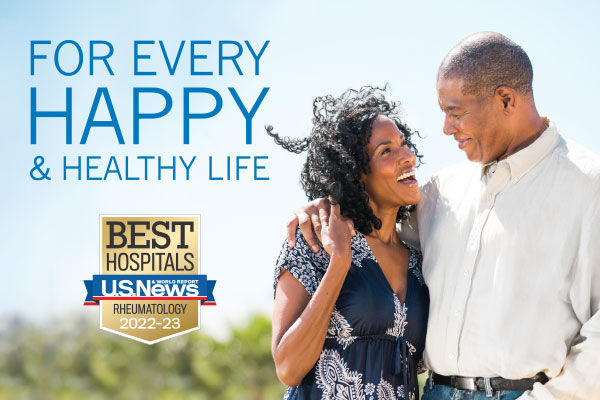 The Department of Rheumatic and Immunologic Diseases is one of the largest and ranked as one of the nation's top in the country. We are a leader in evaluating and treating patients with an array of conditions that affect the bones, muscles, joints and skin such arthritis, vasculitis, lupus, gout, metabolic bone diseases and other conditions.
No matter what type of rheumatologic disorder you or a loved one is experiencing, the Cleveland Clinic's Department of Rheumatic and Immunologic Diseases can help. Our team specializes in both common disorders as well as rare or complex conditions.
In our specialty clinics we assemble an array of specialists within the Cleveland Clinic enterprise to work collaboratively to diagnosis and create an individualized treatment plan for you.
What We Treat
What We Treat
Treatment Guide
Our Doctors
Lupus Clinic
Lupus Clinic
The Lupus Clinic was established by Cleveland Clinic's Department of Rheumatic and Immunologic Diseases specialists work together with the department's entire team of rheumatologists to provide streamlined access to the highest quality of care for these complex patients. The clinic unites specialists, including those in rheumatology, nephrology and dermatology, to care for patients with lupus and overlap syndromes.
The clinic is designed for both newly diagnosed patients as well as those with established disease. The clinic's triage system allows specialists to coordinate care in multiple disciplines and expedites appointments with multiple specialty clinics, including nephrology and dermatology.
Progress has been made in recent years both in diagnoses and treatments for patients with lupus that have resulted in improved outcomes. Multidisciplinary clinics make a positive difference because advanced diagnostic and therapeutic modalities from each specialty are applied to individualized, patient-centered care.
For Appointments
Call 216.444.5632 or 800.223.2273 ext 45632.
To refer a patient to the Lupus Clinic
Call 855.REFER.123 (855.733.3712).
Clinic for Adult Inflammatory Diseases
Clinic for Adult Inflammatory Diseases
Autoinflammatory diseases, or periodic fever syndromes, are newly grouped rheumatic conditions. Most are hereditary, caused by genetic abnormalities. Diagnosing and managing them can be complex and challenging, and patients often struggle to find specialized care.
Now adults with autoinflammatory diseases can get the specialized help they need at the Clinic for Adult Autoinflammatory Diseases at Cleveland Clinic. We are one of few centers in the United States to offer expert knowledge and management of these disorders, supported by genetic testing and counseling as well as groundbreaking research.
Symptoms of Autoinflammatory Diseases
Patients may experience recurring:
Fever
Rash
Joint pain or swelling
Chest or abdominal pain
Eye redness, pain or dryness
Autoinflammatory diseases are not the same as autoimmune diseases. Typically these patients do not have autoantibodies for autoimmune diseases such as lupus.
We treat adults with:
Periodic fever syndromes
NOD2-associated autoinflammatory disease (NAID)
Blau syndrome
Familial Mediterranean fever (FMF)
Cryopyrin-associated periodic syndromes (CAPS)
Tumor necrosis factor receptor associated periodic syndrome (TRAPS)
Hyperimmunoglobulin D syndrome (HIDS)
Adult-onset Still's disease
Pyogenic arthritis, pyoderma gangrenosum and acne (PAPA) syndrome
Undiagnosed fever, rash, joint pain or swelling
Our services
With help from colleagues in Pathology & Laboratory Medicine, Genomic Medicine and Lerner Research institutes, we offer adult autoinflammatory disease patients the most advanced services available, including:
Proper diagnosis and treatment
Genetic testing on-site, providing faster results at a more reasonable cost
Genetic counseling
Scientific research of the diseases
Ready to make an appointment?
Call 216.444.5632, or toll-free 800.223.2273, ext. 45632.
Appointments
Appointments
To make an appointment with any of our rheumatology specialists, please call 216.444.2606 (local) or 800.223.2273 ext 42606 (toll-free).