Overview
Overview
A one-year, non-invasive Vascular Medicine Fellowship training program is available. We started as an independent Department of Peripheral Vascular Disease in 1947, and established our Vascular Medicine Fellowship Program in 1988. As part of the Tomsich Family Department of Cardiovascular Medicine, the Section of Vascular Medicine at Cleveland Clinic is one of the most active Vascular Medicine programs in the United States. We see patients with a wide variety of vascular problems. The section is particularly active in the evaluation and treatment of all forms of arterial, venous, and lymphatic disorders; cardiovascular risk factor management; thrombotic disorders and hypercoagulable states; and wound care.
Our goal is to train fellows who become experts in all aspects of vascular medicine, and who will become our next generation of vascular medicine leaders in clinical care and research. While training, the fellow works daily with our many dedicated Vascular Medicine Staff, or with our colleagues in subspecialties to gain experience during fellowship electives.
At the end of training, the fellow is a qualified specialist in this field and eligible to sit for the American Board of Vascular Medicine exam and the Registry Examination for Physicians in Vascular Interpretation (RPVI).
A research project is required during the training period with the goal of a journal publication and presentation at a national meeting. Fellows help organize and implement an active teaching program as experience warrants. Many conferences, didactic and participation-based, are part of the overall educational experience of the fellowship.
Quick Facts
One year non-invasive Vascular Medicine fellowship program
Four positions available per year
Positions have consistently filled since the program's inception in 1988; we have trained over 100 vascular medicine specialists in the last 20 years
Diversity & Inclusion
Discover the role diversity and inclusion plays at Cleveland Clinic and at its Graduate Medical Education program, as well as our diversity and inclusion efforts.
Learn more
Faculty
Faculty
Our Faculty
The Section of Vascular Medicine is the largest group of Vascular Medicine physicians in the country and includes the following faculty:
Clinical Experience
Clinical Experience
The one year fellowship is divided between the inpatient consultation service (approximately 4 months), the non-invasive vascular laboratory (3 months), outpatient clinic, and elective rotations. While on the inpatient consultation service, the fellow leads the vascular medicine team and has an active role on the Pulmonary Embolism Response Team (PERT). Substantial time is also spent in the outpatient Vascular Medicine clinic with our staff. Additional experience is gained through rotations with Vascular Surgery, Interventional Cardiology, Wound Care, Chronic Thromboembolic Pulmonary Hypertension (CTEPH) Clinic, and Vasculitis Clinic. Elective rotations are available in Preventive Cardiology, Dermatology, Pathology, the Cerebrovascular Center, or other related fields as one's interest develop.
There is also ample opportunity to learn sclerotherapy, pseudoaneurysm thrombin injection, and vascular rehabilitation. At the completion of the fellowship the fellow is qualified to sit for the American Board of Vascular Medicine (ABVM) certification examination as well as the Physician Vascular Interpretation (PVI) exam or the Registered Vascular Technologist (RVT) examination.
State-of-the-Art Vascular Lab
Our vascular laboratory performs more than 50,000 non-invasive imaging studies each year. The training curriculum is structured to allow supervised interpretation of studies in the vascular lab with fellowship faculty and hands-on scanning with experienced certified technologists.
In this setting, the fellow becomes proficient in all aspects of the non-invasive assessment of the arterial and venous circulation. We boast a 100% first-time pass rate in the Registry Examination for Physicians in Vascular Interpretation (RPVI) among our graduates.
Additionally, the rich vascular imaging database lends great support to research endeavors.
Meet our Fellows
Meet our Fellows
Vascular Medicine Fellows 2023-2024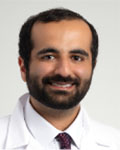 Fahad Alkhalfan, MD
Medical School: Royal college of Surgeons in Ireland Medical University of Bahrain
Residency: University of Maryland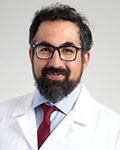 Syed Bukhari, MD
Medical School: Allama Iqbal Medical College
Residency: University of Pittsburgh Medical Center McKeesport Hospital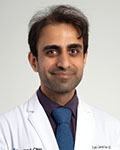 Syed Khan, MD
Medical School: Allama Iqbal Medical College
Residency: Cleveland Clinic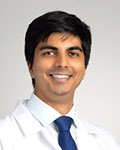 Rohitha Moudgal, MD
Medical School: University of Cincinnati
Residency: Dartmouth-Hitchcock Medical Center
Research
Research
A research project is required during the training period. Both retrospective and prospective research studies can be performed through the Section of Vascular Medicine.
The abundant data and patient volume can support research in venous thromboembolism, hypercoagulable states, therapeutic trials, arterial vascular disease, ultrasound/imaging, and wound care. Collaborative efforts with other departments are encouraged. Opportunities to engage in basic and translational studies are available through Dr. Scott Cameron's lab which focuses on platelets and vascular biology; more information is available at https://www.lerner.ccf.org/cardiovascular-metabolic/cameron/
It is anticipated that the completed project will be presented at a national meeting and result in publication.
Academic Environment
Academic Environment
Aside from clinical opportunities, the fellowship offers many additional educational experiences. Didactic lectures, journal clubs, and inter-department conferences are built into the curriculum. There are also ample opportunities for fellow-led teaching for residents and other trainees.
Education/Conference Schedule
Monday
Vascular Medicine Fellow Conference
Tuesday
Didactic Conference; PERT team monthly meetings
Wednesday
Vascular Medicine Grand Rounds; Heart, Vascular & Thoracic Institute Tall Rounds; Thrombosis Meetings; interdisciplinary Hematology and Rheumatology Case Conferences
Thursday
Vascular Surgery PAD Conference; Internal Medicine Grand Rounds
Friday
Cardiovascular Grand Rounds; Vascular Laboratory education conference
Application Process
Application Process
Cleveland Clinic is accepting applications for a one-year clinical fellowship beginning July 2024.
Application materials are accepted beginning July 15, 2023 through Dec. 4, 2023, for the 2024-2025 fellowship year that will begin on July 2024.
Applicants must have completed ACGME accredited training in either Internal Medicine or Cardiovascular Medicine to apply. Applicants from other training backgrounds are encouraged to contact our program for additional review; we have had prior fellows from Family Medicine and Vascular Surgery.
We require the following documents to be submitted for a complete application to be reviewed:
Personal statement
Curriculum vitae (CV)
Three letters of recommendation, including one from a program director or current physician supervisor
Interested applicants should submit their application to millerc15@ccf.org.
For additional questions or specific information, please contact:

Claire Miller
Vascular Medicine Education Coordinator
216.444.6720
Email: millerc15@ccf.org
Candidate Selection
Applications are reviewed with a goal of selecting individuals from diverse backgrounds who demonstrate clinical and academic excellence, and potential for career development in the field of Vascular Medicine.
Interviews will be arranged on a rolling basis.
In light of COVID restrictions, interviews for the 2024-2025 fellowship year will be conducted in a virtual format.

Interviews will be arranged with the program director, faculty, and a current fellow.
Virtual tours will be arranged as needed

Offers for fellowship positions will be made on a rolling basis, and no later than February 15, 2024.