Our Program
Our Program
The Integrated Cardiothoracic Surgery Residency Program is a comprehensive six-year program designed to train future leaders in both the clinical practice and academics of cardiovascular and thoracic surgery.
The Cleveland Clinic's Heart & Vascular Institute (HVI) provides an unparalleled wealth of clinical resources for our trainees. Our department performs the most cardiothoracic surgical procedures in the country, and our staff surgeons are highly dedicated to teaching and research. The first three years of training provide a foundation in surgery and the management of cardiovascular disease by integrating rotations in surgery, cardiology, and endovascular intervention. Pre-requisite surgical rotations are drawn from the Cleveland Clinic's flagship hospital, as well as its large network of affiliated hospitals, in order to optimize our residents' operative experience. The last three years focus on cardiovascular and thoracic surgery, with fellowship-level clinical responsibility.
Our residency program is firmly grounded in academics. Weekly small-group didactic sessions focus on clinical decision-making and practical skills. Our surgeons frequently organize "wet labs" to instruct trainees in surgical technique. Furthermore, each resident is required to conduct a research study that is formally presented at the Annual Research Day. The HVI Clinical Investigations department maintains the robust cardiovascular information registry, which facilitates research spanning the entire spectrum of cardiothoracic surgery.
Living in Cleveland
Cleveland is a mid-sized Midwestern city that offers world-class experiences at a low cost of living. The city is home to several of America's best restaurants, including those of Iron Chef Michael Symon. The West Side Market is another culinary highlight with over 100 vendors. Learn more.
Our Curriculum
Our Curriculum
Integrated Thoracic Surgery Residency Program Resident Rotation Schedule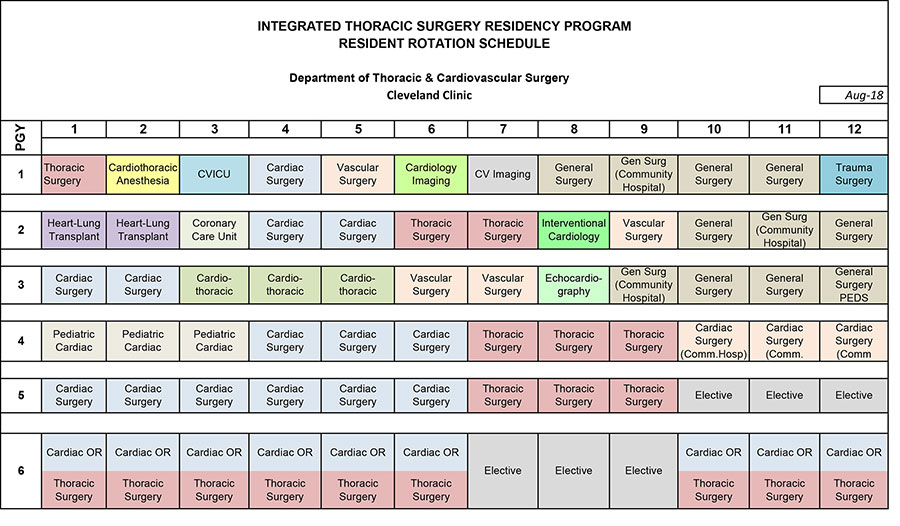 Thoracic Surgery Fellow Rotation Schedule

Current Residents
Current Residents
Residents
First Year Residents
Juan Umana Pizano, MD, Universidad de Los Andes Facultad de Medicina (Colombia)
James Witten, MD, Case Western Reserve University School of Medicine/CCLCM
Second Year Residents
Frank Cikach, MD, Case Western Reserve University/CCLCM
Michael Javorski, MD, Stritch School of Medicine, Loyola University
Third Year Residents
Viral Patel, MD, Case Western Reserve University/CCLCM
Anthony Zaki, MD, Northwestern Feinberg School of Medicine
Fourth Year Residents
Andrew Everett, MD, Geisel School of Medicine at Dartmouth
Bogdan Kindzelski, MD, Case Western Reserve University/CCLCM
Fifth Year Residents
Kevin Hodges, MD, University of Chicago Pritzker School of Medicine
Kyle Miletic, MD, Wayne State University School of Medicine
Sixth Year Residents
Haytham Elgharably, MD, Zagazig University (Egypt)
Cardiac Surgery: National Heart Institute, Cairo
Saad Hasan, MD, JS Weill Medical College, Cornell University
Dean Schraufnagel, MD, Tufts University School of Medicine
---
Fellows
First Year Fellow (PG-6)
Andrew Feczko, MD, General Surgery: Swedish Medical Center - First Hill
Second Year Fellow (PG-7)
Abdulrhman Elnaggar, MD, University of Alexandria, Egypt
General Surgery: NY Presbyterian Hospital/Columbia University Medical Center
Application Process
Application Process
The program accepts two residents per year. We participate in the NRMP match. All applicants must apply through the ERAS website. All applicants must have completed a medical school degree.
Darlene Straub
Cardiothoracic Surgery Residency Coordinator
Email: straubd@ccf.org
Phone: 216.445.6816
OR
Douglas A. Johnston, MD
Program Director, Integrated Cardiothoracic Surgery Residency
Email: JOHNSTD3@ccf.org
Phone: 216.444.5613
Alumni
Alumni
Three hundred sixty-five graduates of the Department of Thoracic & Cardiovascular Surgery practice in 40 states and 28 countries across the world.
Each year, alumni are invited to our June graduation weekend, a well-attended event that begins on a Thursday evening with a Visiting Professor lecture, followed by a reception. On Friday, our current residents present their year-long research projects to staff, the visiting professor, alumni and guests. A formal graduation ceremony and dinner is held Friday evening.
We strive to keep in touch with our alumni and value this continuing relationship. Throughout the year, alumni receive a number of mailings from the department, including an updated alumni directory, residents' abstract book from the June graduation event, periodic news of the department, and an annual calendar. The department calendar continues to be very popular among the alumni and highly requested by physicians outside of Cleveland Clinic.
Contact
Contact
For additional information, please contact:
Cleveland Clinic
Department of Thoracic & Cardiovascular Surgery
9500 Euclid Ave., Desk J4-1
Cleveland, OH 44195
Darlene Straub
Cardiothoracic Surgery Residency Coordinator
Email: straubd@ccf.org
Phone: 216.445.6816
OR
Douglas Johnston, MD
Program Director, Integrated Cardiothoracic Surgery Residency
Email: JOHNSTD3@ccf.org
Phone: 216.444.5613