Overview
Overview
The goal of our program is to train future leaders and consultants in pain medicine practice and research. Fellows are valued colleagues in our multidisciplinary Pain Management team. We emphasize team work and strive to provide the highest quality of patient care, education, and research. Our team is composed of a large number of expert pain physicians, fellows, residents, physician assistants, nurses, and other supporting staff. Fellows are extensively trained through rotations through the following disciplines and services:
Chronic Pain Management (core rotation, eight months)
Neurology rotation: Headaches and Facial Pain Center (two–four weeks)
Cancer Pain and Palliative Medicine (two - four weeks)
Psychiatry for Pain Specialist
Physical Medicine and Rehabilitation (two weeks)
Acute Pain and Regional Anesthesia (two weeks)
Neuroradiology (one week elective)
Regional Pain Practice in a setting similar to private practice (1-2 weeks)
Anesthesiology for the Non-Anesthesiologist (two weeks)
Outcomes Research Rotation (optional)
Fellowship Contact Information: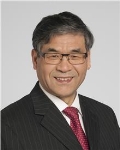 Jianguo Cheng, MD, PhD
Director, Pain Medicine Fellowship
Mickeyla Patterson, Fellowship Coordinator
Phone: 216.445.9421
Fax: 216.444.9890
Email: patterm2@ccf.org
Diversity & Inclusion
Discover the role diversity and inclusion plays at Cleveland Clinic and at its Graduate Medical Education program, as well as our diversity and inclusion efforts.
Learn more
Highlights
Highlights
The largest and one of the most prestigious award-winning programs in the United States.
10 ACGME-accredited positions are offered for one year.
To be trained by world class leaders in the field of pain medicine.
Serving a large number of patients with diverse and complex pain conditions (120+ patients evaluated daily).
Patient-centered, integrated, multidisciplinary, and multimodal approaches to assessment and treatment.
Application of state of the art concepts and technologies to address the biopsychosocial nature of pain.
Abundant research and scholarly opportunities for fellows to engage.
Opportunity for a 24-month fellowship positions are available to candidates aspiring to become future academic leaders in pain medicine.
Application Process
Application Process
The Cleveland Clinic Multidisciplinary Pain Medicine Fellowship Program promotes and participates in the National Residency Match Program (NRMP) for Pain Fellowship Application. We have committed all of our 10 positions to the Match and will no longer offer off cycle positions.
Complete ERAS Application
CV
Personal Statement
USMLE scores
ECFMG Certificate (if applicable)
Three letters of recommendation (one must be from the Program Director)
If you have additional questions concerning our program, please contact the Pain Medicine Fellowship Coordinator, Mickeyla Patterson at 216.445.9421