Overview
Overview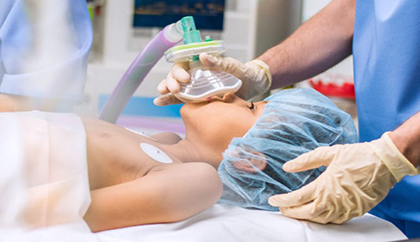 Pediatric Anesthesiology Fellowship
To give anesthesia is not difficult; but to give safe anesthesia is.
Dr. Donald E. Hale Chairman of Anesthesiology Cleveland Clinic (1946-1967)
About the program:
The Pediatric Anesthesiology fellowship training program at Cleveland Clinic was established in 1999 under the leadership of Dr. Julie Niezgoda, the section head for pediatric anesthesiology, and Dr. Emad Mossad, the section head for congenital heart anesthesiology. Thus far, 58 pediatric anesthesiologists have completed the fellowship and 18 pediatric fellowship-trained physicians now cover nearly 8,000 cases per year in eight dedicated pediatric operating rooms and more than seven remote locations. The staff is active in resident and fellow education in pediatric anesthesia as well as in training student nurse anesthetists, pediatric and emergency medicine residents, and critical care transport personnel. The department has undergone tremendous growth and has developed a dedicated team that focuses on caring for the smallest and often very complicated Cleveland Clinic patients.
The Department of Pediatric Anesthesiology was formed in 2006, and falls under the umbrella of the Anesthesiology Institute.
The Cleveland Clinic Department of Pediatric Anesthesiology is a great place to learn, not only because the hospital gives all its patients, children and adults, world-class care, but also because of the great variety and complexity of the cases we handle here. Residents and fellows are given the opportunity to experience the tremendous variety of cases that come through our world-renowned Pediatric service and because of the Clinic's specialty in cardiac cases, trainees are exposed to congenital cardiac cases. Because our department has the wherewithal and reputation to handle the youngest and sickest patients, residents and fellows in Pediatric Anesthesiology are provided a comprehensive and unique experience.
Fellowship Contact Information: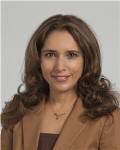 Pilar Castro, MD, MEd
Director, Pediatric Anesthesiology Fellowship
Phone: 216.636.7011 | Fax: 216.444.9247
Email: castrop2@ccf.org
Nada Johnson, BA
Program Manager
Phone: 216-444-0263
Email: Johnson1@ccf.org
Diversity & Inclusion
Discover the role diversity and inclusion plays at Cleveland Clinic and at its Graduate Medical Education program, as well as our diversity and inclusion efforts.
Learn more
Program Leadership
Program Leadership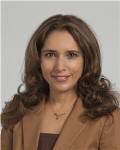 Pilar Castro, MD, MEd
Program Director
A child's surgery is a stressful time for patients and their families. As an anesthesiologist, I often meet family's minutes before surgery, and I use that time to do what I can to put everyone at ease.
When I first started residency here, I didn't know anyone in Cleveland. I told myself the best way to make friends is to be kind to people and to smile. We spend more time at work than at home. Kindness and having the disposition to always be helpful to others is the least we can do.
I love being part of a talented and collegial anesthesia team, where everyone is committed to do the best for each and every child we care for. Nurses, surgeons, technicians and the entire anesthesia team are constantly seeking opportunities to improve the quality of care.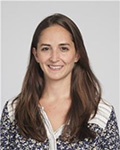 Lauren Licina, MD
Associate Program Director
As a native Clevelander, returning home to the Cleveland Clinic after my medical education and training was one of the best decisions I have made.
We have a very tight knit group who cares for complicated pediatric patients, and at the same time for each other. Our group has a family type feel, and ample mentoring opportunities for trainees and junior staff. We are fortunate to work at a renowned hospital filled with some of the best surgeons, interventionalists, nurses and other team members to provide cutting edge treatments for our pediatric patients.
Our fellowship is smaller, allowing fellows to participate in many index cases and tailor their clinical experience to their goals and interests. Education is a passion and mission for our department and we look forward to working with fellows dedicated to the field of pediatric anesthesia.
Education Curriculum
Education Curriculum
The goal of the Cleveland Clinic Pediatric Anesthesiology Fellow's curriculum is to facilitate the development of the knowledge, attitudes and skills necessary to provide advanced perioperative care which includes general anesthesia or sedation for routine and critically ill pediatric patients requiring surgery or non- painful procedures. Our fellows have Monday afternoon protected education time in which they meet with a variety of faculty members to learn about a variety of topics to further their exposure to Pediatric Anesthesia and unique or complex cases.
Education offerings within the program include (but are not limited to):
Congenital Cardiac Lecture Series
Dedicated pain curriculum
Formal career mentoring
Grand Rounds series
M&M
Oral Board Review Course
Pediatric Anesthesiology Fellow Lecture Series
Pediatric Anesthesiology Fellow Orientation Series
Pediatric Anesthesiology Fellow Boot Camps
Perioperative Teaching by Pediatric Anesthesia Faculty
Professional Development Series
Simulations
Clinical Experience
Clinical Experience
The 13 module (4 weeks per module) Pediatric Anesthesiology Fellowship consists of:
20 weeks Pediatric Operating/GENA
12 weeks Pediatric Cardiac experience
4 weeks ICU
4 weeks Advanced Pediatric Care
4 weeks Pediatric Acute Pain service
4 weeks Pediatric Ambulatory
15 vacation days
5 days for meetings and personal time
The Pediatric Anesthesiology Fellowship at Cleveland Clinic has a strong clinical experience with approximately 8,000 cases per year shared by:
6 Pediatric Operating Rooms
2 Pediatric Cardiac Operating Rooms
2 Pediatric Catheterization labs
2 Outpatient Ambulatory Surgery Center ORs
Pediatric Electrophysiology labs
Several remote areas which include the following:

Cardiovascular Diagnostic Lab (CVDL)
Position Emission Tomography Scan (PET scan)
Nuclear Magnetic Resonance (NMR)
Magnetic Resonance Imaging (MRI)
Neurointerventional Radiology (NIR)
Radiation therapy in the cancer institute

CT, Interventional and Other Radiology Sites
Special highlights include:
Robust Pediatric Transplant Program (heart, liver, kidney, and multivisceral organs)
Fetal Surgery
World Class Pediatric Cardiac Program
Pediatric Pain Service
Career Development
Career Development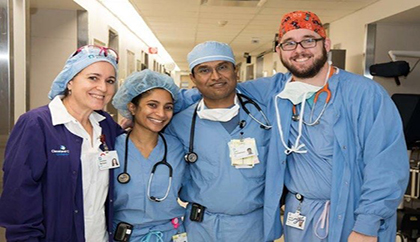 Faculty Mentoring
At a formal level, incoming fellows are paired with an experienced faculty mentor. The role of the mentor can vary but is ultimately to help support the fellow needs: whether guidance on career paths, involvement in academic projects, or general assistance with day-to-day fellow life.
Board Preparation
Each year between the months of February and April a dedicated group of faculty further help prepare our fellows for the ABA APPLIED Exam. Directed by actual ABA board examiners and other faculty members with expertise in medical education, this preparation can include:
Routine group discussions with faculty moderators
Mock Standardized Oral Examination (SOE) sessions
Mock Objective Structured Clinical Examination (OSCE) sessions
Teaching Opportunities
Fellows have an opportunity to assist in teaching medical students and anesthesiology residents in dedicated pediatric simulation sessions and during cases.
Scholarly Activities
Fellows are required to participate in at least one academic research project during the course of their fellowship year for which academic days will be allocated and mentorship will be provided. The research project could involve participation in an ongoing clinical or basic science research project or initiation of a new project.
Clinical Supervisory Experience
During the final quarter of the fellowship year and during the Advanced Pediatric Care rotation, the fellow will take on a clinical teaching/supervisory role with junior anesthesiology residents in the pediatric operating room. This opportunity allows the fellow to gain experience in supervision while still enjoying direct faculty oversight and support as needed.
Meet Our Fellows
Meet Our Fellows
2021 – 2022 Fellows
Vanessa Bou Sleiman, MD

Hometown
Lebanon
Medical School
American University Of Beirut – School of Medicine
Residency
American University Of Beirut – School of Medicine
Hobbies/Interests
Swimming, hiking, reading, creative writing, tutoring
Why I Chose Cleveland Clinic Children's:
Aspiring to become a pediatric anesthesiologist, I was naturally looking at programs that could offer me the best possible training I could get –which is what I was able to find in the Cleveland Clinic pediatric anesthesiology fellowship program. What I like most about this fellowship program is that it's very well structured and tailored to fit your learning goals and academic aspirations. CCF provides you with massive exposure to a great diversity of pediatric patients –from healthy children to the most critically ill babies with complex medical histories. There's a great variety of surgeries you get to partake in –from fetal surgeries to repairs of complex congenital heart diseases. Overall, I feel lucky to be in a very nurturing environment that allows you to grow as a physician and teaches you to provide world class care!
Shari Diane Oesterreich, MD

Hometown
Litchfield, IL
Medical School
Washington University School of Medicine - MD
Residency
Cleveland Clinic - Anesthesiology
Hobbies/Interests
Anything outdoors - hiking, biking, kayaking, paddle boarding; tennis
Why I Chose Cleveland Clinic Children's:
I chose Cleveland Clinic Children's for my fellowship because I fell in love with it during residency (which I also did here). The staff and care teams are welcoming, passionate about training new doctors, and are some of the best in their field. I was excited to stay and work alongside the colleagues I've come to know and respect.
Husien Taleb, MD

Hometown
Lebanon
Medical School
Beirut Arab University - Lebanon
Residency
American University of Beirut Medical Center
Hobbies/Interests
Swimming and playing Ping Pong
Why I Chose Cleveland Clinic Children's:
I chose Cleveland Clinic Children's to do my pediatric anesthesia fellowship because I was impressed by the structured program at this institution. The program is designed to help the fellow develop clinical expertise in pediatric anesthesiology with great exposure to neonatal, cardiac, and organ transplant cases. The educational and clinical aspects are well organized and staff anesthesiologists play a fundamental role in teaching and improving the fellow's knowledge and hands –on experience. Moreover, the friendly relationship between all caregivers makes the working environment comfortable and attractive to any physician in-training.
Application Process
Application Process
Our program at the Cleveland Clinic is led by 19 faculty which includes 14 pediatric anesthesiology trained physicians, diagnostic radiologists, pediatric critical care physicians and nationally renowned faculty with a commitment to mentoring fellows and providing professional development opportunities. We are committed to ensuring that our graduates gain the scholarly experience, team leadership skills, and supervisory experience expected of future leaders in the field of pediatric anesthesiology.
The Pediatric Anesthesiology fellowship offers three positions each year. All positions are filled through the National Residency Matching Program (NRMP).
How to Apply
The Pediatric Anesthesiology fellowship participates in the Electronic Residency Application Service (ERAS). All materials should be uploaded to ERAS except for In-training/Basic Exam Scores. Required application materials:
ERAS Application
CV
Personal Statement
USMLE and/or COMLEX scores
Three letters of recommendation (one must be from the Program Director)
ECFMG Certificate (if applicable)
ABA In-training scores & Basic Exam Score – please email these to: PedAnesFellowship@ccf.org
Application Timeline
Interviews for fellowship positions will be held between April-August.
Applications will be accepted through May each year.
Interviews
Applicants that are being offered an interview will be notified via email or ERAS. If interviews are held virtually, applicants will need to ensure they have a camera with a microphone available.
Resources
Resources
Training at Cleveland Clinic
We invite you to explore our Graduate Medical Education website to discover the reasons why Cleveland Clinic offers an ideal teaching and learning environment as well as to learn more about our rich tradition of excellence in the "education of those who serve."
About Cleveland
From renowned cultural institutions to vibrant neighborhoods, inspired food and beverage offerings, action-packed sports and indie shops and art galleries, engaging experiences can be found around almost every corner in Cleveland. Learn more.