Overview
Overview
The Anesthesiology Critical Care Medicine (ACCM) program at Cleveland Clinic is a one-year ACGME accredited training program. It has been one of the largest and most successful Anesthesiology Critical Care fellowship programs in the United States for many years, graduating ten fellows every year.
The goal of the fellowship program is to provide comprehensive training and experience in Critical Care Medicine. During this program the fellow will:
Develop a unique opportunity to provide excellent primary care to critically ill surgical patients.
Develop outstanding skills in state-of-the-art clinical, educational, investigative and administrative aspects of Critical Care Medicine.
Fellowship rotations include the following:
Surgical ICU
Cardiothoracic ICU
Neuro ICU
Community Critical Care
Echo-Transthoracic and Transesophageal
Options for Elective:

Critical Care ID
Critical Care Nephrology
Nutritional Support
Bioethics
Palliative Medicine
Fellowship Contact Information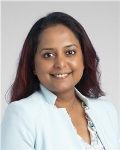 Roshni Sreedharan, MD
Director, Critical Care Medicine Fellowship Program
Phone: 216.444.0660
Fax: 216.444.7360
Nada Johnson
Program Manager
Email: johnson1@ccf.org
Diversity & Inclusion
Discover the role diversity and inclusion plays at Cleveland Clinic and at its Graduate Medical Education program, as well as our diversity and inclusion efforts.
Learn more
Two Program Interest
Two Program Interest
Critical Care Medicine and Adult Cardiothoracic Anesthesiology Fellowships
Two-year appointment/commitment
The American Council for Graduate Medical Education (ACGME) provides individual accreditation for the following anesthesiology specialty fellowship programs: Anesthesiology Critical Care Medicine (CCM) and Adult Cardiothoracic Anesthesiology (ACTA). CCM and ACTA remain individual and separate 12-month training programs. The individual program is responsible to provide the specific ACGME program requirements during the year of enrollment. Individuals interested in pursuing both programs at the Cleveland Clinic can follow the following process:
Applications

Applicants pursuing sequential CCM and ACTA fellowships at Cleveland Clinic must submit applications through the SF Match to both CCM and ACTA programs and indicate an interest in both training programs.
Dual interviews are not guaranteed.

Match

The Cleveland Clinic CCM and ACTA programs participate and remain in compliance with the rules and regulations of the SF Match.
The SF Match allows for exceptions to be requested prior to match day for applicants committing to institutions for more than one year or internal candidates.

Program Structure

Two- one year appointments will begin on August 1 (July 1, if required by military service or a candidate on a J1-Visa).
Applicants may request a specific sequence regarding fellowship program enrollment.

The final decision will be made by the program directors with the intent to facilitate request(s).

Completion

Following completion, CCM and ACTA fellows will have met the ACGME program requirements for both fellowship programs and will be eligible for board certification.
Highlights
Highlights
Extensive didactic schedule with half-day of protected academic time every week
Critical Care Medicine journal clubs twice a month
Basic and Advanced Echocardiography and Critical Care Ultrasound workshops
Opportunity to participate in the Critical Care Echocardiography board review course conducted at Cleveland Clinic
Opportunity to obtain TEE minimums to obtain Basic TEE certification
Basic and Advanced ventilation workshops in our State of the art Simulation Center
Advanced communication workshops targeting difficult family discussions, code status discussions, and delivering bad news
Opportunity to participate in the Health Professions Educators Certification programs offered by the Education Institute of Cleveland Clinic
Quality and Patient Safety projects with interprofessional teams
Opportunity to attend Society of Critical Care Medicine/Society of Critical Care Anesthesiology annual conference as well as a sponsored fellow membership to the SCCM
Education allowance - $1,000
All fellows are certified in Fundamentals of Critical Care support
All fellows are ATLS certified by the end of the fellowship year
Application Process
Application Process
All application materials must be sent directly to the San Francisco Match.
Applicants must complete the application and include:
CV
Personal Statement
USMLE and in-training scores
ECFMG Certificate (if applicable)
Three Letters of Recommendation (one must be from the Program Director)
Requirements
Requirements
Applicants must have completed an anesthesiology or surgical residency program accredited by one of the following:

Accreditation Council for Graduate Medical Education (ACGME)
Royal College of Physicians and Surgeons of Canada (RCPSC)

Applicants must have completed USMLE steps 1,2 and 3
Applicants must be eligible for a temporary unrestricted Ohio medical license
Resources
Resources
Training at Cleveland Clinic
We invite you to explore our Graduate Medical Education website to discover the reasons why Cleveland Clinic offers an ideal teaching and learning environment as well as to learn more about our rich tradition of excellence in the "education of those who serve."
About Cleveland
From renowned cultural institutions to vibrant neighborhoods, inspired food and beverage offerings, action-packed sports and indie shops and art galleries, engaging experiences can be found around almost every corner in Cleveland. Learn more.