Overview
Overview
The Critical Care Medicine (Anesthesiology) program at Cleveland Clinic is a one year ACGME accredited training program. It has been one of the largest and most successful anesthesiology critical care fellowship programs for many years with 10 graduating fellows per year in United States.
The goal of the fellowship program is to provide comprehensive training and experience in critical care medicine. During this program the fellow will:
Develop a unique opportunity to provide excellent primary care to critically ill surgical patients.
Develop outstanding skills in state-of-the-art clinical, educational, investigative and administrative aspects of critical care medicine.
Fellowship rotations include the following:
Surgical ICU
Cardiothoracic ICU
Neurocritical care
Echo
Community critical care
Elective - 1 month
Fellowship Contact Information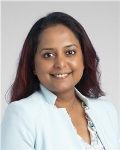 Roshni Sreedharan, MD
Director, Critical Care Medicine Fellowship Program
Phone: 216.444.0660
Fax: 216.444.7360
Debbi Kovacic
Program Coordinator
Email: kovacid@ccf.org
Highlights
Highlights
Extensive didactic schedule with half day per week of protected academic time
Critical care medicine journal clubs twice a month
Basic critical care ultrasound and echocardiography workshop early in the year and an advanced workshop midyear
Opportunity to participate in the critical care echocardiography board review course conducted at Cleveland Clinic
Basic mechanical ventilation workshop at the simulation center early in the year and an advanced ventilation workshop midyear
Advanced communication workshops targeting difficult family discussions, code status discussions and delivering bad news
All fellows are certified in Fundamentals of Critical Care support
All fellows are ATLS certified by the end of the fellowship year
Opportunity to participate in the Health Professions Educators programs offered by the Education Institute of Cleveland Clinic
Quality and Patient Safety projects with interprofessional teams
Opportunity to attend Society of Critical Care Medicine/Society of Critical Care Anesthesiology annual conference as well as a sponsored fellow membership to the SCCM
Opportunity to obtain TEE minimums to obtain TEE certification
Education allowance - $1,000
Fellows receive a subscription to a Virtual Critical Care Rounds course
Application Process
Application Process
All application materials must be sent directly to the San Francisco Match.
Applicants must complete the application and include:
CV
Personal Statement
USMLE and in-training scores
ECFMG Certificate (if applicable)
Three Letters of Recommendation (one must be from the Program Director)
Requirements
Requirements
Applicants must have completed an anesthesiology or surgical residency program accredited by one of the following:

Accreditation Council for Graduate Medical Education (ACGME)
Royal College of Physicians and Surgeons of Canada (RCPSC)

Applicants must have completed USMLE steps 1,2 and 3
Applicants must be eligible for a temporary unrestricted Ohio medical license